Gobierno Provisional de México Mexico $5 notes
These were Series B and dated 20 October 1914. They has imprint 'MEXICO OFICINA DEL GOBIERNO', title 'EL S. S. ENCARGADO DE LA SRIA. DE HACIENDA, underprint Type 1, and small '5' on the reverse.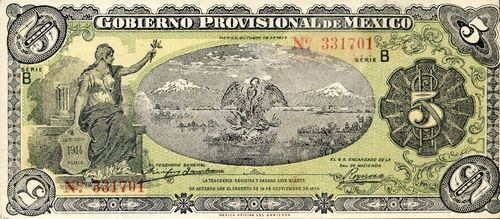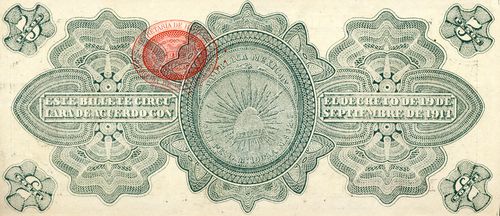 The earliest notes (B 1 - 1198000) will have been revalidated in accordance with the 17 December decree. Later notes will have been overprinted before issue, thus:.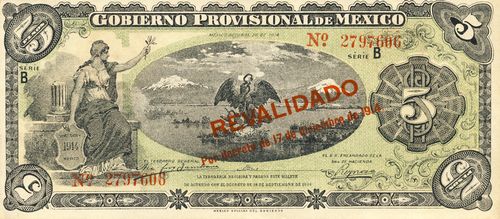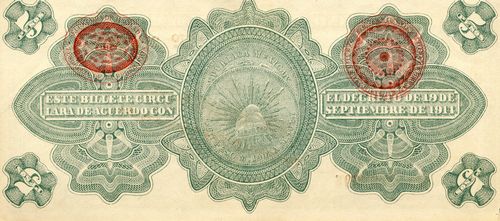 Finally there is a similar but poorly printed Yecapixtla note, also with the REVALIDADO overprint.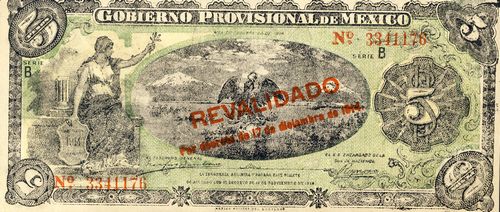 Date of issue
Date on note
Series
from
to
total
number
total
value
Comment
19 October 1914The Mexican Herald, 20 October 1914
20 October 1914
B
1
1198000
1,198.000
$ 5,990,000
Convention, acknowledged by Carranza
by 1 July 1915The Mexican Herald, Año XX, No. 7236, 1 July 1915
1198001
2198000
1,000,000
5,000,000
2198001
2708500
510,500
2,552,500
2708501
3198000
489,500
2,447,500
3198001
3542500
344,500
1,722,500
3,542,500
$ 17,712,500