Las Tesorerías de la Nación
After Iturbide was exiled, the newly formed Republic decreed the withdrawal of Iturbide's notes and the creation of a new issue of paper money in the same denominations ($1, $2 and $10) drawn on the National Treasury to replace them.
These notes were printed on the back of Papal Bulls (Lent authorizations) dated 1816, 1817, 1818 and 1819. The notes bear the date of decree, 11 April 1823, and date of issue, 5 May 1823.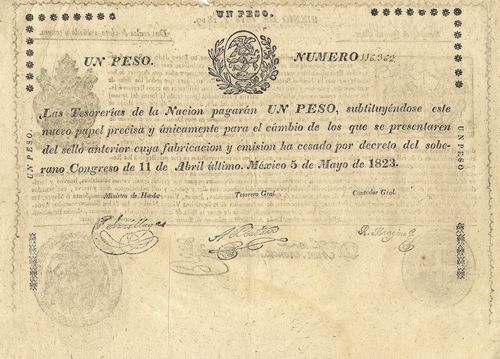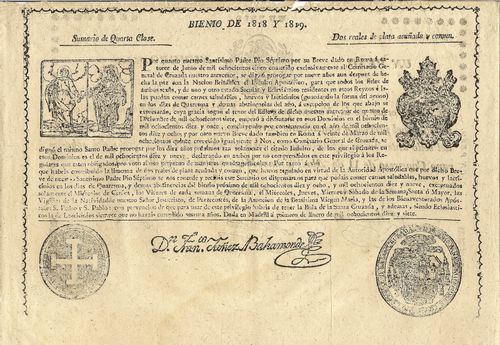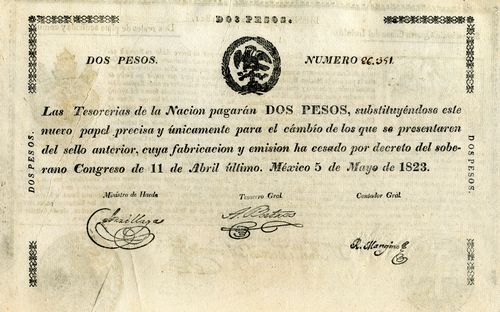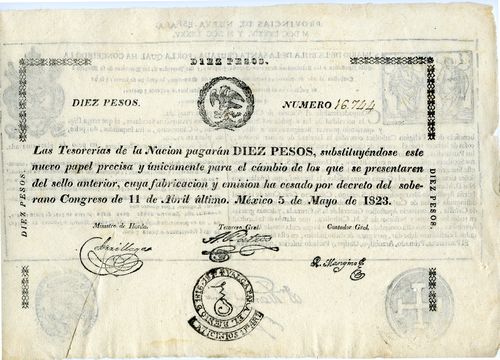 from
to
total
number
total
value
$1
includes numbers 116362 to 116426

CNBanico #1943

$2
includes number 82181

CNBanico #1954

to 86391

CNBanico #1o702

$10
includes numbers 8109

CNBanico #1958

to 16744
$475,000
These have the stamped signatures of Francisco de Arrillaga as Ministro de Hacienda, A. Batres as Tesorero General and as R. Mangino as Contador General.
Francisco de Arrillaga was born in Vizcaya, Spain and set up a casa commercial in Veracruz at the beginning of the 19th century. He was one of the leading liberals in the city and supported the insurgents during the War of Independence.

He was Ministro de Hacienda from 2 May 1823 until 8 August 1824 in the first federal government.

In 1837, under the administration of Anastasio Bustamante, his casa comercial obtained the first concession to build a railway from Veracruz to Mexico City; however, opposition from his business rivals led the project to fail.

A. Batres
R. Mangino
According to a report of the Secretaría de Hacienda on 3 November 1823 $475,000 were printed of which $359,675 was put into circulation, in exchange for Iturbide notes, whilst $115,325 still remained with the Treasury. By the end of October $176,919 had been amortised and $182,756 was still in circulation.