Further Arrieta issues
There were two futher issues. These are a $5 note, dated August 1915, and a $10 note, dated October 1915 (marked TRANSITORIO (temporary) and later listed by Arrieta as a provisional issueCEHM, Fondo XXI-4, telegram Arrieta to Carranza 13 January 1916). They are the same design with a vignette of Justice as a $2 note, which is dated February 1915, but carries the signatures of the Villista Saravia, Olargaray and Gaxiola. Both the Saravia $2 note and the Arrieta $5 note refer to a decree of 12 December 1914 (but this is probably an error for 12 December 1913).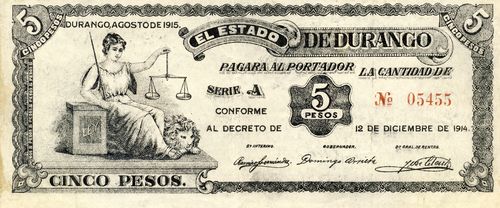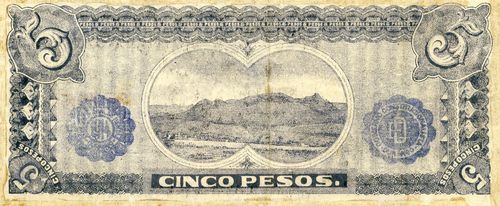 The earlier $10 had three signatures - Arrieta as governor, Ramiro Fernández as Secretario Interino and José Clark as Director General de Rentas.
| | |
| --- | --- |
| Domingo Arrieta León was born in Candelas, Durango on 4 August 1874. Before joining the revolution he was a miner in San Andrés de la Sierra and muleteer. With his brothers Andrés, Marian, Eduardo and José, he joined the revolution under Madero in 1910, was general of the forces that took Durango on 18 June 1913 and named comandante military de la plaza. He was governor from 10 August 1913 until 28 February 1914. He fought against Villa from 1914 to 1916. He was governor of Durango from August 1917 to May 1920 and remained faithful to Carranza when the latter fled the presidency and refused to recognise the new government. He was pardoned by Obregón on 7 May 1924 and rejoined the army on 11 September 1927, though he continued to be involved in politics. He became a division general on 6 November 1940 and retired from the army on 1 August 1944. He died in Durango on 18 November 1962. | |
| Ramiro Fernández | |
| José Clark | |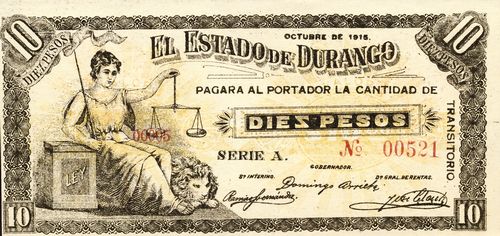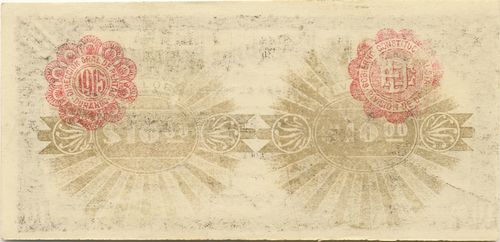 while later notes had just two signatures (Arrieta and Fernández).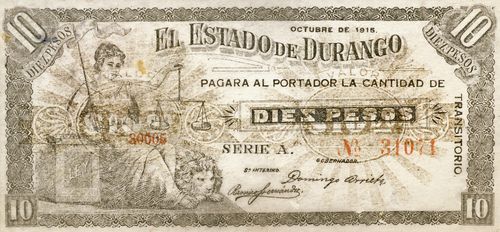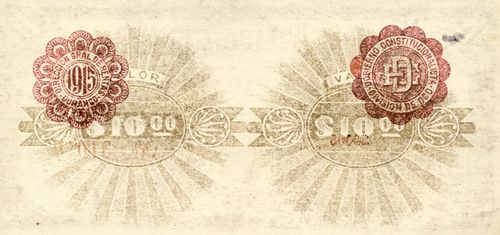 These $5 and $10 notes, as well as earlier Arrieta issues, Arrieta issues revalidated by the Convention, and Saravia issues are known with the same two seals (GOBIERNO CONSTITUCIONALISTA – DURANGO and DIRECCION GRAL. DE RENTAS – DURANGO and year date) on the reverse.
In addition, the $5 has the same reverse design as Garcia's $5 issue of the following month, and is known with a (pre- issue) revalidation by Garcia's administration, dated October 1915.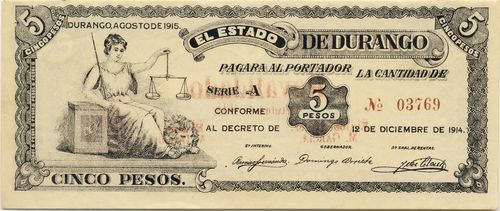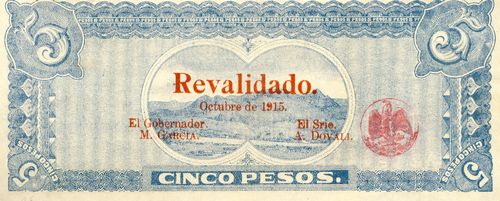 In his later telegram to CarranzaCEHM, Fondo XXI-4, telegram Arrieta to Carranza 13 January 1916 Arrieta acknowledged that he had issued the following amounts:
Date on notes
.
Series
from
to
total
number
total
value
August 1915
$5
1
1000
1,000
$ 25,000
October 1915
$10
A
1
400
406,000
$431,000
(Again, the numbers in the telegram do not add up)
In summary:
Date on notes
.
Series
from
to
total
number
total
value
August 1915
$5
A
includes numbers 01272

CNBanxico #4046

to 05455
Revalidado. Octubre de 1915
includes numbers 03769 to 60440

CNBanxico #4044

October 1915
$10
A

with three signatures
includes numbers 00521 to 00573

CNBanxico #4049

with two signatures
includes numbers 31041

CNBanxico #4047

to 32847

CNBanxico #4050