Further Arrieta issues
There were two futher issues. These are a $5 note, dated August 1915, and a $10 note, dated October 1915 (marked TRANSITORIO (temporary) and later listed by Arrieta as a provisional issueCEHM, Fondo XXI-4, telegram Arrieta to Carranza 13 January 1916). They are the same design with a vignette of Justice as a $2 note, which is dated February 1915, but carries the signatures of the Villista Saravia, Olargaray and Gaxiola. Both the Saravia $2 note and the Arrieta $5 note refer to a decree of 12 December 1914 (but this is probably an error for 12 December 1913).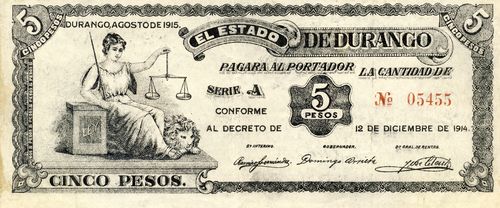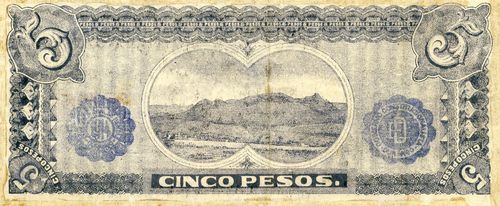 The earlier $10 had three signatures (Arrieta, [ ] and Clark)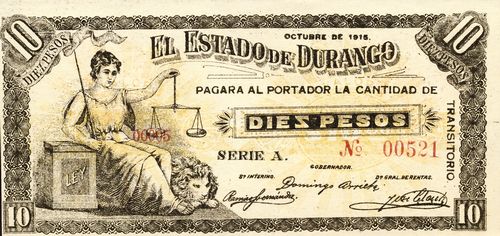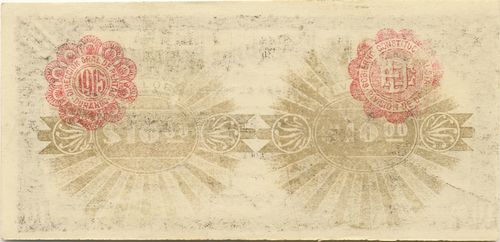 while later notes had just two signatures (Arrieta and [ ])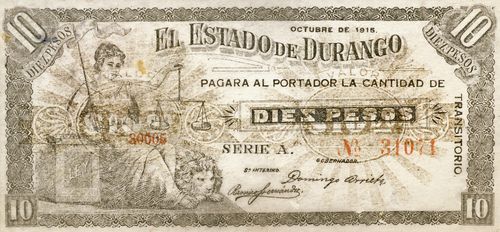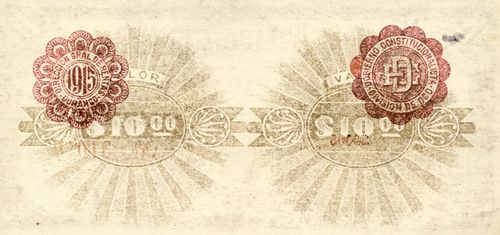 These $5 and $10 notes, as well as earlier Arrieta issues, Arrieta issues revalidated by the Convention, and Saravia issues are known with the same two seals (GOBIERNO CONSTITUCIONALISTA – DURANGO and DIRECCION GRAL. DE RENTAS – DURANGO and year date) on the reverse.
In addition, the $5 has the same reverse design as Garcia's $5 issue of the following month, and is known with a (pre- issue) revalidation by Garcia's administration, dated October 1915.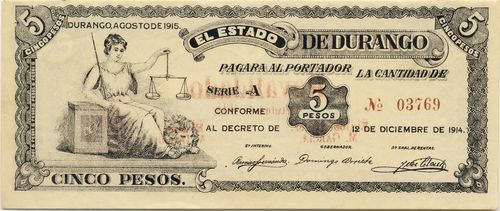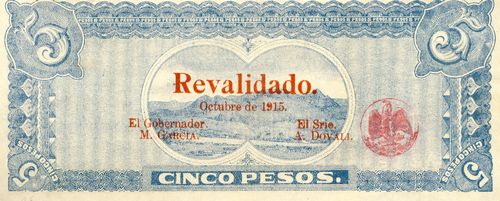 In his later telegram to CarranzaCEHM, Fondo XXI-4, telegram Arrieta to Carranza 13 January 1916 Arrieta acknowledged that he had issued the following amounts:
Date on notes
.
Series
from
to
total
number
total
value
August 1915
$5
1
1000
1,000
$ 25,000
October 1915
$10
A
1
400
406,000
$431,000
(Again, the numbers in the telegram do not add up)
In summary:
Date on notes
.
Series
from
to
total
number
total
value
August 1915
$5
includes numbers 01272

CNBanxico #4046

to 05455
Revalidado. Octubre de 1915
includes numbers 03769 to 60440

CNBanxico #4044

October 1915
$10
with three signatures
includes numbers 00521 to 00573

CNBanxico #4049

with two signatures
includes numbers 31041

CNBanxico #4047

to 32847

CNBanxico #4050