Emiliano G. Saravia
Emiliano G. Saravia had served as Interventor of the Banco de Durango from October 1912Figaro, Tomo I, Núm. 7, 31 October 1912 to April 1913Figaro, Tomo I, Núm. 29, 3 April 1913.
Saravia, a Villista, took over as provisional governor on 14 November 1914. He produced $1 notes dated October 1914 and January 1915, with his signature together with Antonio Gaxiola as secretary and J. M. Olargaray as Director General.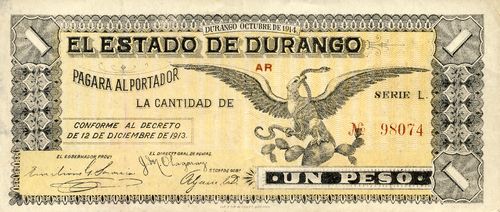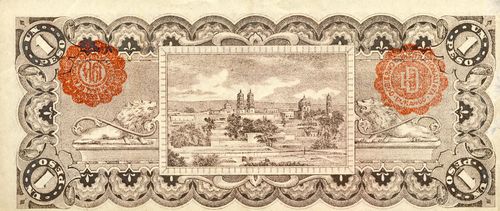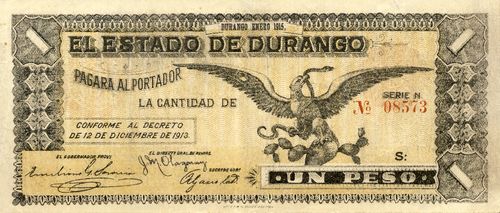 These were printed by the firm of M. Gómez in Durango. Unsurprisingly the reverse is based on Villa's popular dos caritas issue with a vista (of Durango and its cathedral) supported by two heraldic beasts, an ovaloid border and an almost identical frame for the denomination.
These had a variety of codes printed at the top centre or on the right hand.
Date
Series
from
to
total
number
total
value
code
$1
October 1914
L

O

EM
includes number 2704

CNBanxico #4033

IC
includes number 87902

CNBanxico #4028

AR
includes number 98074
M
T
includes number 10255

CNBanxico #10909

A
includes numbers 26199

CNBanxico #4035

and 71352

CNBanxico #4030

E
includes number 87328

CNBanxico #4029

L
January 1915
N
S:
includes numbers 08573 and 48146

CNBanxico #10915

ME
includes number 50807

CNBanxico #4034

M
includes number 80812

CNBanxico #4032

A
includes number 97175

CNBanxico #4031

XI
IS
CA
M. Gómez also produced a 50c note, dated December 1914 with the same three signatories.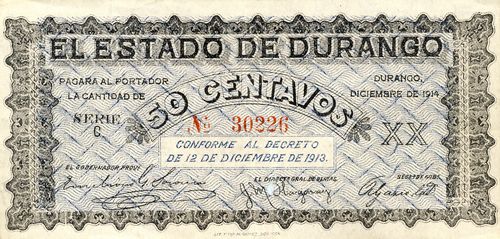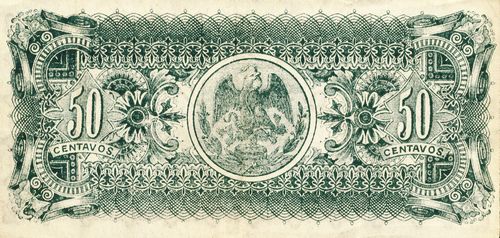 These had a variety of codes printed on the right hand.
Series
from
to
total
number
total
value
code
50c
C
XI
XX
includes number 30226
D
AR
EN
E
R
E2
T
The cortes de caja of the Dirección General de Rentas, signed by J. M. Olagaray as Director General, record the following Ingresos and Egresos (costs or cancellations) for the issue of bonos.
| | | |
| --- | --- | --- |
| Date | Ingresos | Egresos |
| 30 November 1914Periódico Oficial, Durango, Tomo XL, Núm.1, 1 January 1915 | $44,800.00 | |
| 31 December 1914Periódico Oficial, Durango, Tomo XL, Núm. 25, 10 June 1915 | 105,200.00 | $1,206.20 |
| 31 January 1915Periódico Oficial, Durango, Tomo XL, Núm. 25, 10 June 1915 | 119,000.00 | 1,000.00 |
| 28 February 1915Periódico Oficial, Durango, Tomo XL, Núm. 27, 20 June 1915 | 181,000.00 | 6,631.00 |
| 31 March 1915Periódico Oficial, Durango, Tomo XL, Núm. 28, 27 June 1915 | | |
| 30 June 1915Periódico Oficial, Durango, Tomo XL, Núm. 4, 25 July 1915/ | 18,000.00 | |