American Bank Note Company print runs
The American Bank Note Company produced the following notes. They engraved special vignettes of Manuel DobladoDoblado was born in San Pedro Piedra Gorda, Guanajuato (now Ciudad Manuel Doblado) in 1818. He was a lawyer and professor at Guanajuato State College. He was appointed governor in 1846 but could not occupy the position because he did not have the required age, being only 28 years old at the time.
In 1847 he was elected deputy to the Congress od Querétaro. During the presidential term of Comonfort, he was governor of Guanajuato, but he resigned in 1857, after the coup d'état against Comonfort, and joined the liberal party.
In 1861 he was a member of president Benito Juárez' cabinet and attempted to avoid the War of Intercession by signing the Treaty of Soledad on 19 February 1862. The English and Spanish forces withdrew but the French did not.
At the beginning of the invasion he resigned from his position in order to enter armed conflict, as he had done before during the War of Reform. He fought against the French in the Sierra of Querétaro, and in November of that same year, he was appointed Governor and Military Commander of Jalisco.
When accompanying Juárez in 1864, he arrived at El Paso del Norte (Ciudad Juárez) where he fell sick. He went to New York and, never having recovered, died on 19 June 1865. (C 236) and the coat of arms of Guanajuato (C 754), After the first print run they altered the plates by erasing the series letter.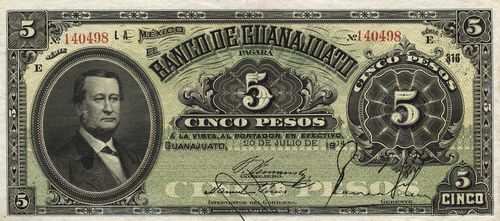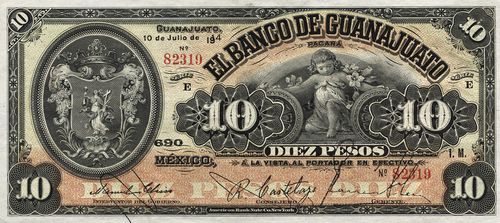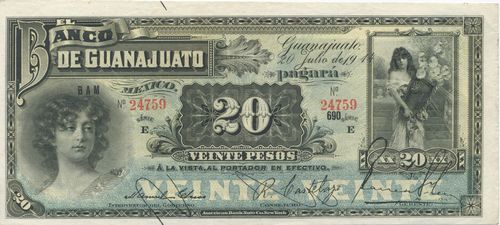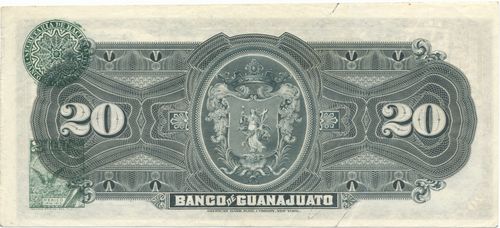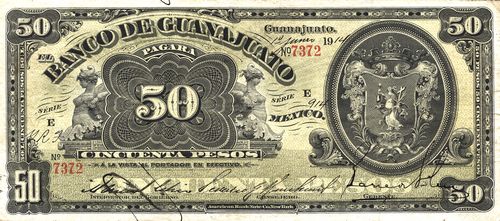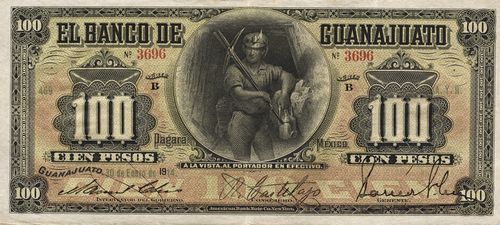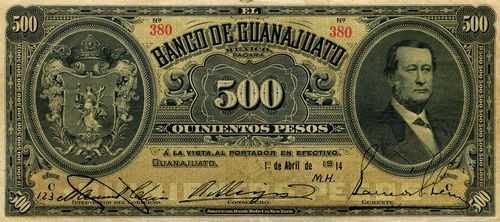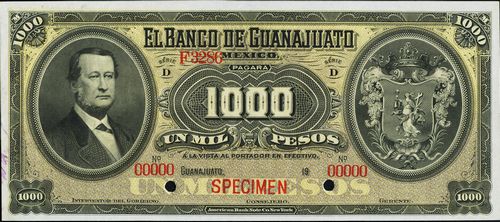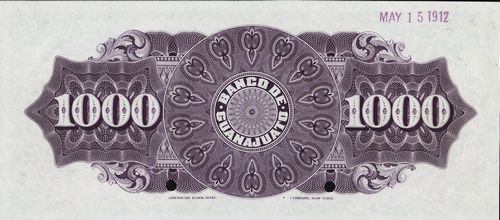 Date
Value
Number
Series
from
to
June 1900
$5
35,000
A
00001
35000
$10
32,500
A
00001
32500
$20
15,000
A
00001
15000
$50
4,000
A
1
4000
$100
2,400
A
0001
2400
$500
260
A
1
260
$1000
130
A
1
130
Date
Value
Number
Series
from
to
April 1902
$5
30,000
35001
65000
$10
25,000
32501
57500
$20
5,000
15001
20000
$50
2,000
4001
6000
$100
1,500
2401
3900
Date
Value
Number
Series
from
to
September 1907
$5
40,000
65001
105000
$500
400
261
660
$1000
100
131
230
Date
Value
Number
Series
from
to
May 1912
$5
35,000
105001
140000
$10
17,500
57501
75000
$20
2,500
20001
22500
$50
1,000
6001
7000
$1000
50
221
280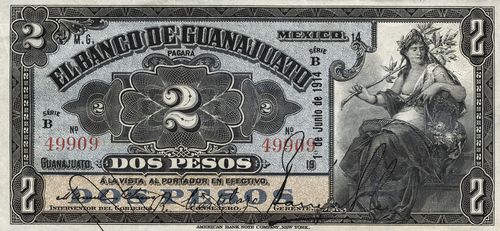 | | | | | | |
| --- | --- | --- | --- | --- | --- |
| Date | Value | Number | Series | from | to |
| December 1913 | $1 | 75,000 | | 1 | 75000 |
| | $2 | 12,500 | | 1 | 12500 |
Date
Value
Number
Series
from
to
March 1914
$1
200,000
75001
275000
$2
50,000
12501
62,500
$5
40,000
140001
180000
$10
20,000
75001
95000
$20
2,500
22501
25000
$50
1,000
7001
8000
$100
500
3901
4400
Date
Value
Number
Series
from
to
April 1914
$2
12,500
62501
75000
$5
82,552
180001
262552
$10
49,306
95001
144306
$20
8,844
25001
33844
$50
9,342
8001
17342
$100
477
4401
4877
$500
21
661
681
$1000
19
281
299