Mineral de Pozos
The Compañía Minera de Angustias, Dolores y Anexas, S. A., which ran the smelter (Hacienda de Beneficio) in Pozos, issued at least two series of notes to help with their payroll. They were addressed to a particular merchant and asked them to give the bearer a certain value of merchandise and to charge the company's account.
The lower values were printed by Müller Hermanos, of Mexico City, under job number 80934. The later 50c and $1 notes were printed under job numbers 81927 and 82482 and were now marked as payable in infalsificables (Pagadero en papel infalsificable).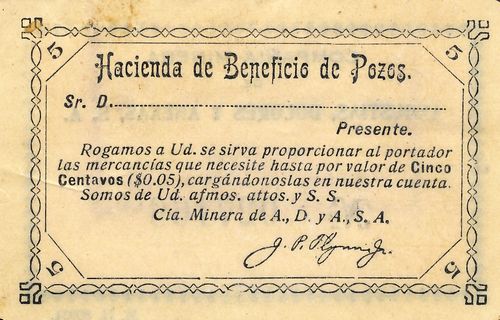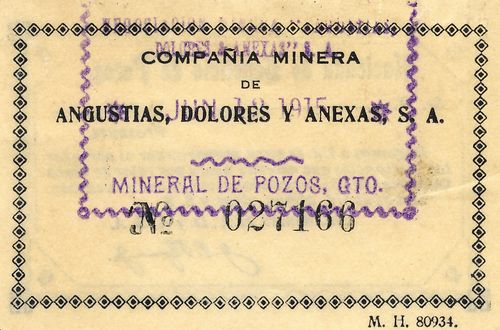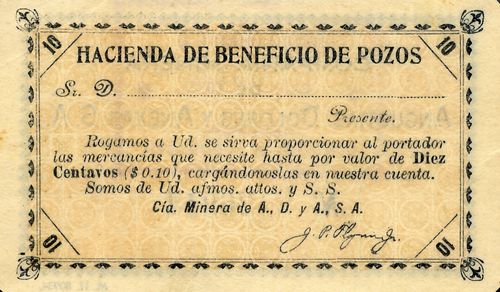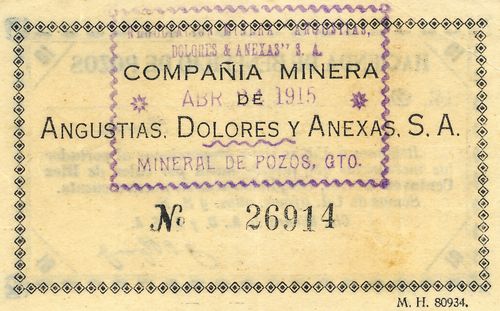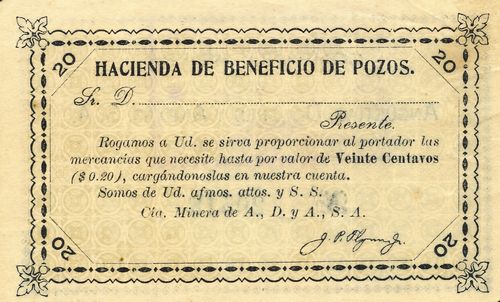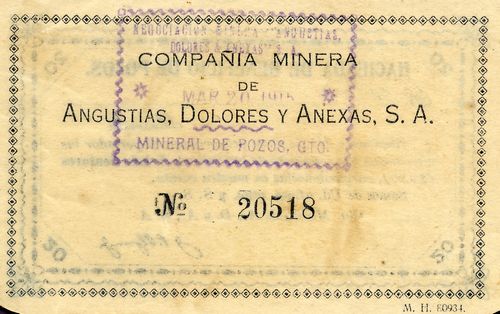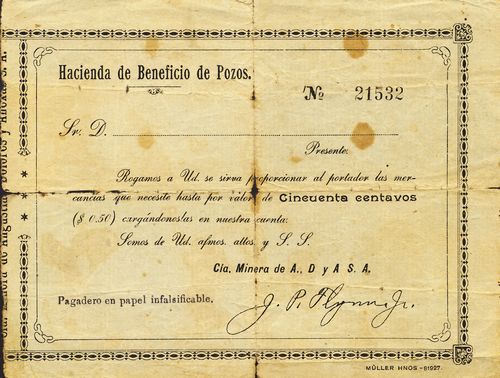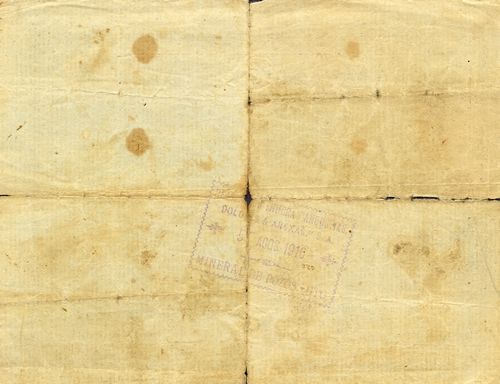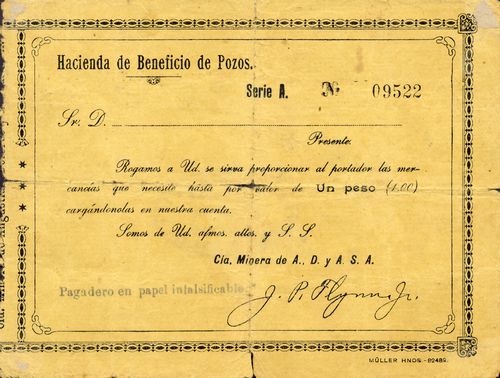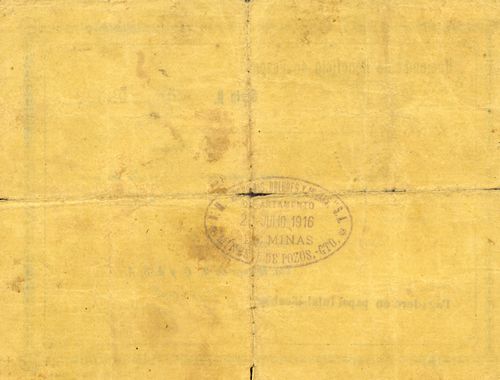 date on note
to
from
total
number
total
value
5c
18 June 1915
includes number 027166
includes number 075634
10c
24 April 1915
includes number 26914
1 June 1915
includes number 30547
20c
20 March 1915
includes number 20518
50c
5 August 1916
includes numbers 21532 to 26011
$1
20 July 1916
includes number 09522
All notes bear the signature of J. P. Flynn Jr..
J. P. Flynn's father, also J. P. Flynn, was an American who went to Mexico to work in the railway boom and in 1891 was Assistant General Superintendent of the Monterey and Mexican Gulf Rail Road.

The younger Flynn was, in August 1899, managing the Monterey Athletic baseball clubThe Mexican Herald, 20 August 1899 but thereafter he became involved in mining claims - in Guanaceví, Durango in January 1904Periódico Oficial, Durango, 28 January 1904 and in Monclova, Coahuila in January 1905Periódico Oficial, Coahuila, 21 January 1905. By 1907 he was manager of the Compañía Atlixtaca in Taxco, Guerrero. In 1910 he was a resident of San José del Oro, HidalgoPeriódico Oficial, Hidalgo, 16 January 1910 and probably working at the Compañía Métalurgica Mexicana, of Zimapán, With W. B. Baggaley he authored an article on "Denouncing Minerals Lands In Mexico" for The Engineering and Mining JournalThe Engineering and Mining Journal, 22 July 1911, which was described as an article of considerable importance to any miner who was interested in opening up some of the new mining districts in Mexico. "The author gives the method of procedure, which is simple, but must be followed exactly."

In April 1911 it was reported that he and his wife were going to make their home in New YorkThe Mexican Herald, 13 April 1911 but if they did he obviously returned to Mexico by 1915.