The revolution in Guerrero
In the first week of February 1915, Zapata left Mexico City to bolster the revolutionary movement in Guerrero. A Banco Revolucionario in that state had issued more than a million pesos in paper currency, of such poor quality that they were popularly known as tordillos (dapple-greys). Zapata had wrung an agreement from González Garza to provide him with eight hundred thousand pesos from the Convention's fast dwindling store to take the Guerrero notes out of circulation. On 9 February Zapata wrote to González Garza from Iguala complaining that, though a commission had arrived from Cuernavaca with the money, more than five hundred thousand pesos were unstamped. The people of Guerrero, said Zapata, would no more accept these sábanas blancas than their own tordillos. He asked that González Garza send an equal quantity of good currency immediately to replace the unstamped notes and, in addition, to make available the machine with which to revalidate the sábanas blancas already in circulationAGN, Archives RGG. Zapata to González Garza, 9 February 1915. González Garza replied the next day the money had been sent though he insisted that all the sábanas were valid, even though some might be inconvenientesAGN, Archives RGG. González Garza to Zapata, 10 February 1915.
Sábanas-style notes of the Ejército Libertador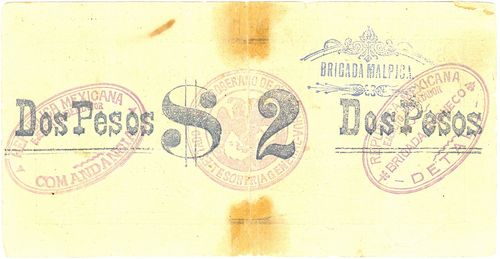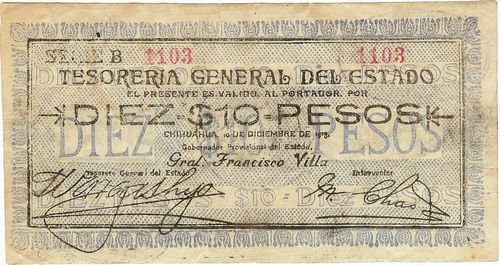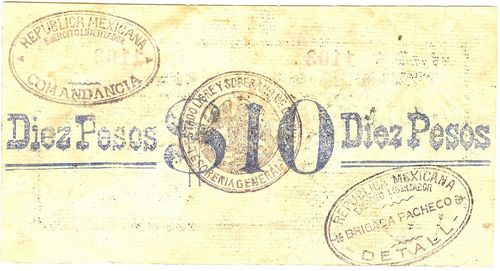 The title Ejército Libertador was used by the Zapatistas in Morelos and Guerrero and these states may have been the source of three notes with designs based on the $10 sábanas. These $1, $2 and $10 values with a blue underprint have several distinctive features: they have continuous border frames; there are no commas following 'Tesorero General del Estado' and 'Interventor'; there are no abbreviations ('Num.' or 'No.') before the serial numbers; there is no dot before Vargas' signature, and no printer's imprint at the bottom, which suggest that they were issued somewhere other than Chihuahua.
The notes have three violet overprints on their backs all applied in one pass, a central circular Tesorería General seal, which differs from the original Chihuahua seal in size, font and details, and two Ejército Libertador resellos. The $2 note is also known with an additional 'Brigada Malpica' resello.
So these notes might have been produced in Cuernavaca, Morelos at the request of Pacheco and with González Garza's (and by implication Villa's) knowledge and approval, for use by Pacheco's troops. On 10 October 1915 the Ministerio de Hacienda y Crédito Publico authorised an issue of vales of one and five pesos and on 10 January 1916 the Consejo Ejecutivo in Cuernavaca ratified this decree and authorised the ministry to issue $2 and $10 notesAGN, Colección Cuartel General del Sur, vol. 1, exp. 2.25. An undated note records that the Ministero de Hacienda was unwilling to send the clichés for the $2 and $10 notes (AGN, Fondo Emiliano Zapata, caja 20, exp. 9). These pronouncements might be connected with this issue.
All three values are very rare, as they were produced for a short time and became worthless once Carranza's forces took over.
On 2 March 1915 Coronel Aurelio Castillo informed Zapata that he had captured Huamuxtitlan, Guerrero. The people were suffering because anyone who had anything refused to accept Chihuahua notes, and Castillo asked whether he could exchange themAGN, Fondo Emiliano Zapata, caja 6, exp 3, f 40.