El Banco de Hidalgo
The concession for a bank of issue in Hidalgo was granted to Maquivar y Compañía, Carlos Francisco de Landero, Manuel Araoz and J. Octavio Fernández on 28 February 1902. The Banco de Hidalgo opened for business on 1 November 1902 with a capital of 500,000 pesos.
The bank established a branch in Tulancingo on 15 December 1906 with Javier Gómez as gerenteFidel Gómez was contador and Miguel F. Pérez as Cajero. Martín García was president of the Junta Local, Gorgonio de la Concha segundo vocal, and Gabriel San Vicente tercer vocal.
The Comisión Reguladora declared the bank's concession forfeited on 16 November 1915.
American Bank Note Company print runs
The American Bank Note Company produced the following notes. The company engraved the following special vignettes: Juan C. , first governor of Hidalgo (C253) for the $10 and $100 notes, Pedro Romero de Terrenos for the $50, monument to Hidalgo (C 845) for the $5, $20 and $100, and a view of Pachuca (C 839) for all the backs.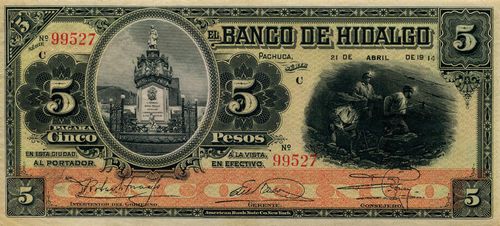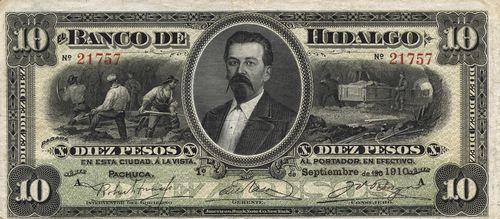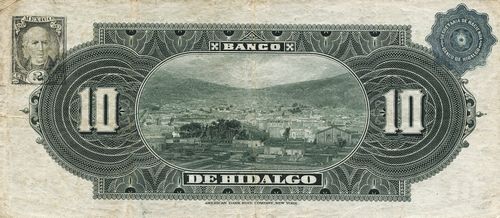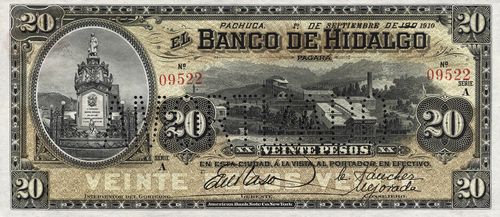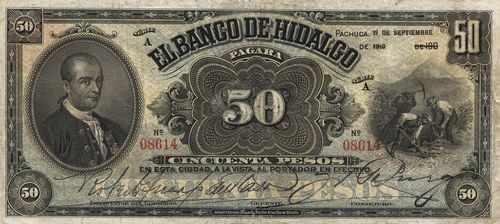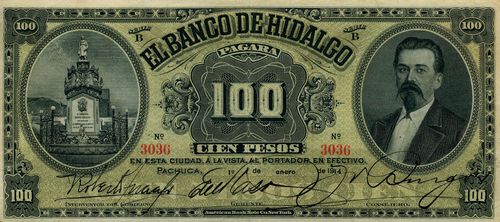 Date
Value
Number
Series
from
to
May 1902
$5
50,000
A
1
50000
$10
25,000
A
1
25000
$20
15,000
A
1
15000
$50
10,000
A
1
10000
$100
2,000
A
1
2000
For the $500 note the ABNC engraved a special vignette of the bank building (C 1013).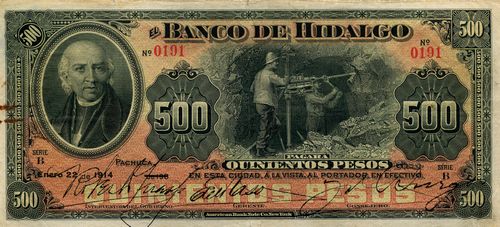 | | | | | | |
| --- | --- | --- | --- | --- | --- |
| Date | Value | Number | Series | from | to |
| November 1905 | $500 | 500 | B | 1 | 500 |
| | | | | | |
| --- | --- | --- | --- | --- | --- |
| Date | Value | Number | Series | from | to |
| July 1910 | $5 | 25,000 | B | 50001 | 75000 |
| | | | | | |
| --- | --- | --- | --- | --- | --- |
| Date | Value | Number | Series | from | to |
| August 1910 | $100 | 2,000 | B | 2001 | 4000 |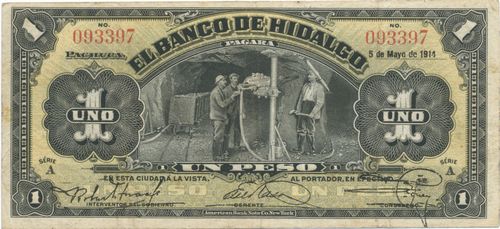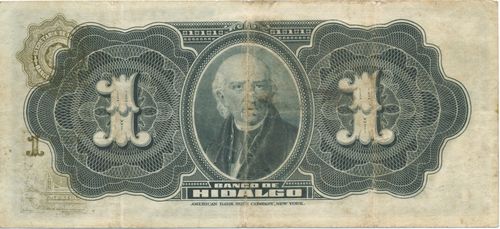 Date
Value
Number
Series
from
to
January 1914
$1
500,000
A
1
500000
$5
50.000
C
75001
125000
$10
25,000
B
25001
50000
$20
20,000
B
15001
35000
$50
10,000
B
10001
20000
$100
2,000
C
4001
6000
| | | | | | |
| --- | --- | --- | --- | --- | --- |
| Date | Value | Number | Series | from | to |
| February 1914 | $100 | 3,000 | C | 6001 | 9000 |