Bradbury Wilkinson notes used during the Revolution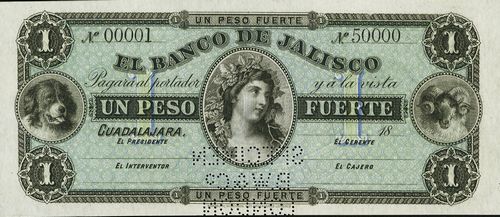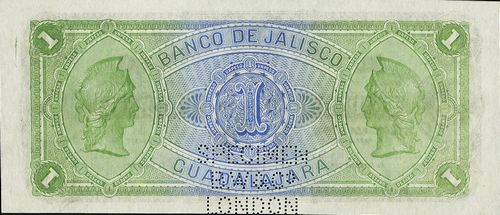 The Bradbury Wilkinson notes were ordered before the Ley General of 1897 prohibited the use of notes smaller than five pesos, so the two small denomination (50c and $1) were not put into circulation. They were used a decade and a half later when Huerta first modified the Ley General and then permitted the issue of 50c notes. At first sight it seems unlikely that the bank kept a stock of notes for over a quarter of a century and the quality of the paper and the red and green underprint suggests that the American Book & Printing Company used the old Bradbury, Wilkinson plates. However, the type used for the numbers and the fact that the reverses were printed in two tones favours the first proposition.
The $1 notes are dated 20 January 1914 and were put into circulation in the following weekThe Mexican Herald, 28 January 1914. The 50c notes are dated 1 May 1914.
Presidente
Aurelio González Hermosillo
Eugène (Eugenio) Cuzin came from France in 1890 and became one of the most important businessmen and retailers in Guadalajara.
He appears as Presidente of the Banco de Aguascalientes in 1912.
Interventor
| | |
| --- | --- |
| J. Prieto Rivas | |
Gerente
| | |
| --- | --- |
| H. W. Bartníng | |
Cajero
Issues
50c notes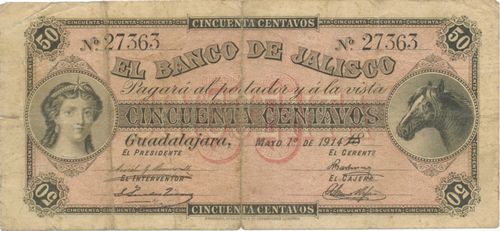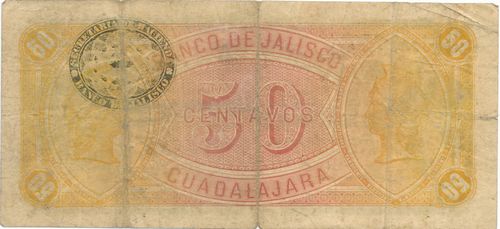 Date of issue
Date on note
Series
from
to
Presidente
Interventor
Gerente
Cajero
comment
1 May 1914
00001

05000

Hermosillo
Rivas
Bartning
include numbers 00681

CNBanxico #11276

and 42196

CNBanxico #76771
$1 notes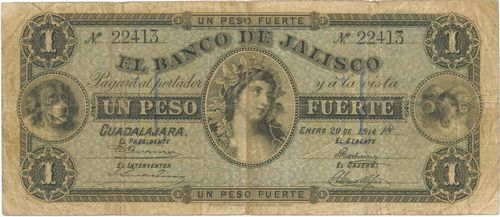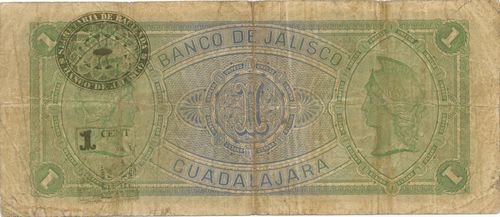 Date of issue
Date on note
Series
from
to
Presidente
Interventor
Gerente
Cajero
comment
20 January 1914The Mexican Herald, 28 January 1914
20 January 1914
00001
05000
Cuzin
Rivas
Bartning
include numbers 09269

CNBanxico #11277

and 22772

CNBanxico #76770