Company scrip
In February 1898 a newspaper reported that some haciendas around Tequila were abusing their workers by paying them only with paper currency (papel moneda)El Popular, Mexico, 3 February 1898.
In April 1905 Cipriano C. Covarrubias, the editor of Jalisco Libre, wrote an editorial welcoming the fact that the monetary reforms that were coming into effect outlawed the use of tokens (el empleo de fichas, tarjetas, planchuelas u otros objetos de cualquiera materia como signos convencionales en substitucíon de la moneda legal). He castigated as a serious and irretrievable evil for the working class, throughout the national territory, the abuse committed by the owners of haciendas, factories and industrial companies, who paid their employees in this way and forced them to purchase their goods in the tienda de rayaJalisco Libre, Guadalajara, Tomo III, Núm. 321, 12 April 1905. Presumably Covarrubias was aware of instances of this practice in his own state.
Etzatlán
The Amparo Mining Company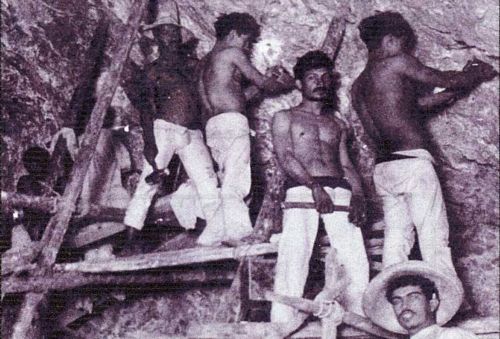 The Amparo Mining Company operated one of Mexico's most successful silver mines, located in remote hills 65 kilometres west of Guadalajara.
In September 1905 workers at the mine wrote to the governor, Miguel Ahumada, complaining about the general manager, the Austrian Fernando Sustersic. A local weekly newspaper, El Gallito, took up their cause. Beside general mistreatment and the arbitrary imposition of fines the company allegedly forced the workers to buy their goods in the tienda de raya at the La Embocada mineJalisco Libre, Guadalajara, Tomo III, Núm. 359, 5 September 1907. On 12 September the company's lawyer, Antonio Pérez Verdía F., responded, particularly to the accusations that the company sold goods at elevated prices; sent an orchestra to the mines on Sundays so that the workers did not leave to go to Etzatlán, and prevented a merchant called Felipe Villa from setting up a store on their property. He claimed the company, after deductions for rent etc., paid its wages in dinero efectivo. Moreover, the company, not señor Sustersic personally, set up the tienda to sell goods much cheaper than in Etzatlán and for dinero efectivo, though it gave workers credit. Finally although the presidente municipal of Etzatlán, señor Soto, had ordered the company to allow Felipe Villa access, the company was within its rights to ban him, and had not confiscated his goodsJalisco Libre, Guadalajara, Tomo IV, Núm. 966, 14 September 1907.
This argument, that the vales were not money but merely advances on wages, was a common defence, and usually effective. So the company probably continued the practice.
Nowhere is it specified that the system involved the use of paper. The company did use paper vales during the Revolution which might have been a persistence of a practice or a temporary measure to address the specific problems of the time.