Ahualulco
Ahualulco de Mercado is located in the Valles región in the centre of the state of Jalisco. To the north it borders San Juanito Escobedo and Tequila; to the south Ameca; to the east Teuchitlán and to the west Etzatlán.
Hacienda El Carmen
This hacienda was originally donated by the Spanish Crown to Francisco Merodio de Velasco in the sixteenth century. These lands were inherited by the Velasco family until Francisca Figueroa Viuda de Águila, who had no descendants, donated them to the Order of the Carmelitas Descalzos, hence the name El Carmen. Many years later, during the agrarian reforms of President Juárez, the 60,000 fertile hectares, with their generous climate, abundant waters and privileged location, were expropriated and handed over to General Florentino Cuervo in 1860. In 1863 the hacienda was bought by Luciano Gómez Remero and then inherited by Luis L. Corcuera Gómez.
After the Revolution the land was divided into several ejidos, leaving the hacienda with a very small property, now restored as an hotel.


A constancia de trabajo for 50c.
Hacienda de Santa Cruz
The 7,800 hectares Hacienda de Santa Cruz had its origins in the middle of the 18th century and was mainly involved in the production of tequila or mezcal. At the end of the 19th century the hacienda was acquired by Mariano Barcena, científico and Secretario de Fomento in the federal government, and after his death in 1899 was administered by his widow, Soledad Ríos de Barcena.
The hacienda issued a series of 5c, 10c, and 20c, dated Guadalajara, 15 August 1915.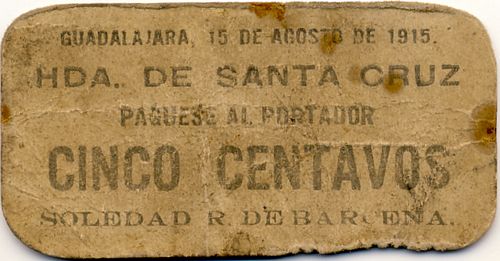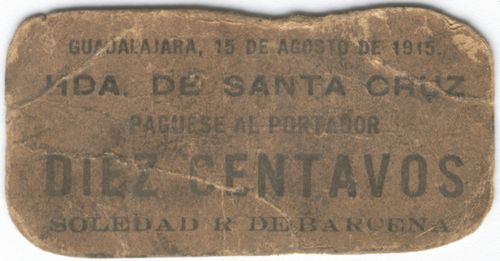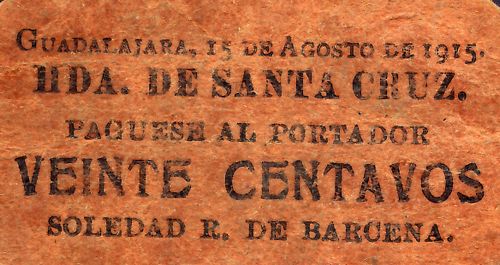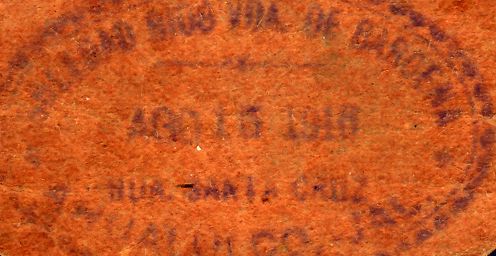 Then it produced another series of 5c, 10c, 20c, 50c and $1[image needed], in infalsificables, valid for three months, with various dates around July 1916.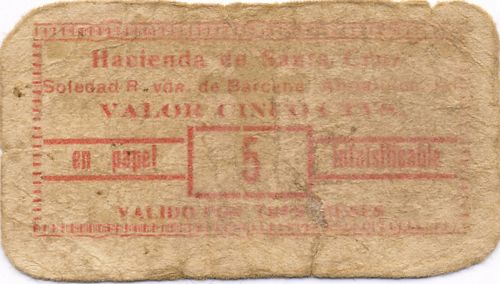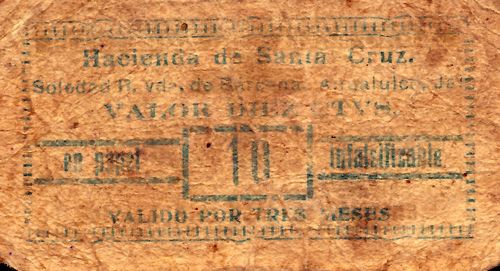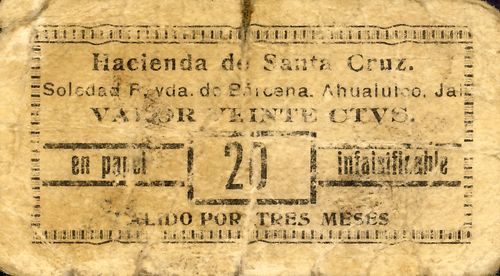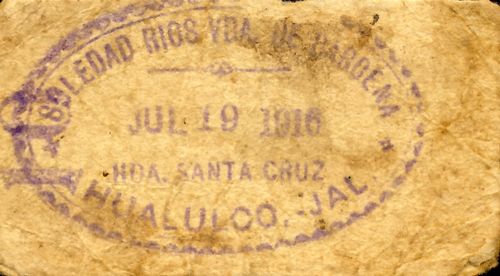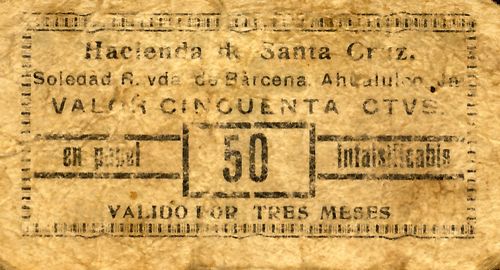 Also comprobante de trabajo for 10c and 50c, exchangeable for cash (efectivo).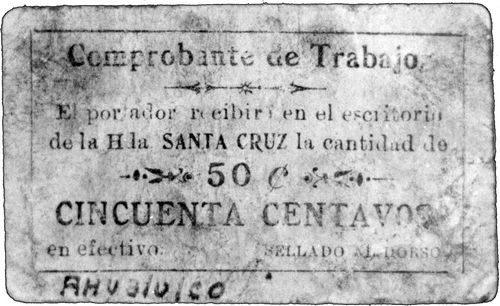 Hacienda "San Ignacio"
This hacienda, also run by a widow, Rafaela Gómez Vda. de Uribe, issued a similar series of 5c, 10c[image needed], 20c and 50c, printed by J. M. Iguíniz.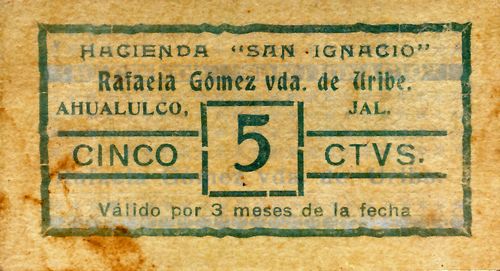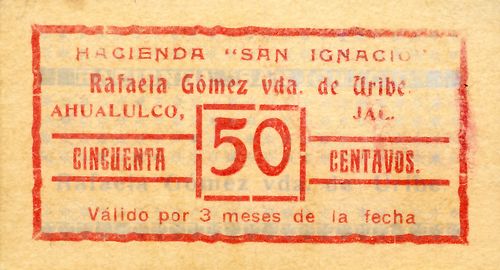 Ameca
Ameca is situated in the western part of Jalisco, about 80 kilometres west of Guadalajara. The haciendas in the Valley of Ameca comprise a series of expansive land estates awarded to Spanish soldiers for their services in the military during the conquest of New Spain in the late 1500s. Although a great portion of these estates were built during the colonial period, some of them were inclusively built during the Porfirian period (1876-1910). These haciendas were dedicated to the production of mezcal, as well as the cultivation of sugar cane and rice and the raising of livestock.
Hacienda "El Cabezon"
This hacienda dated from the conquest. It passed through several owners until in 1765 Manuel Calixto Cañedo bought this and the neighbouring hacienda La Vega at auction from the Juzgado Eclesiástico of Guadalajara.
Manuel Calixto Cañedo de Alcaraz had made his initial fortune in the silver mines at Rosario, Sinaloa (then Sonora), and had converted his assets into a string of rich haciendas besides continuing as a merchant and financier. He started a dynasty that remained in the Valles región until the first decades of the 20th century. In 1765 he bought this hacienda of El Cabezón and that of La Vega, in 1772 the hacienda of Buenavista and in 1780 the hacienda of La Calera. On his death in 1793 he left in the possession of the Cañedo family a series of properties that his successors would increase throughout the nineteenth century.
In October 1901 the tienda de raya of this hacienda sold maize at prices lower than the speculators even though the scarcity could have allowed good dividends,
In 1915 this hacienda was owned by his descendent, Manuel Calixto Cañedo.
These cartones were modelo 5218, ordered on 11 March 1915.

total
number
total
value
1c
500
$ 5.00
round maroon cartón
2c
500
10.00
3c
500
15.00
4c
500
20.00
2,000
$50.00
Hacienda de "El Cuis"
This hacienda was owned by Francisco de Paula Fernández del Valle. a leading businessman and one of the founders of the Banco de Jalisco.

It issued cartones printed by Iguíniz. Known examples include a satin-blue 1c, a blue 5c, and two 10c (one with a slightly thicker type).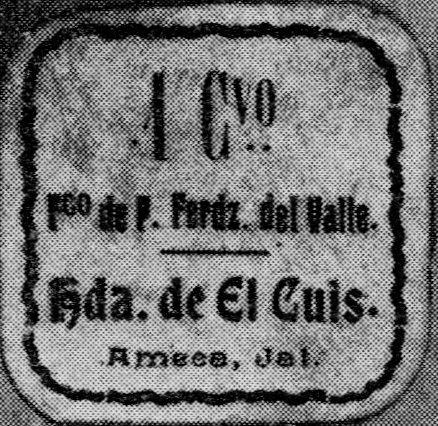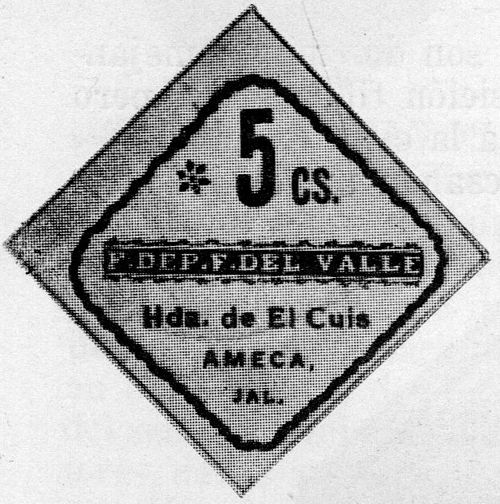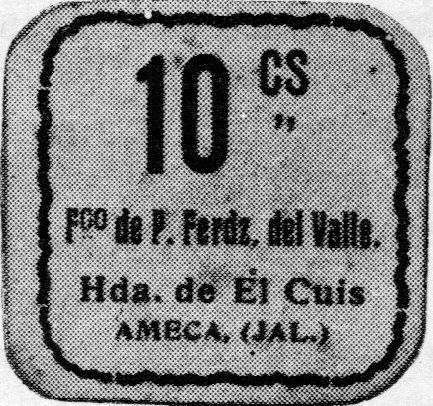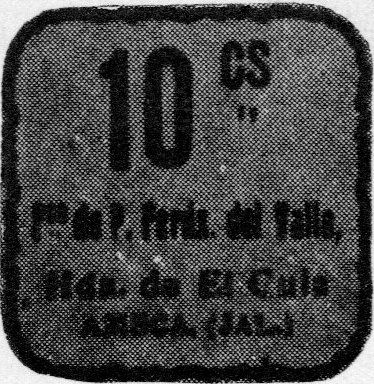 It also later issued $1 notes, changeable for infalsificables.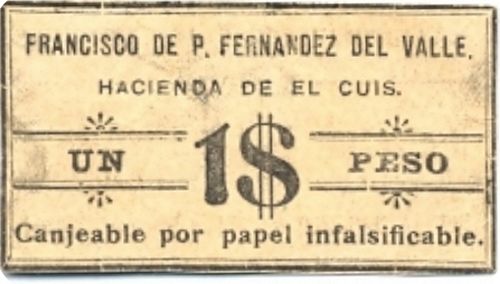 Hacienda de la Esperanza
The hacienda de La Esperanza belonged to the hacienda de Los Avinales, owned by Jesús Odilón Cañedo who received it from his father a little before the latter's death in 1886. Jesús Ovilón Cañedo changed his seat to the hacienda de la Esperanza.
It issued a series of identical notes in eight denominations (1c[mage needed], 3c[mage needed], 5c, 10c, 25c[mage needed], 50c[mage needed], $1 and $2), printed by J. M. Iguíniz.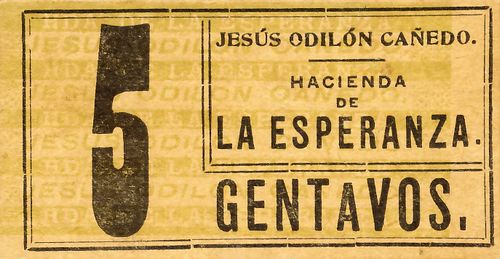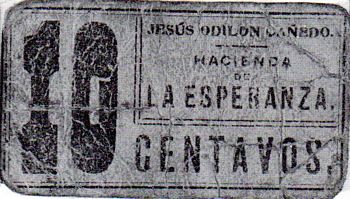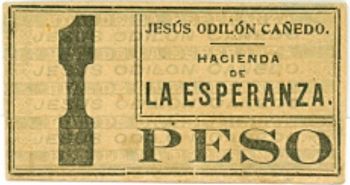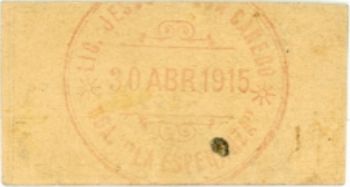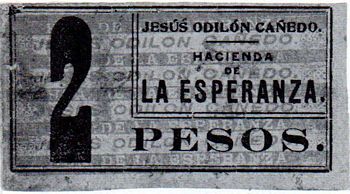 The 10c is dated 6 March 1915 and the $1 has the datestamp 30 April 1915 on the reverse.
There is also a 5c note, dated 22 January 1916 issued by the Fraccionamiento de la Hacienda "La Esperanza" and valid for three months from the date of issue.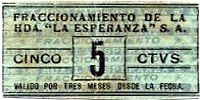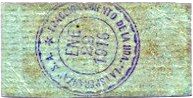 The company called "Fraccionamiento de la Hacienda de "La Esperanza", S. A." was set up on 18 August 1915 with a capital of $1,500,000 (reduced to $375,000 on 14 December 1915) to acquire the haciendas "La Esperanza", situated 5 kilometres southeast of Ameca, and "Jayamitla", situated 18 kilometres north of Ameca, to exploit them or break them up and sell in lots.
Hacienda de San Miguel
The hacienda was owned by Juan. L. Corcuera (connection with hacienda de San Miguel Cocula?).
A blue 20c and a pink 50c cartón[image needed], printed by Iguíniz, are known.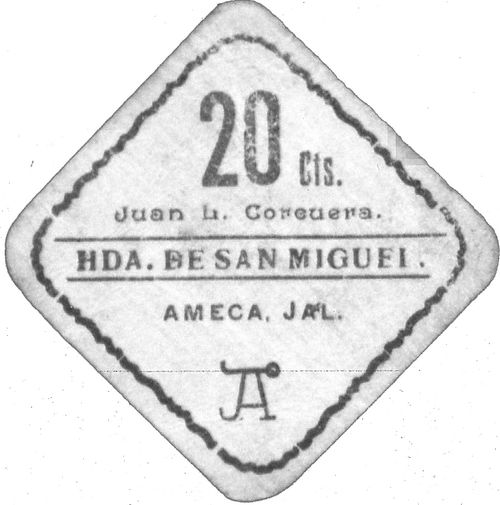 Autlán
Autlán is in the southwest of the state.
Hacienda El Limón
Ezequiel Zepeda[if correct person]
Ezequiel Zepeda Sánchez was born on 18 October 1874, in Zapotiltic, Jalisco. He married Sofia Alcaraz Sanchez in 1918, in Ciudad Guzmán, Jalisco. He died on 8 November 1964, at the age of 90, and was buried in Guadalajara, Jalisco. y Hermanos issued cheques for 25c[mage needed], 50c and $1[mage needed], for various dates in 1915.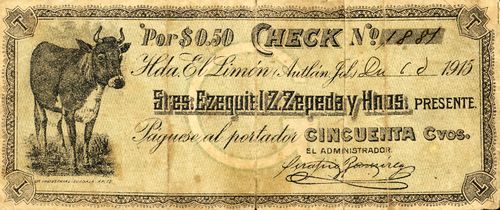 date on note
from
to
total
number
total
value
25c
includes number 452
50c
4 December 1915
includes number 1595

CNBanxico #4490

6 December 1915
includes number 1881
$1
28 November 1915
includes number 1840

CNBanxico #4491
These were printed by the Litográfia Industrial in Guadalajara and are the same design as the Hacienda El Rincón cheques. They have the signature of the Administrador, Serafino Ramírez.
| | |
| --- | --- |
| Serafino Ramírez | |
Ayotlán (Ayo el Chico)
Hacienda de la Concepción
The 500-hectare Hacienda de la Concepción was in Ayo el Chico (now Ayotlán). The brothers of the Sociedad Hernández Orozco Hermanos were José(?) and Jesús Hernández Orozco, a lawyer and judgeOn 27 September 1913 Jesús, then living at calle de Hidalgo 74 in Guadalajara, petitioned the Secretaría de Fomento, Colonización e Industria for permission to extract up to 500 litres a second from the Río Chico (which ran into the Río Grande or Lerma) for this estate (Diario Oficial, 3 November 1913).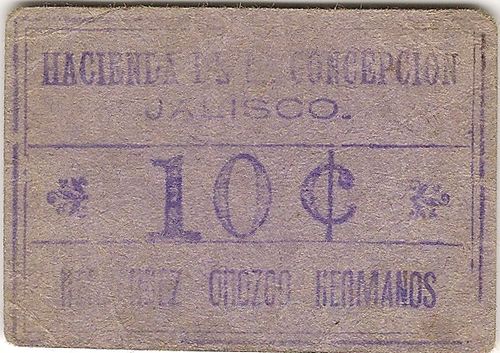 from
to
total
number
total
value
10c
includes number 0094
20c
includes number 2635
Hacienda de Huáscato
This was owned by Ignacio E. Castellanos.
These cartones were modelo 5290, ordered on 8 October 1915 at a cost of $30.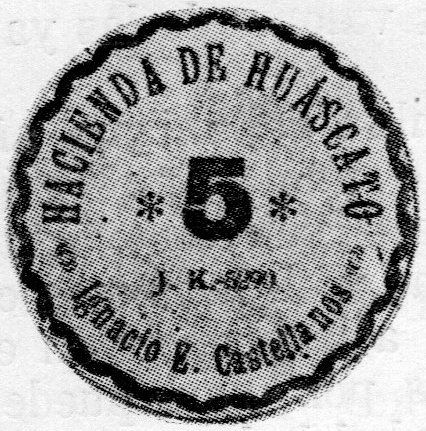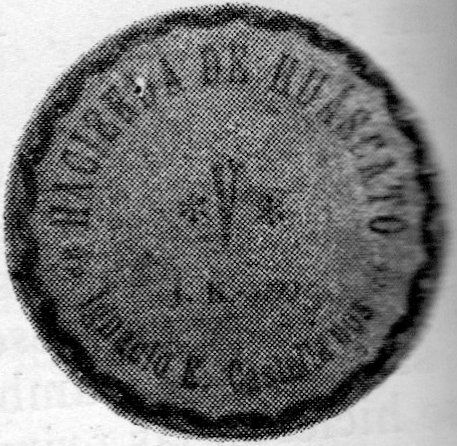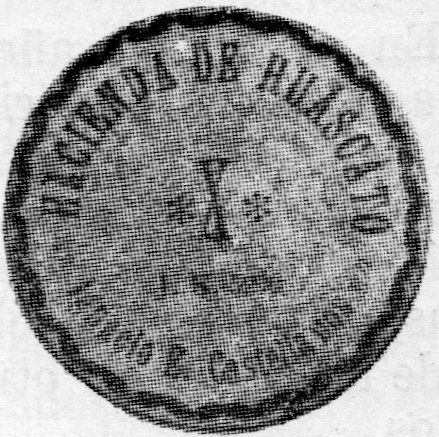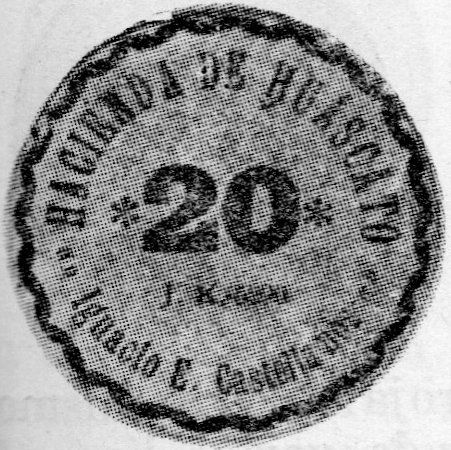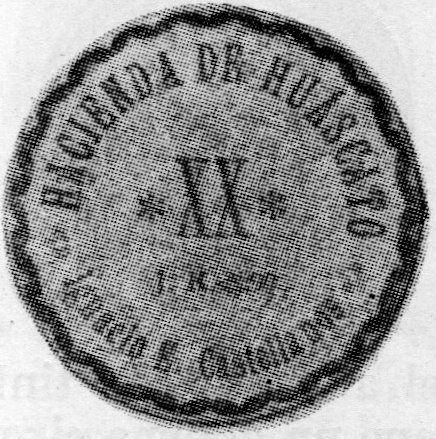 total
number
total
value
5c
700
$ 35.00
blue on round cream cartón
10c
700
70.00
20c
400
80.00
50c
200
100.00
2,000
$285.00