Jojotepec
Hacienda de Huejotitan
This was owned by Francisco de la Cruz.
These were modelo 5257, produced on 27 May 1915.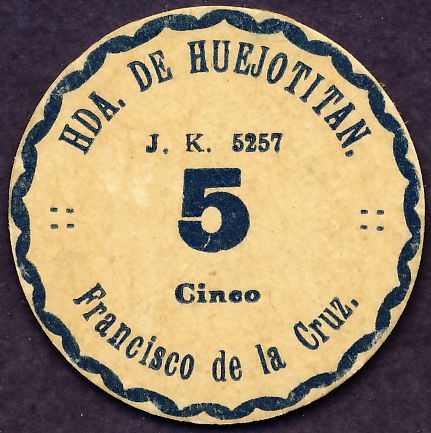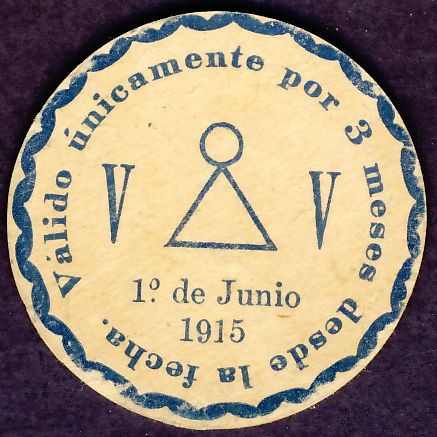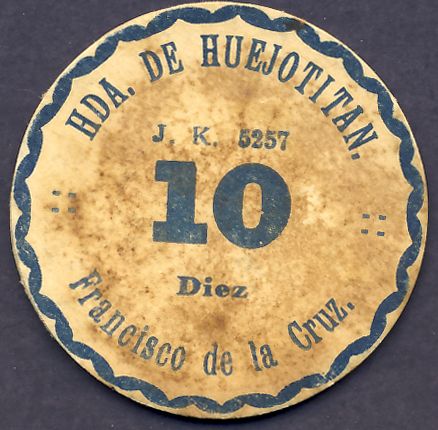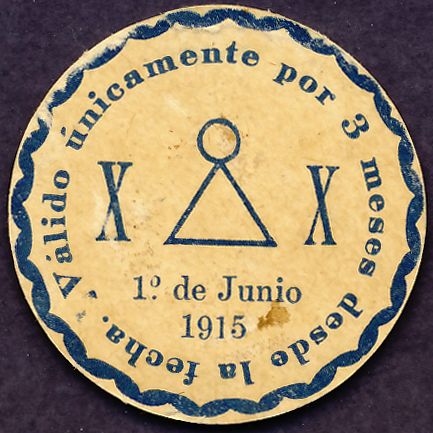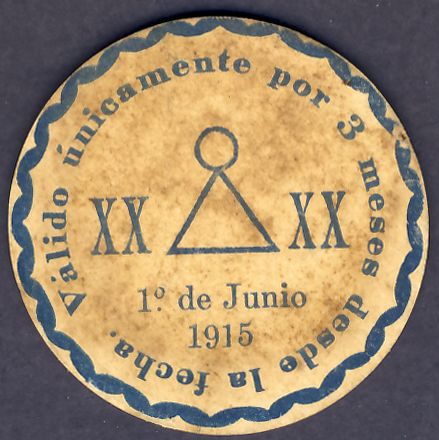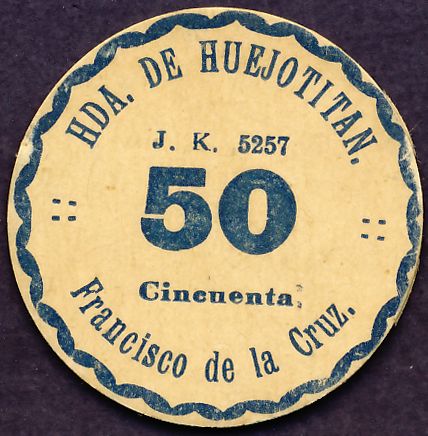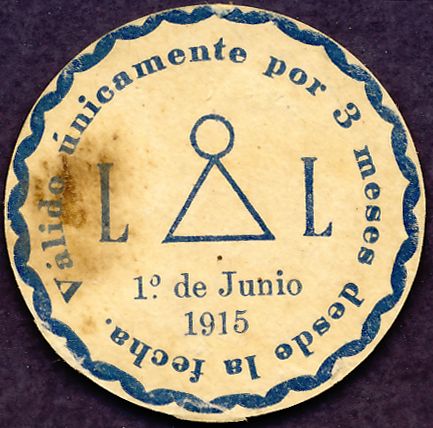 total
number
total
value
5c
1,000
$ 50.00
round manilla cartón
10c
1,000
100.00
20c
1,000
200.00
50c
1,000
500.00
4,000
$850.00
Pihuamo
Haciendas "La Estrella" y "El Naranjo"
We know of at least three values (5c, 10c and 50c), all identical apart from the denomination.
Hacienda El Naranjo y Anexas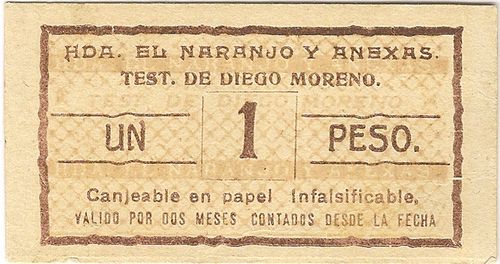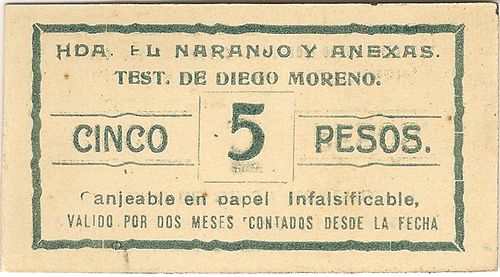 These notes, issued by the late Diego Moreno's heirs, were redeemable in infalsificables and valid for two months from their date of issue.
San Gabriel
Hacienda San Miguel
This hacienda was owned by the Compañía de Fomento y Bienes Raices de Guadalajara.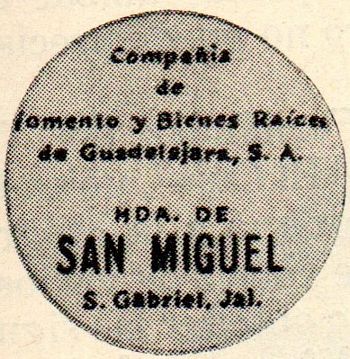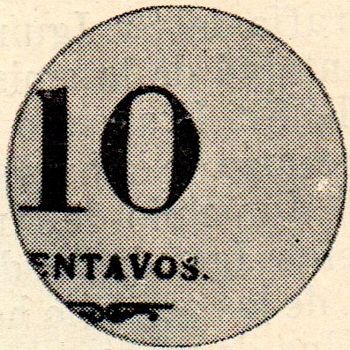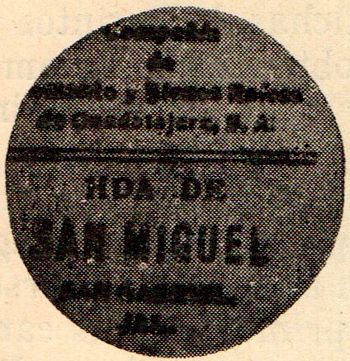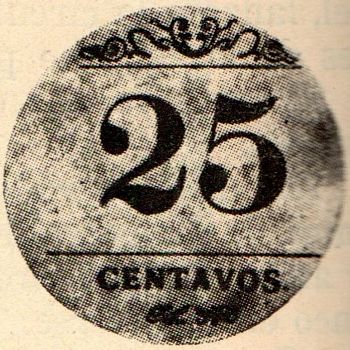 10c and 25c cartones are known.
Severiano Soto e hijo
At the beginning of the 20th century Severiano Soto was one of the richest men in the region, his wealth coming mainly from cattle, groceries and fabrics in San Gabriel. He had a large store called "La Exposición Universal de Severiano Soto e Hijos", which sold, besides local products, imported goods from fabrics and wine to furniture. Severiano owned part of the Hacienda de Apulco, and the hacienda "La Guadalupe" which had been part of the hacienda de Telcampana, and which he has bought from Jacinto Cortina. He was ruined by the Revolution.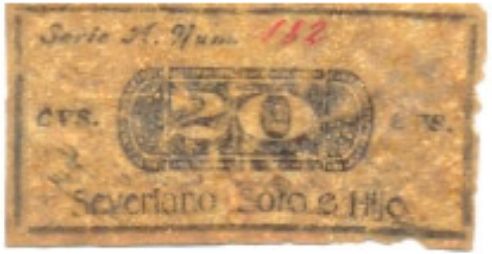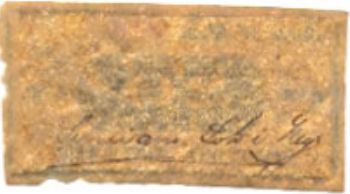 In the Banco de México collection is a 20c note.
San Martin Hidalgo
Hacienda Labor de Medina
This hacienda was owned by Luis Terán. Two values, 1c and 20c, are known from 1915.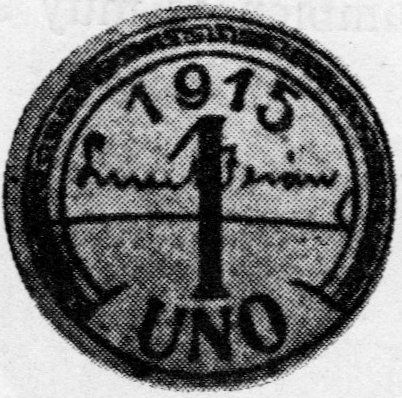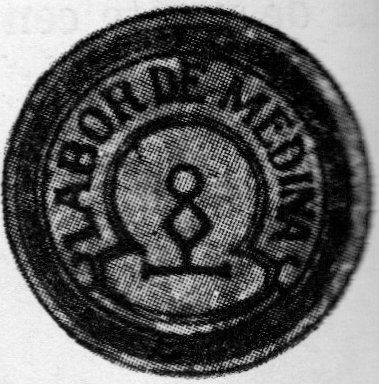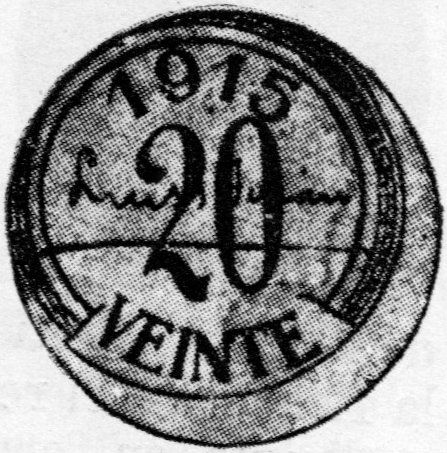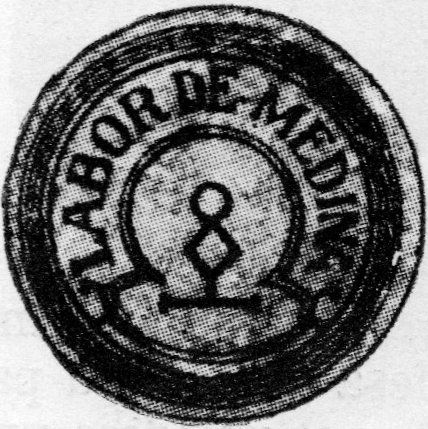 Hacienda Los Sitios
This hacienda, owned by J. Jesús Rosas, issued a similar 10c cartón in 1915.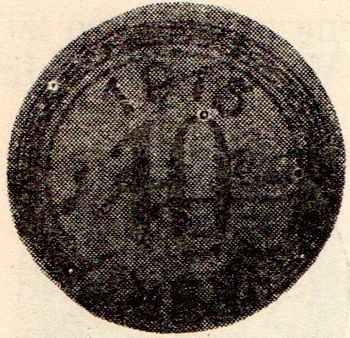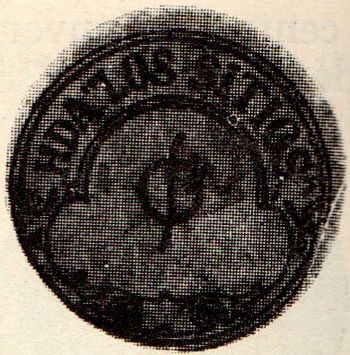 Hacienda Agua Caliente
José Virgen Rosas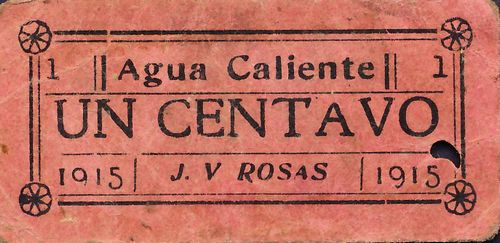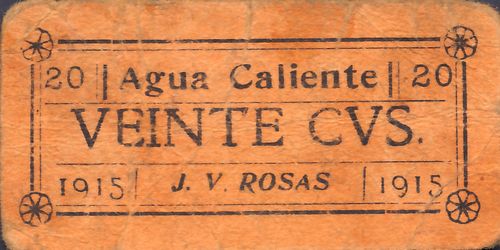 The 1c note. on its reverse, has a violet oval handstamp. reading 'JOSE VIRGEN ROSAS. - MAY. 20 1915. - SAN MARTIN HIDALGO. JAL.'.
Sayula
Hacienda de Amatitlán
This was owned by Fernando de la Peña y hermano.
These were modelo 4711, ordered on 26 March 1914.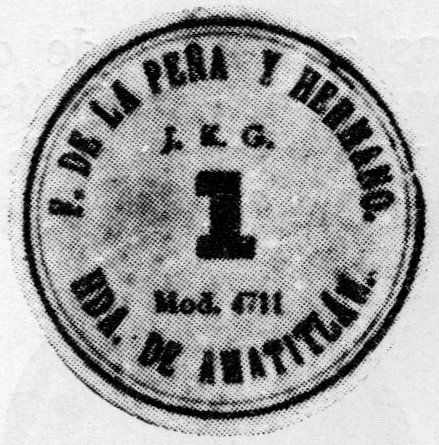 total
number
total
value
Comment
1c
1,000
$ 10.00
round brown cartón
2c
1,000
20.00
5c
1,000
50.00
10c
1,000
100.00
25c
500
125.00
50c
500
250.00
5,000
$555.00
Hacienda de Telcampana
Jacinto Cortina