Tuxcacuesco
Hacienda de Apulco
The Hacienda of Apulco, in the municipio of Tuxcacuesco, on its border with Tonaya and San Gabriel, was constructed by Carlos Vizcaíno in 1884.
| | | |
| --- | --- | --- |
| | | |
| Carlos Vizcaíno | | Vicente Vizcaíno |
In May 1915 Carlos Vizcaíno and his son, Vicente, issued notes in three values.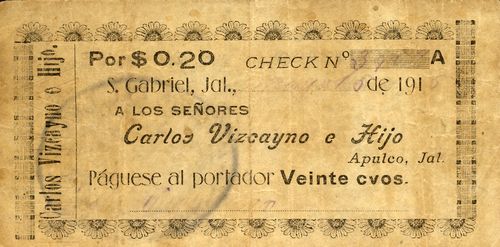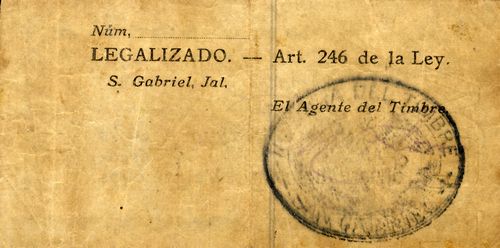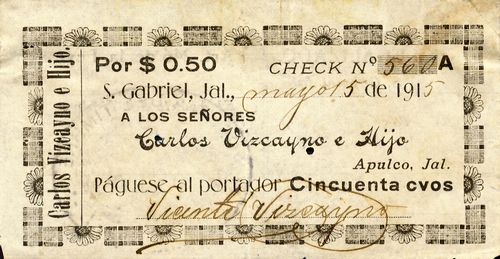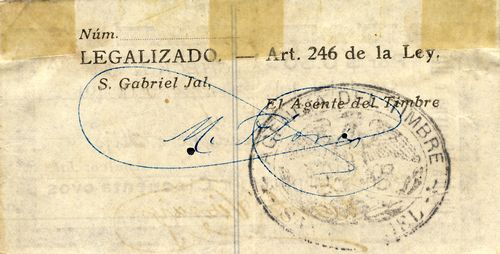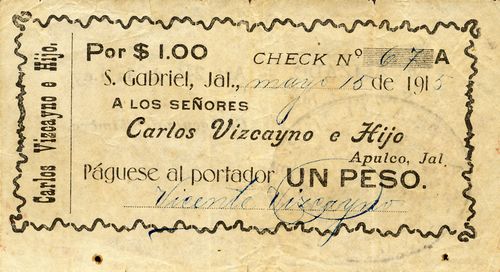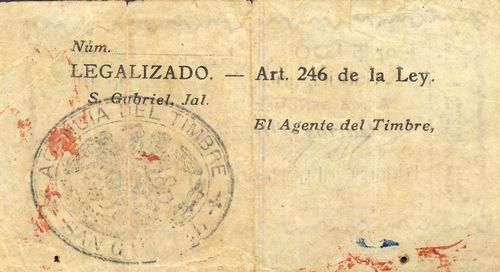 date on note
series
from
to
total
number
total
value
20c
15 May 1915
A
includes numbers 2156 to 39[ ]
50c
15 May 1915
A
includes number 560
$1
15 May 1915
A
includes number 67
Carlos Vizcaíno died in 1917 and the hacienda passed to his widow, Tiburcia Arias, and his son Vicente Vizcaínoinformation from "Billetes emitidos por el abuelo y tío maternos de Juan Rulfo para San Gabriel, Jalisco y la Hacienda de Apulco" by Ignacio de Jesús Sánchez Montes in Boletín Numismático, April- June 2018.
Tuxpan
Hacienda del Valle Florido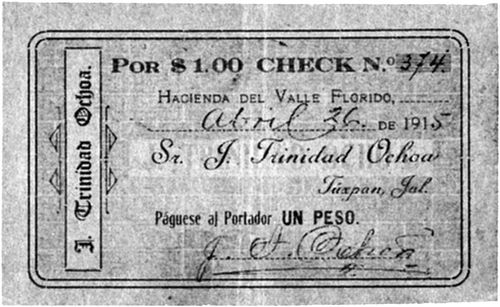 date on note
to
from
total
number
total
value
$1
26 April 1915
includes number 374
This was printed in red and green on cream paper, with a handwritten date and signature.
| | |
| --- | --- |
| J. Trinidad Ochoa | |
Unión de Tula
Hacienda San Clemente
At the end of the 19th century San Clemente was in the hands of the Palomar y Corcuera family. Concepción Loyzaga y Corcuera de Palomar, niece of Manuel Luna and married to Agustín Palomar García Sancho, was owner of the estate.
These cartones were modelo 5162, produced on 16 June 1916.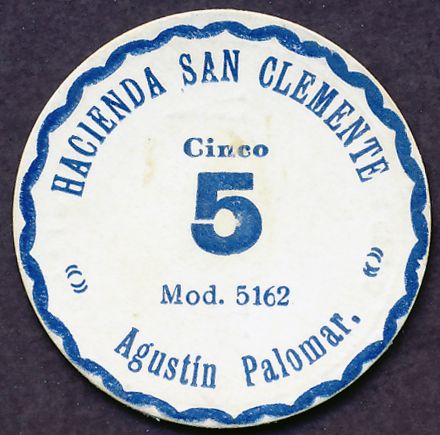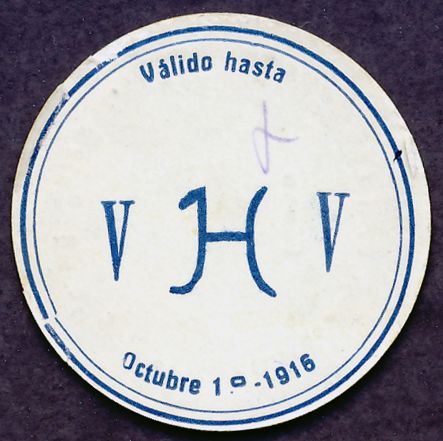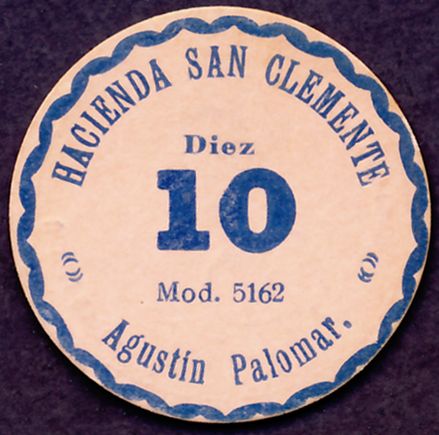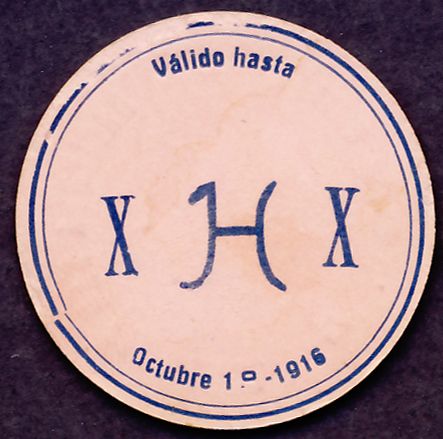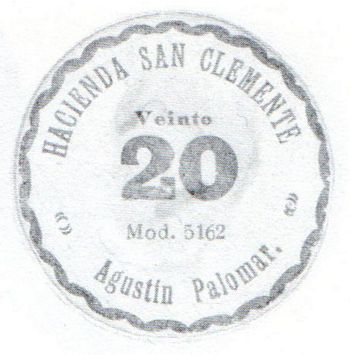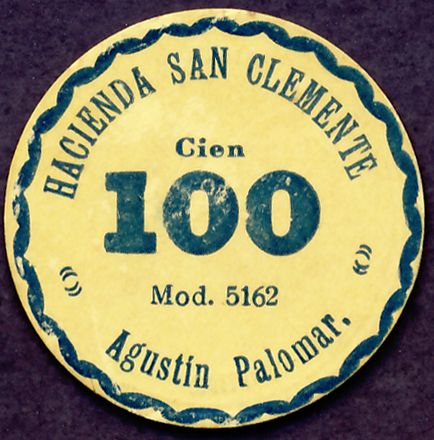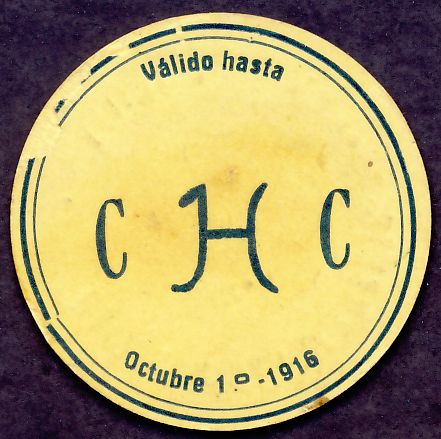 total
number
total
value
5c
1,000
$ 50.00
round blue cartón
10c
1,000
100.00
round pink cartón
20c
1,000
200.00
round green cartón
50c
500
250.00
round orange cartón
$1
500
500.00
round yellow cartón
4,000
$1,100.00
Hacienda Santa Rosa
José Santa Maria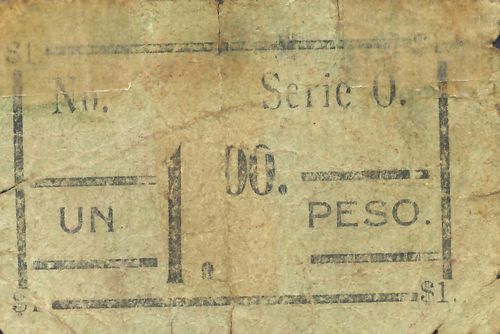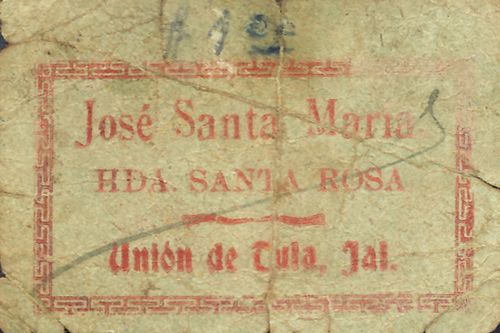 series
from
to
total
number
total
value
$1
O
includes number [81]
Zapoltiltic
Zapotiltic is a town just 15 kilometres south-east of Ciudad Guzmán.
Hacienda El Rincón
The hacienda El Rincón was founded in 1895 by Severo Gómez Vizcaíno and Carlota Gómez Adame. It was a little over 7,000 hectares and employed more than 200 workers in producing sugar cane. The hacienda was drastically reduced after the revolution and now has only 120 hectares.
In 1915 the widow Carlota Gómez issued cheques signed by her Administrador, Adrian Cordero.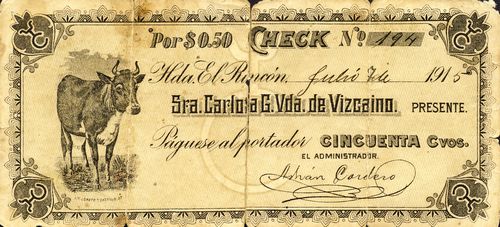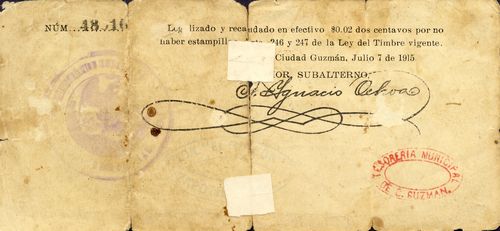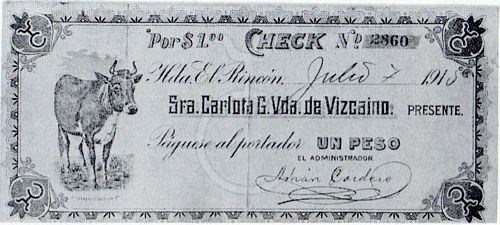 date on note
from
to
total
number
total
value
50c
7 July 1915
includes number 194
$1
7 July 1915
includes number 2860
Strangely, although these are identical to the Hacienda El Limón cheques they were printed by the Litográfia Loreto y Castillo of Guadalajara, rather than the Litográfia Industrial.