Villa Corona
Hacienda de Estipac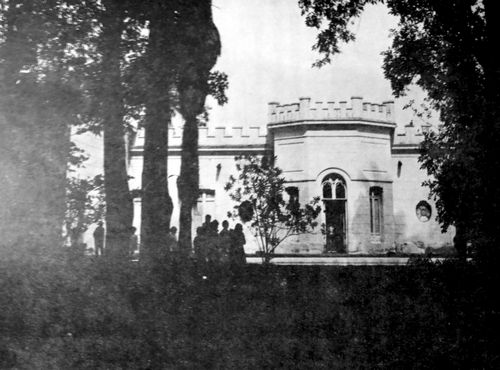 The Hacienda de Estipac, owned by the brothers Francisco and Enrique Corcuera, was a sugar cane plantation and a "fatal hacienda" for those who lived there during the Porfiriato, according to people who lived there, The hacienda was large in extent, and surrounded by high adobe and rock walls. It was divided into two patios (yards): one where the peones lived in their straw huts, and from where no one could go outside after 8:00 p.m. It was forbidden to trespass into the patio where the main buildings were. There was a torreón (watch tower) where guards were stationed in order to watch the peones. Any peon caught trying to escape was shot to death. Only the servants were allowed to go to the main buildings through a door located by the church. The hacendados did not permit strangers on their premises and the foremen (capataces) took care that the peones did their work.
The first issue were uniface cartones made by Juan Kaiser on 13 February 1914 of Royal Index Bristol pressboard.
total
number
total
value
5c
200
$10.00
10c
200
20.00
400
$30.00
The next issue was produced by the printing house of Iguíniz, and so Delgado did not have any production details. These were oblong, measuring c. 61 x 32 mm. with rounded corners.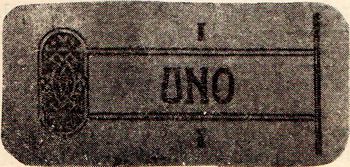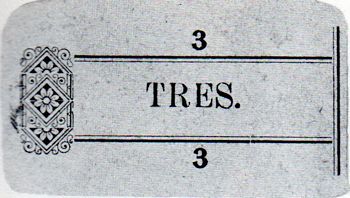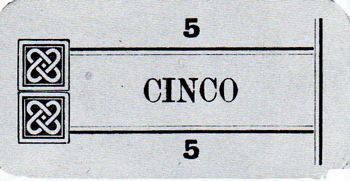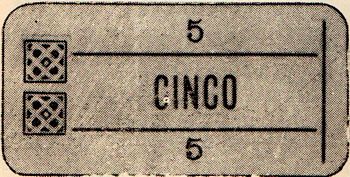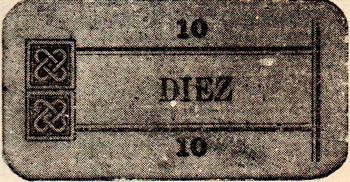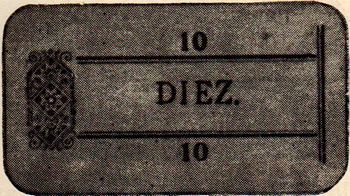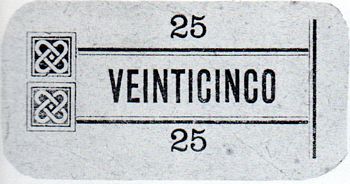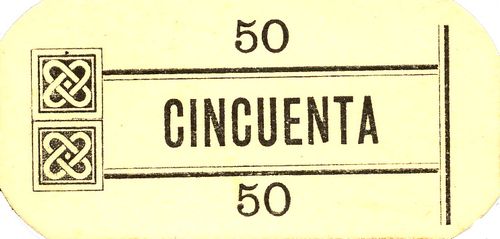 total
number
total
value
1c
orange pasteboard
3c
blue pasteboard
5c
green pasteboard
blue pasteboard
10c
blue pasteboard
green pasteboard
25c
white pasteboard
50c
yellow pasteboard
Delgado states that the blue 5c and green 10c cartones were produced by Juan Kaiser but he gives no figures and this seems unlikely.
The Casa Litográfica Iguíniz also produced another series, measuring c. 61 x 35 mm.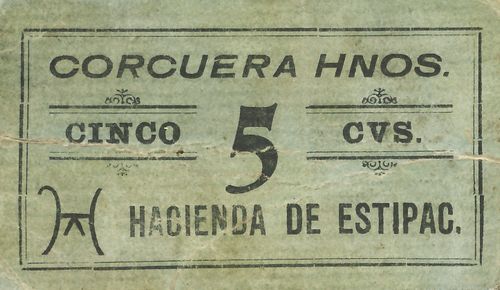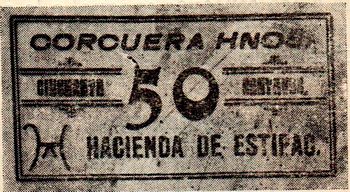 total
number
total
value
5c
10c
50c
blue pressboard
Juan Kaiser produced a series, modelo 4737, on 7 May 1914.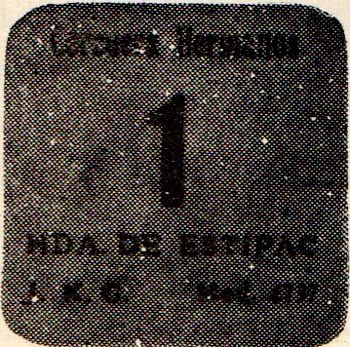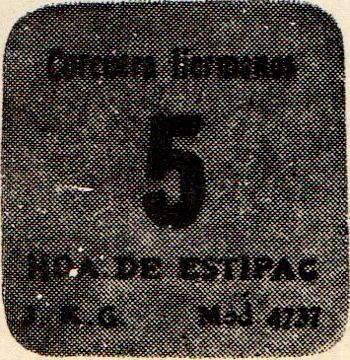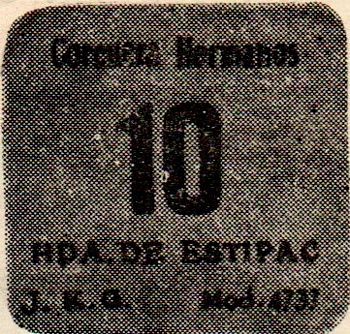 total
number
total
value
1c
500
$ 5.00
5c
300
15.00
10c
300
30.00
1,100
$50.00
The hacienda also produced 25c, 50c and $1 notes payable in infalsificables.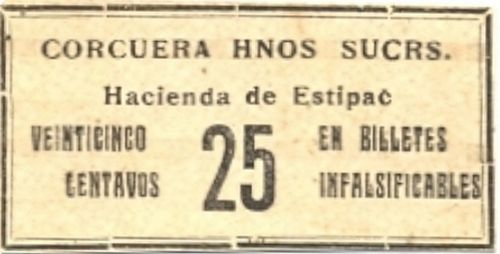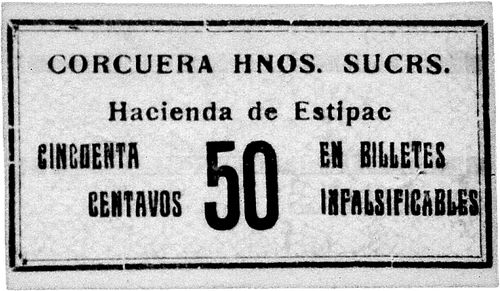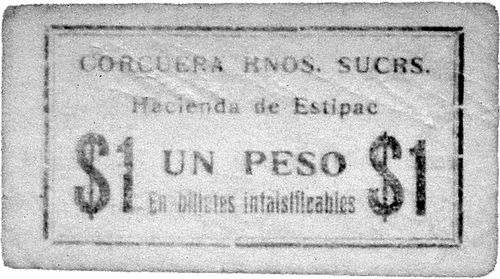 total
number
total
value
25c
50c
$1
Zapoltiltic
Hacienda El Rincón
Carlota G. Vda. de Vizcaino issued cheques signed by her Administrador, Adrian Cordero.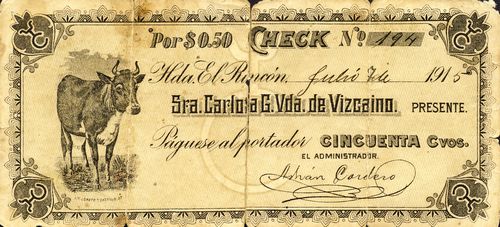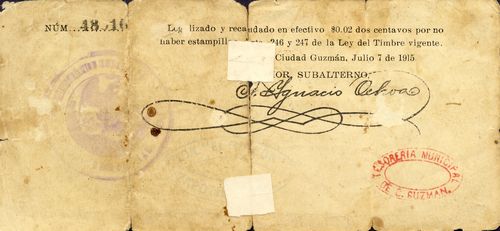 date on note
from
to
total
number
total
value
50c
7 July 1915
includes number 194
Strangely, although these are identical to the Hacienda El Limón cheques they were printed by the Litográfia Loreto y Castillo of Guadalajara, rather than the Litográfia Industrial.