Private issues (Guadalajara)
In October 1914 it was reported that some small businesses, because of the lack of small coins, had issued fichas with which to make change. As these could only be used in the same establishment, it seemed that the government would take steps to stop the practiceEl Reformador, Tomo I, Núm. 64, 15 October 1914. However, in June 1915 a newspaper could report that it had received complaints about the paper money issued by cantinas, shops and even hawkers in the market. Although people had done this to overcome the shortage of small change, the practice was illegal and the public were not obliged to accept such paper or cartonesEl Presente, 6 June 1915.
M. Ascencio Morales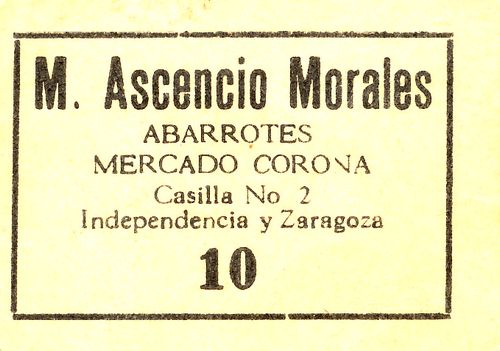 Salon Azteca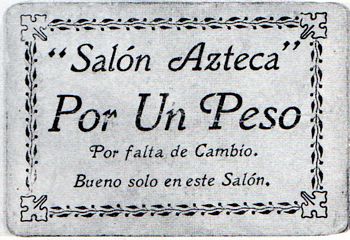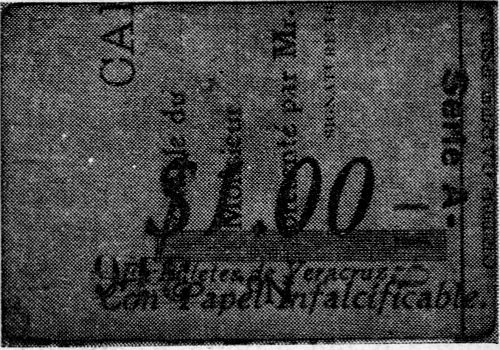 series
from
to
total
number
total
value
$1
A
includes number 119
This establishment was run by Agustín Robles.
Teodoro Campos Kunhardt y Assoc.
A 50c note[image needed].
Tienda de Antonio Bayardo
A brown cartón for 10c[image needed].
Compañía Hidroeléctrica e Irrigadora del Chapula, S. A.
This company ran the trams in Guadalajara. In 1905 the local electricity company and several horsecar operators formed the Compañía de Tranvías, Luz y Fuerza. This was absorbed in 1909 by the Compañía Hidroeléctrica e Irrigadora del Chapala, which had a power plant at El Salto de Juanacatlán 30 kilometres south of town.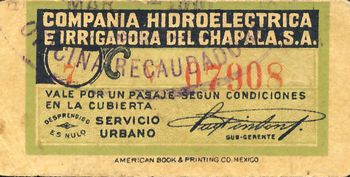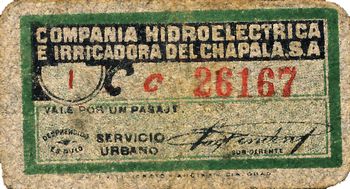 These are coupons for a single fare, without a denomination, and sold in strips of 20, numbered 1 to 20, with the facsimile signature is of Eugenio Pinzon, the sub-gerente. However, DelgadoRicardo Delgado, Las Monedas Jaliscienses durante la Epoca Revolucionaria, Guadalajara, 1938 writes that at the end of 1915 the public in Guadalajara and the neighbouring towns began to use these as small change, with each coupon representing five centavos.
Delgado adds that the company also issued fichas. He possessed one of five centavos[image needed] but did not know if the company also issued fichas of other values.
In December 1915 it was said that the company was considering withdrawing its bonos because of their poor state. The company was the winner because it did not exchange or make good any bono that had deterioratedBoletín Militar, Tomo III, Núm. 333, 1 December 1915.
Again in February 1916 it was reported that the company would recall its bonos which would make the lack of change even worseBoletín Militar, Tomo V, Núm. 391, 8 February 1916 but the next day the managers wrote to say that because of the effect on the public in agreement with the competent authority they would not be recalling their planillas para pasajesBoletín Militar, Tomo V, Núm. 392, 9 February 1916.
The Drogueria Alemana (German Drugstore)
The Drogueria Alemana was run by Carlos Ibarra. On 19 June 1915 he ordered the following, modelo 5266, from Juan Kaiser for t total cost of $97.75.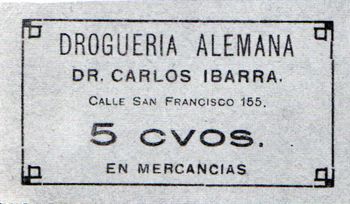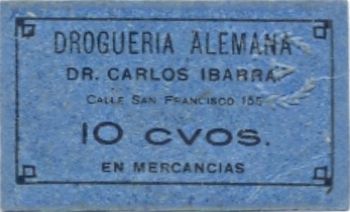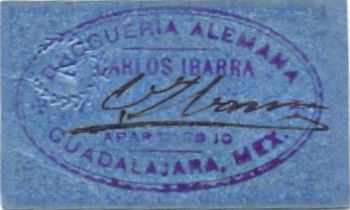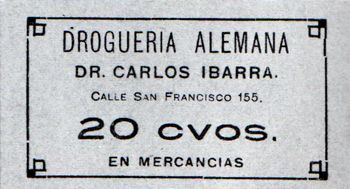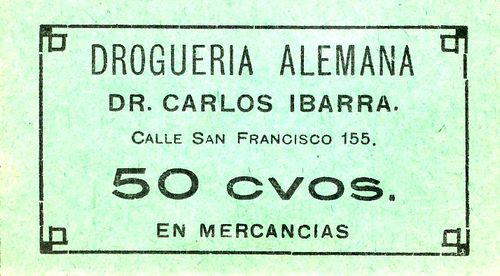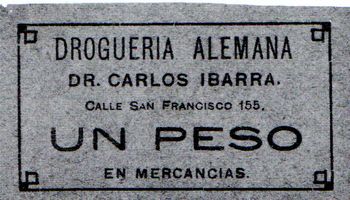 total
number
total
value
5c
4,000
$ 200.00
pink cartón
10c
4,000
400.00
deep blue cartón
20c
2,000
400.00
Nile green cartón
50c
1,000
500.00
green cartón
$1
500
500.00
yellow cartón
11,500
$2,000.00
In April 1916 an American stationed in Guadalajara told the following tale, of an event that was replicated throughout Mexico.
"The German Drug Store, (probably the largest drug establishment in the city) just opposite the Consulate, on San Francisco Street, closed its doors about a week ago, on account of the following: A customer offered in payment of a purchase a bill which the proprietor refused to accept. The … customer reported the matter to the Presidente Municipal, who fined the druggist five hundred pesos for having committed the offense. When the druggist offered in payment of said fine exactly the kind of paper money which he had refused to accept from the said customer, the said Presidente Municipal did then and there decline to accept such money – which so disgusted the druggist that he at once closed his place of business! The proprietor of the German Drug Store is a Mexican and fearing to fare yet worse from the operation of the edictCarranza threatens establishments closing up or suspending operations, Querétaro, 31 March 1916, he is just now reopening his store"Will B. Davis, Experiences and Observations of an American Consular Office during the recent Mexican revolutions, 1920.
"El Fenix"
The Drogueria y Ferreteria "El Fenix" issued 10c and 20c notes dated 11 May 1915.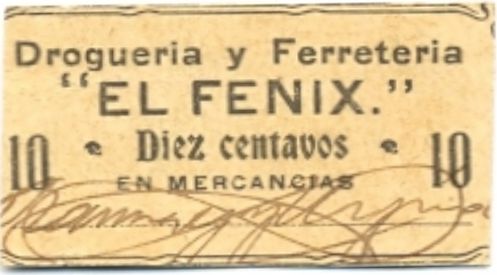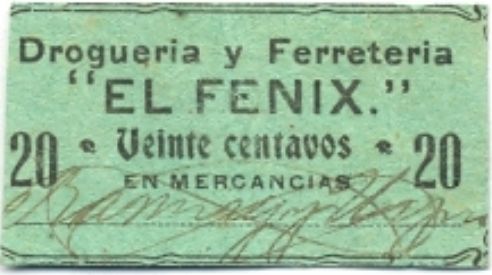 Hotel Francés
The Cantina of the Hotel Francés issued a 5c note, with the name of Enrique Villa.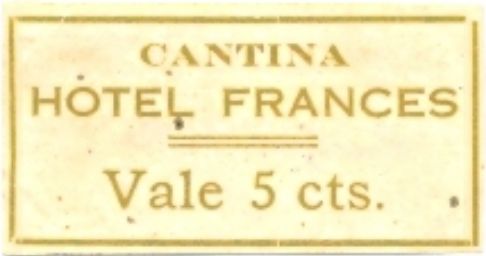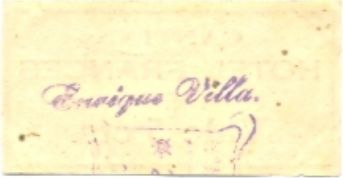 La Fraternal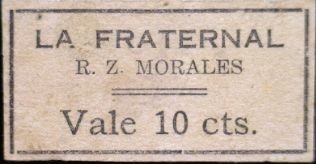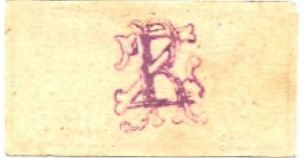 A 10c note, placed here because of the similarities in design.
La Imperial
A 5c note.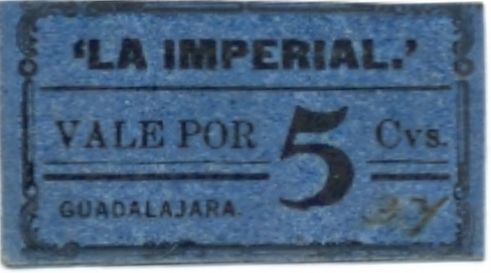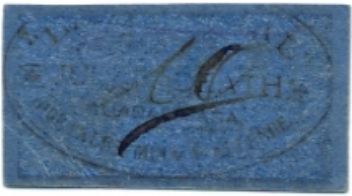 Restaurante "Valdez"
A 10c note with the name of Francisco Valdez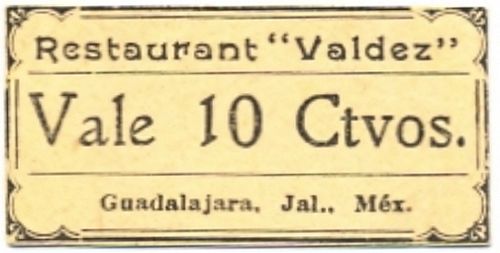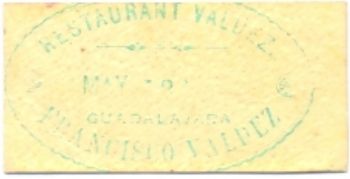 Cantina y Restaurant "Faust"
This restarant in the avenida Colón, owned by M. Caire, has $5 note[image needed] printed by Imprenta y Libreria Font y Velasco.
Cantina "La Fuente"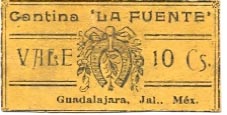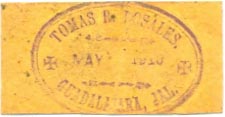 A 10c note dated May 1915 with the stamp of Tomás R. Rosales.
Cantina "La Metralla"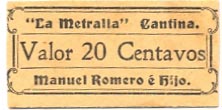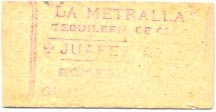 A cantina called "the shrapnel" obviously dates from the Revolution. A 20c note with the names of Manuel Romero é hijo
Circulo Recreativo "Excelsior"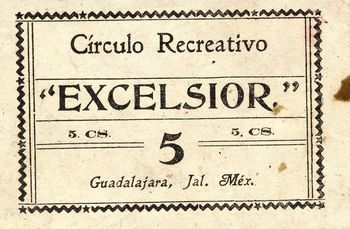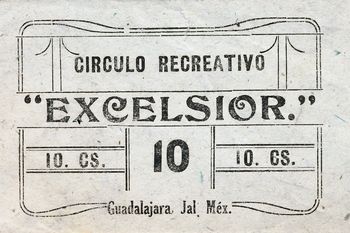 We know of 5c and 10c notes dated 21 and 22 August 1915.
Empresa de Kioskos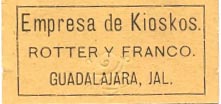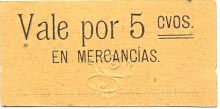 A 5c note with the name of Rotter y Franco
Depósito de Carbón y Lena
This was run by Salvador Martínez Frías.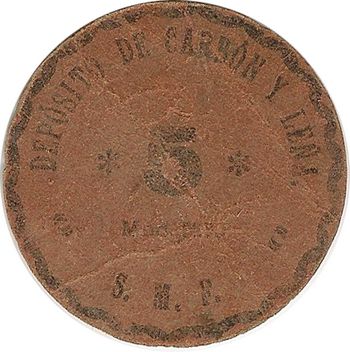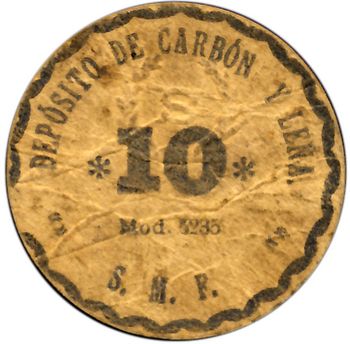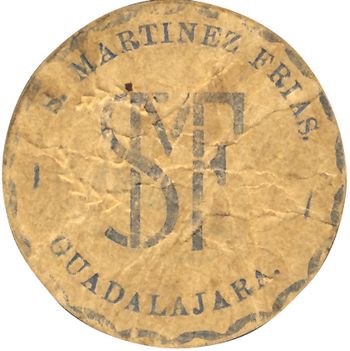 Date
modelo
Value
Number
issued
Total
Comment
24 April 1915
5235
5c
250
2,000
round cartón
10c
750
50c
1,000
round cartón: two types
second issue: no details known
Leopoldo López Zavala


On 19 May 1915 Leopoldo López Zavala, owner of two bars, asked the Presidente Municipal whether he could issue boletos of one and three centavos for his customers to use, attaching samples for consideration.. He was refused but told he could issue chequesAMGuad, Hacienda 1915, exp. 11.
Celso Vergara
On 22 November 1915 a José M. Silva wrote to J. E. González, the Subsecretario interino, that he had $45.50 in cheques issued by Celso Vergara. He had presented them to Vergara who refused to redeem them as the time limit had expired. Then he presented them to the Tesorería Municipal which said that they no longer had funds from Vergara. So he was asking the Governor to order the Tesorería Municipal to exchange them. González passed the message on to the Presidente Municipal who replied, on 24 December, that none of his offices had information on cheques issued by VergaraAMGuad, Hacienda 1915, exp. 145.