El Banco de Michoacán
Early attempts to establish a bank in Michoacán
In 1895 some English companies sent a representative to Michoacán to start talks with the government authorities about a bank, an idea that was welcomed by the authoritiesLa Libertad, Morelia, tomo 3, núm. 40, 1 October 1895. Despite favourable reviews, the presence of the English caused serious differences among the Michoacán capitalists. Some supported an alliance, because of the capital and experience offered, whilst a small group rejected the project because they belived it fundamental to create a Mexican institution. It took about a year for Governor Aristeo Mercado to intervene in the matter. He summoned a meeting in which he made present the wishes of the Executive, showing them the advantages that the foundation of a bank would bring to MichoacánPeriódico Oficial, tomo IV, núm. 51, 25 June 1896. The following week a Junta Coordinadora was formed, including Luis MacGregor, a local lender, the landowner Gabino Oseguera, Ramón Ramírez and Miguel MesaPeriódico Oficial, tomo V, núm. 35, 2 May 1897. Some of the foreigners settled in the state, León Audiffred, Juan Basagoiti and Luis Brioschi, also participated. Together they decided to found the institution with a capital of $500,000, divided into 5,000 shares of $100La Libertad, tomo 5, núm. 18, 4 May 1897. However, despite the good omens, the first results were not very favourable, since in the initial subscription only $115,000.00 was raised, increased a few days later to $139,000, that is, less than half of the capital with which the bank was planned to operatePeriódico Oficial, tomo V, núm. 40, 20 January 1897. Some capitalists who initially sympathized with the project considered their investment as very risky and so lost their initial enthusiasm. A few months later Joaquín Esteban Oseguera, Ramón Ramírez, Eduardo Iturbide and Francisco Elguero, obtained from the authorities the consent to found a bank with the character of 'refaccionario' (i.e. not a bank of issue), an institution which was fully legalized on 26 January 1901La Libertad, tomo 8, núm. 82, 16 October 1900. Felipe and Eduardo Iturbide acquired 100 shares, Francisco Elguero 50 and Joaquín Esteban Oseguera 150. The Compañía Banquera Anglo-Mexicana, S.A., acquired a thousand shares and Mr. José Castellot 478. (La Libertad, tomo 9, núm. 19, 10 May 1901).
In the short time in which the Banco Refaccionario de Michoacán operated, there were a number of controversies. Eduardo Iturbide, who engaged in another financial business with a foreigner, was forced to submit his resignation and withdraw momentarily from the business. The solution to the bank's problems began to take shape when its board granted power to Joaquín D. Casasús and Fernando Duref, to negotiate with the Secretaría de Hacienda a concession to transform the Banco Refaccionario into a bank of issue, or to create a new banking company, or to obtain the consent to merge the existing establishment with any other in the RepublicANM, Escrituras Públicas of Lic. Francisco Barroso, Ese. No. 48, F. 111, Morelia, 25 April 1902. A few days later the Board of Directors signed the agreement to establish the Banco of Michoacán.
El Banco de Michoacán
This bank was founded in the city of Morelia in 1902, with an initial capital of 500,000 pesos. Joaquín Casasús negotiated the concession on behalf of José Castellot, Francisco Elguero, Ramón Ramirez, Deodoro Videgaray, Manuel Montaño Ramiro, Felipe Iturbide, Joaquín Esteban Oseguera and Mariano Laris Contreras, and Adolfo Hegewish, the representative of the Compañía Banquera Anglo-MexicanaEl Tiempo, Año XIX, Núm. 5587, 16 May 1902.
The bank was to be governed by a consejo consultivo resident in Mexico City, composed of Joaquín D. Casasús, Fernando Pimentel y Fagoaga and Ramón Alcazarlater the paper listed Joaquin D. Casasús, Carlos Casasús, Carlos Robles and Fernando Pimentel y Fagoaga (The Mexican Herald, 6 January 1903), and a local consejo de administracion with Eduardo Iturbide as president; Joaquín Esteban Oseguera, as vice president; and Ramón Ramírez; Felipe Iturbide and Gabino Oseguera as board members. The first manager was Nemesio Ponce; auditor, Manuel Macouzet, and cashier, Miguel EstradaThe Mexican Herald, 23 December 1903. The bank commerced operations on 5 January 1903.
It seems that despite the generous concessions offered to the first bank to be chartered in each state, Michoacan could not support its own bank of issue and due to the financial crisis in 1907-1908 it converted into a banco refaccionario on 1 March 1909, giving up the right to issue banknotes. Holders of banknotes were given until 1914 to redeem them at the Banco Nacional de México.
American Bank Note Company print runs
The American Bank Note Company printed the following notes. As well as using stock vignettes the ABNC engraved special vignettes of José Maria Morelos (minus his trademark bandana) (C 258) for the $5, Brigadier José Mariano Michelena (C 257)José Mariano Michelena was born in Valladolid (now Morelia) in 1772. He studied law in Mexico City and entered the Infantry Regiment of the Crown where he became a lieutenant. At Jalapa, he met Allende, Arias, Aldama, and other officers who would later be important figures in the War of Independence. When he was sent to Valladolid in September 1808 to recruit people for his regiment, he joined a group of military, ecclesiastic, and civil people who were conspiring against the Crown. Among them was his brother, Nicolás. The conspiracy was discovered in 1809, the same day of the insurrection, and they were confined to the Convent of Camerun and later sent to Mexico City. When he declared he was a loyal patriot and that his only interest was to preserve the country for Ferdinand VII in case Spain submitted to Napoleon, Michelena was set free, but was confined to the city of Valladolid.
When the revolution began in September 1810, he was apprehended again and sent to the Castle of San Juan de Ulua. He was tried, but since no connection was found between Michelena's plans and Hidalgo's, he was sent to Spain to serve in the struggle against the French. He was at the seizure of Bayona and did not return to Mexico until after the country achieved its independence. When he returned to his homeland, he was elected Deputy to the Constitutional Congress and fought against Iturbide. When Iturbide lost power, Michelena formed part of the executive power that governed the country (1822-1824) until it was time to elect the new President of the Republic. He was later the Foreign Minister for Mexico in England.
He died in Valladolid in 1852. for the $20, Vasco de Quiroga (C 256)Fray Vasco de Quiroga was born in Avila, Spain on 30 February 1470 and died in Uruapan, Michoacán on 14 March 1565. He was always a great benefactor of the natives. About 1532, he visited Tzintzuntzan and within the next year he founded a hospital town with a church and a school in the suburbs of Mexico City which he named Santa Fé de la Laguna. He became the first bishop of the State of Michoacán in 1537. for the $100, and engraved the Cathedral in Morelia for all the reverses.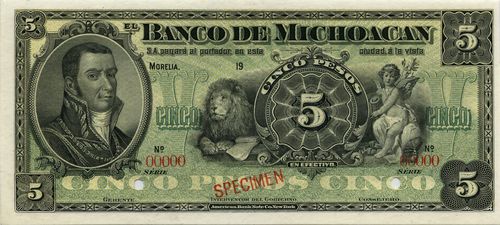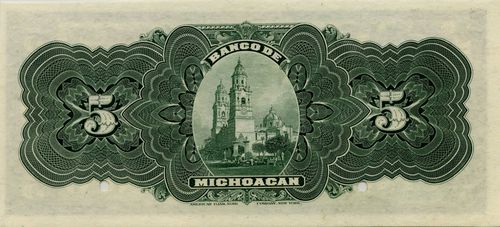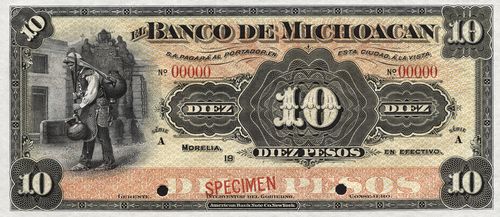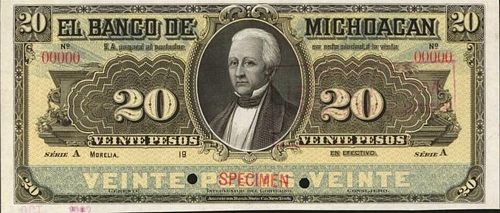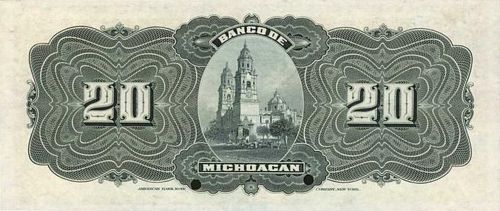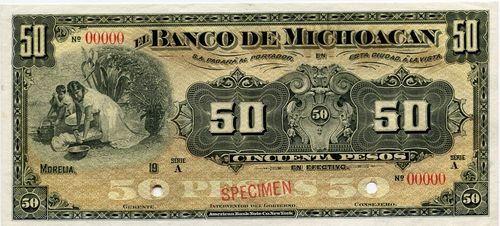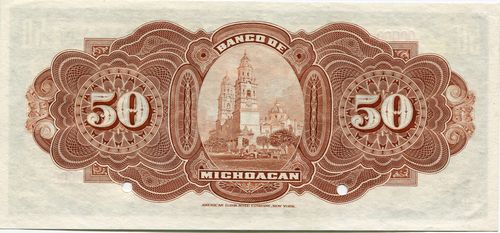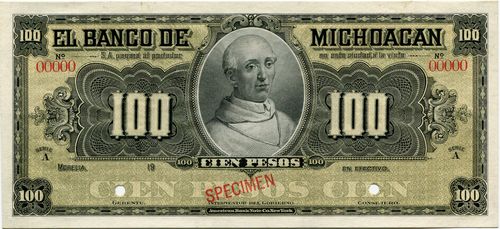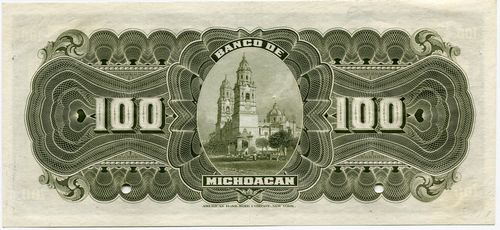 Date
Value
Number
Series
from
to
July 1902
$5
50,000
A
1
50000
$10
25,000
A
1
25000
$20
15,000
A
1
15000
$50
10,000
A
1
10000
$100
2,000
A
1
2000
In June 1906 the ABNC produced $500 and $1,000 notes.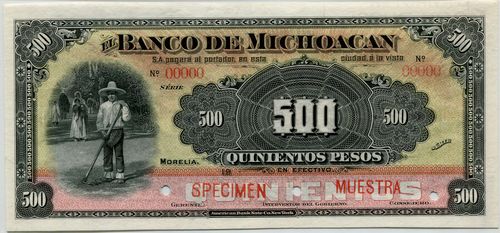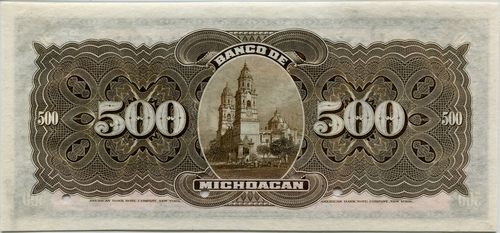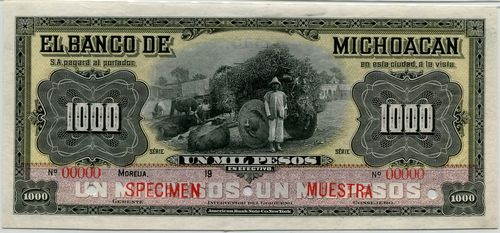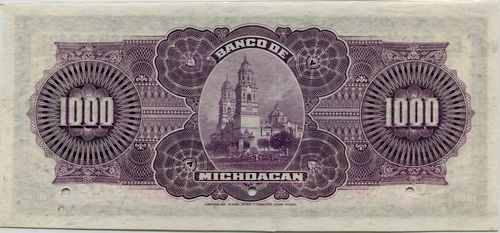 Date
Value
Number
Series
from
to
June 1906
$500
1,000
A
1
1000
$1,000
1,000
A
1
1000
These $500 and $1,000 notes were never issued and were destroyed in July 1910informe of Interventor Esparza, 13 January 1911 in Memoria de las Instituciones de Crédito 1910.
On 22 October 1931 Charles Blackmore, the ABNC's resident agent in Mexico City reported that, as the bank had been liquidated many years earlier there was no one from whom they could secure the authorization for the cancellation of the plates. According to Mexican law (Law of Prescription of 31 May 1901) all files of records and correspondence could be destroyed after ten years if there was no need to keep them, and no claim was valid if no action has been taken during the following ten years, so he felt that the ABNC could destroy the plates without any fear of a claim being made against themABNC.
Signatures
All notes have the signature of Nemesio Ponce as Gerente and M. C. Núñez as Interventor, but five directors shared the duty of signing as Consejero.
Gerente
| | |
| --- | --- |
| Nemesio Ponce had been manager of the local branch of the Banco de Londres y MéxicoEl Tiempo, Año XIX, Núm. 5516, 18 Febuary 1902. He was manager from the bank's opening in January 1903, through its conversion into a refaccionary bank, and resigned in July 1910El Tiempo, Año XXVIII, Núm. 8917, 26 July 1910. Miguel Estrada took over as manager on 1 August 1910El Economista Mexicano, 3 June 1911. | |
Interventor
| | |
| --- | --- |
| M. C. Núñez | |
Consejero
Eduardo N. Iturbide was born in Morelia on 29 October 1878. He was manager (gerente) of the bank in 1901 and president of the board in 1902. In 1901 several partners of the Banco de Michoacán began to be discouraged when they learned that Iturbide was participating in another business alongside a foreign investor. When this "unfortunate investment" became public, Iturbide was forced to submit his resignation as Presidente and at the same time retired from the business. Eduardo Iturbide, Mi paso por la vida, México, Ed. Cultura, 1941.

He was a senator in the XXVI Legislature from 1912 to 1914, As governor of the Federal District he agreed the occupation by the Constitutionalists on 13 August 1914. In 1941 he published his memoirs Mi paso por la vida. He died in Mexico City on 21 October 1952.

Felipe Iturbide was an alternate federal deputy in the XXIII Legislature (1906-1908) and a deputy in the XXVI Legislature (1913-1914).
Mariano Laris Contreras was born in Morelia in February 1860.

He was a lawyer and public notary, and died in Morelia on 29 August 1907 while still serving as President of the Consejo de NotariosLa Voz de Mexico, 4 September 1907; El Tiempo, Año XXV, Núm. 8061, 5 September 1907.

Joaquín Esteban Oseguera was born in Cotija and owned a sugar plantation in Tácambaro and ran a business in Morelia. He was vicepresident and treasurer of the Cámara Agrícola of Morelia in 1896.

In 1897 Joaquín Oseguera was on the first junta de vigilancia of the Morelia branch of the Banco de Londres y MéxicoSemana Mercantil, 27 September 1897.

In November 1898 Joaquín and Gabino Oseguera, along with José María Bermejillo, were reported to be planning a railroad from Tácambaro, where all three owned very rich sugar plantations to Coapam, in order to market their product more advantageouslyThe Mexican Herald, Vol. VII, No. 93, 2 December 1898.

Like his brothers, Epifanio and Joaquín, Gabino Oseguera originally came from Cotija. He set up in business in Ario de Rosales, moved during the Empire to Pátzcuaro and then with the restoration of the Republic moved to Morelia, where he owned the "El Puerto de Matamoros" grocery and the "El Michoacana" tobacco shopEl Centinela, Morelia, 16 July 1905. He owned a cigarette factory, located at Cerrada de San Agustín, no. 12, Morelia, producing El León del Oro cigars and El Pabellón Mexicano cigarettes.

In 1897 Gabino Oseguera was on the first junta de vigilancia of the Morelia branch of the Banco de Londres y MéxicoSemana Mercantil, 27 September 1897.

Gabinio's son lived in his rich hacienda of Chupio in TacámbaroLa Patria, 15 July 1905.

Gabino Oseguera died on 11 July 1905. He had been a very charitable person and his death was apparently greatly mourned not only by his fellow businessmen, but by the workers of the El Michoacana and a multitude of the city's pooribid..
Control numbers
Dick Long pointed out the the sum of the two control numbers turns out to be a number ending in 01 and decided that the letter and total related to the consejero who signed thus: $5 - A 101 E. Iturbide and B 301 Oseguera, $10 - A 101 E. Iturbide and B 301 Joaquín Oseguera, $20 D 701 F. Iturbide, $50 E 901 Contreras and $100 F 1101 Gabino Oseguera.