The revolution in Michoacán
On 23 December 1913 the news that banknotes were no longer accepted caused great alarm in Morelia. Queues formed outside the branches of the Banco Nacional de México and Banco de Londres y México and the glass in the doors of the Banco del Estado de México was brokenEl Centinela, Morelia, Año XXI, Núm. 23, 28 December 1913.
Morelia was captured in July 1914 and Gertrudis G. Sánchez named Provisional Governor.
In October 1914 the Presidente Municipal of Morelia, in his circular núm. 115, was reporting that the Obligaciones Provisionales were also of forced circulation and a week later, in circular núm. 117, that until 10 November the government would accept all notes in circulation and thereafter only those of the Constitucionalist government and of the banks. However, on 13 November, in circular núm. 123 he had to acknowledge that the government was continuing to accept all the notes.
On 26 November governor Sánchez declared that the two Chihuahua issues, the sábanas and the dos caritas, were of forced circulationPeriódico Oficial, 29 November 1914. Sánchez went to meet Villa at Irapuato in the last days of November. The meeting was very cordial, and Villa gave Sánchez arms, ammunition and a considerable sum of dos caritas. Then the next day Villa summoned Sánchez to Celaya and ordered him shot: Sanchéz persuaded Villa to suspend the order, whereupon he returned to Morelia and promptly declared himself a ConventionistSánchez allowed General Murgia's Constitutionalist troops to pass through his domain on their way to reinforce General Diéguez at Guadalajara, Jalisco. Sánchez' treachery cost him his life: Villa had him executed early in 1915.
Sánchez authorised his own issue of fractional notes on 19 December 1914.
Following the Convention's decision to exchange Carranza's Gobierno Provisional de México notes the Jefatura de Hacienda was entrusted with the task. A revalidation is known from the Pagaduria General de la Columna de Operaciones Michoacan.
Michoacán – Pagaduría General
'Revalidado decreto de 17 de Diciembre de 1914. Pagaduria General de la Columna de Operaciones Michoacan'.
On 5 February Sánchez authorised an issue of $5,000,000 but only a little was issued before he was driven out. A week later he ordered a period of fifteen days for the revalidation of Chihuahua and Monclova notes to overcome public resistance. Thus sábanas are known with a red two-line revalidation.
Morelia – Jefatura de Hacienda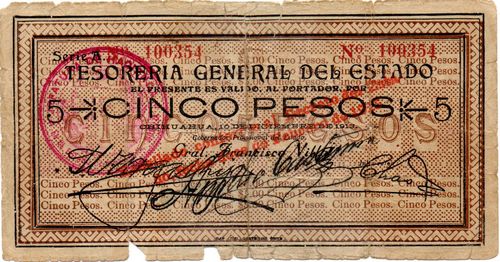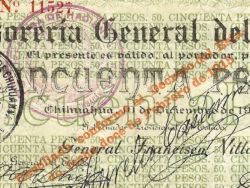 A large (42mm) round purple seal with 'JEFATURA DE HACIENDA - EN EL ESTADO DE MICHOACAN - MORELIA' and orange two-line text 'Resellado conforme al Decreto del Esta-/do fecha doce de febrero de 1915'.
By February 1915 because of the number of forgeries in Morelia the sábanas had been driven from circulation. A careful revision was needed to protect holders so on 12 February Sánchez set a period of fifteen days for sábanas (and Monclova issues) to be checked and restamped in the Jefatura de Hacienda in Morelia in the manner prescribed by the central government. People outside the state capital were instructed to hand their notes in at the Administradores y Agentes Subalternos del Timbre for forwarding to the capital. After this time limit only the notes with the resello would be of forced circulationPeriódico Oficial, 18 February 1915. On 8 February the Tesorería Municipal had reported to the Presidente Municipal that the sábanas had in fact ceased to circulate, but that there was still $1,353.50 in such notes in the Tesorería. The letter was copied to the Prefecto del Distrito to pass on to the Supremo Gobierno for instructions (AMICH, caja 29, exp. 61). The timespan is too short to suggest that the 12 February decree was the result of this particular request.
Sánchez was driven out of Morelia in late February and on 4 March the incoming governor, José I. Prieto, clarified which issues were of forced circulationPeriódico Oficial, 7 March 1915, namely Sánchez' fractional cartones and the various issues recognised by the Convention. He amended his list on 10 March and again on 18 March. The notice on 10 March said that holders of the Monclova and Gobierno Provisional issues should take them to the office of the Pagaduría General de la Jefatura de Operaciones for revalidation by means of a resello on the reverse of each note. In the other administrative centres the notes were to be taken to the tax officesPeriódico Oficial, 14 March 1915. This arrangement was altered on 18 March as holders were to take them to the Pagaduría General de la Jefatura de Operaciones, Jefatura de Hacienda and Administración del Timbre to exchange them for notes of the state of ChihuahuaPeriódico Oficial, 21 March 1915. Presumably the Pagaduría General overstamped the notes before they issued them.
In Nocupétaro on 29 March Sánchez had handed over the governorship to Cecilio García, one of the few to stick with him, and the latter declared all notes in circulation to be valid though this will have had little effect.
Michoacán – Pagaduría General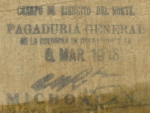 'CUERPO DE EJERCITO DEL NORTE – PAGADURÍA GENERAL – DE LA COLUMNA DE OPERACIONES EN –MICHOACAN, signature and date 8 MAR 1915(?)'
On 28 April the town council of Morelia reported that Elizondo had acknowledged the continuing validity of Sánchez' cartones.
When the Carrancistas captured Morelia in April 1915 they published in the Periódico Oficial Obregón's decree (dated 5 April 1915) from Celaya, Guanajuato, nullifying Villa's acts and invalidating the paper money of Villa, the Convention and its supportersPeriódico Oficial, 29 April 1915. Thereafter announcements reflected the Carrancista policy.
On 29 December a circular (núm. 6) from the Secretario General de Gobierno of Michoacán to the Presidentes Municipales repeated circular núm. 48's disposition that certain notes continued to be of compulsory circulation, even if they were missing the necessary resello, and that people who refused them would be punishedPeriódico Oficial, 6 January 1916.
On 25 February 1916 the Presidente Municipal of Morelia listed the notes of forced circulation and on 24 March castigated businesses that were refusing $10 and $20 Veracruz notes, a message reinforced on 13 June.
Following a crisis the 50c cartones from Sánchez issue were finally demonetised on 8 April 1916. The other values were exchanged in June.