The $1 and $2 notes of the Banco Oriental de México
The Banco Oriental was one of the banks that took advantage when on 19 November 1913 Huerta permitted the banks to issue $1 and $2 notes.
On 4 January a meeting of around eighty people was held in the Cámara de Comercio de Puebla,to discuss the matter of the notes of the state banks. They decided to ask President Huerta to decree their forced circulation and agreed to send a commission, including Manuel Rivero Collarda, to Mexico City hold the necessary meetings with the Secretaría de Hacienda. In particular the commission would seek authorization for the Banco Oriental to issue 50c and $1 notesEl Diario, Año VIII, Núm. 2099, 5 January 1914.
The bank originally had discussion with the American Bank Note Company about a 50c issue. On 21 January 1914 Charles Blackmore, the ABNC's Resident Agent in Mexico City, reported that when Manuel Rivero Collada gave him the details for the fifty centavos notes he said he was going to await the receipt of models before asking the Government for the necessary authority to issue the notes and that he could tell Enrique Creel of thel Banco Minero de Chihuahua as in all probability Collada and Creel would work in unison and issue these fractional currency notes at the same timeABNC. The ABNC did get to the stage of producing proofs and specimens.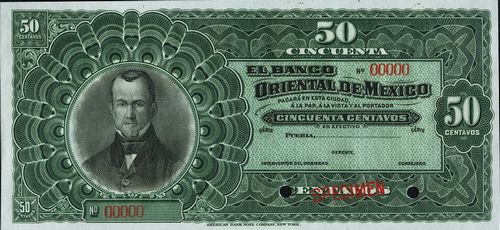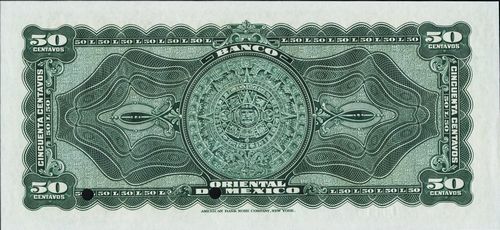 On 27 February the Banco Minero wrote that they waited until they knew whether the Banco Oriental had been successful in securing permission to issue 50 centavos notes, because it seems that if they could not obtain authority neither would the Banco MineroAmerican Bank Note Company, so it might be that the bank sought permission in February. In fact, Huerta did not authorise the issue of 50c notes until 30 March.
Meanwhile the American Book and Printing Company of Mexico City produced $1 and $2 notes. These are known in two different varieties: various dates in January or February with round seals on their face, or notes dated 1 February or 22 February with square seals.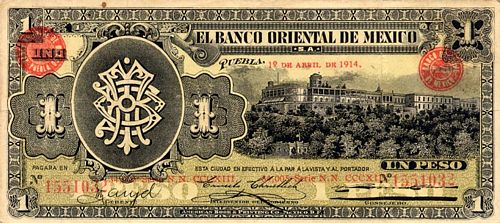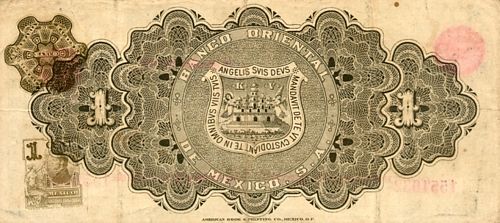 | | | |
| --- | --- | --- |
| | | |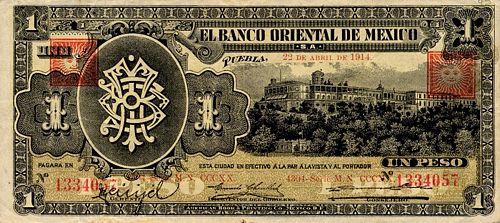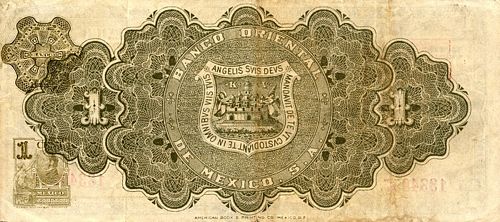 | | | |
| --- | --- | --- |
| | | |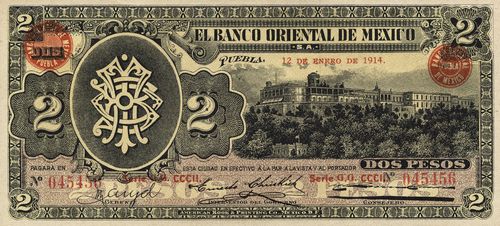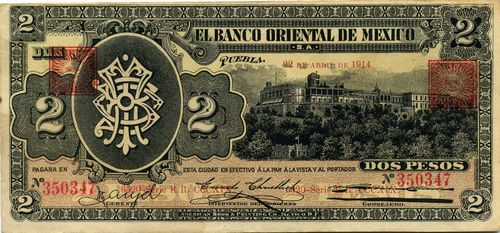 Because of these differences by mid May there was alarm that the notes had been been counterfeited and some people refused to accept notes with the square resello. The bank's lawyer, Nicanor Gurría Urgell, told the newspapers that all the notes were genuine, and the different seals were a security measure against counterfeitersEl País, Mexico, Tomo I, Año X, Núm. 4620, 18 May 1914; El Correo Español, 18 May 1914; El Imparcial, Tomo XXXV, Núm. 6450, 18 May 1914. The next day the bank amplified its explanation. The bank kept a secret register in which it recorded the serial numbers of notes and the corresponding seal. Thus serial numbers 1-700 has one seal, 701-1300 another, 1301-1900 the first or yet another, and so on. This would confuse potential counterfeiters. The bank also acknowledged that it had been impossible to get banknotes from New York, so arranged this printing, of a different size and design to avoid the appearance of forgeryEl Imparcial, 19 May 1914.
Issues
Date of issue
Date on note
Series
from
to
Gerente
Interventor
Consejero
contraseña
$1
12 January 1914

Rangel
Christlieb
Collada


31 January 1914
2 February 1914
4 February 1914
5 February 1914
10 February 1914
17 February 1914
26 February 1914
12 March 1914
17 March 1914
26 February 1914
12 March 1914
17 March 1914
23 March 1914
26 March 1914
30 March 1914
NN
4304 CCCXI
1 April 1914
4 April 1914
6 April 1914
7 April 1914
8 April 1914
13 April 1914
14 April 1914
17 April 1914
22 April 1914
28 April 1914
$2


12 January 1914
Rangel
Christlieb
Collada
17 January 1914
30 January 1914
5 February 1914
10 February 1914
12 February 1914
17 February 1914
26 February 1914
The bank did get the ABNC to produce $1 and $2 notes in July 1914, but thes were never delivered to the bank and were destroyed in 1924.