Private issues
Honey
Julio Hernández
Honey is a town, now in Puebla but touching the state line with Hidalgo. This $1 note, issued by Julio Hernández in June 1915 because of a lack of $1 notes, is payable in Pahuatlán, a town located in the northwest of the state and bordering the states of Hidalgo and Veracruz.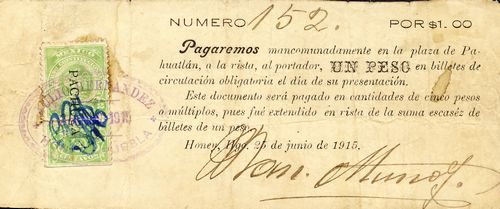 from
to
total
number
total
value
$1
includes numbers 152 to 163

CNBanxico #11218
Necaxa
Cía. Mexicana de Luz y Fuerza Motriz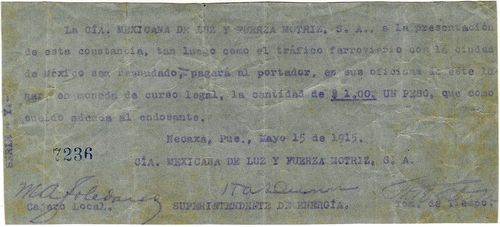 The Compañía Mexicana de Luz y Fuerza Motriz (Mexican Light & Power Company Limited) was organized in 1902 with a capital of 25m dollars and in 1903 was granted a concession to exploit the falls and build a hydroelectric plant on the Río Necaxa to serve Mexico City and the mining centres of El Oro and Pachuca.
Because of an interruption in communications in early 1915 the company had to resort to its own paper currency. This constancia promises to pay the bearer, at its offices, in legal tender, the amount of $1 owed as wages, as soon as the railway traffic with Mexico City was reestablished. It is dated 15 May 1915 and has the signatures of M. A. [ ] as local cashier, I. T[ ] as superintendent and [ ] as [ ](Tom. De Tiempo).
Huauchinango
Luis Cabrera
Huauchinango is a city in the far north of the state. The politician Luis Cabrera came from nearby Zacatlán.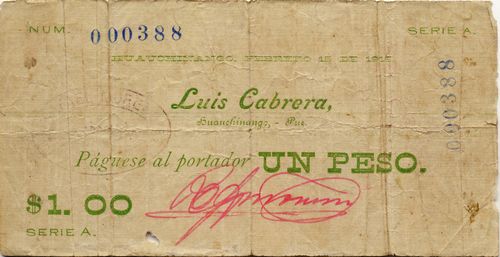 These are signed by Rafael Moreno.
Zacatlán
Zacatlán is another city in the Sierra Norte.
Caja de Comercio
The Caja de Comercio de Zacatlan issued a $1 note, dated October 1915, with the authorization of the Cuartel General of the third División de Oriente and so of forced circulation within the District.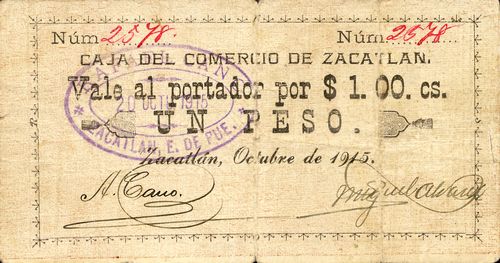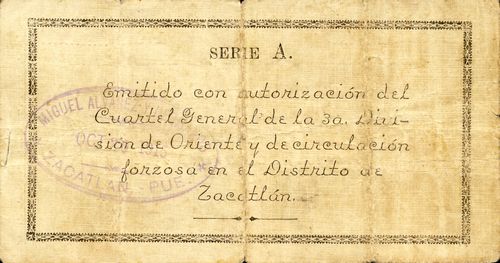 The notes were signed by A. Cano and Miguel Alvarez.
Tetela de Ocampo
Tetela de Ocampo is a town in the Sierra Norte region of the state.
Caja de Comercio
The Caja de Comercio de Tetela issued a series of notes dated 26 December 1914.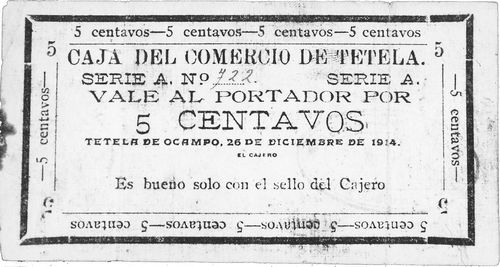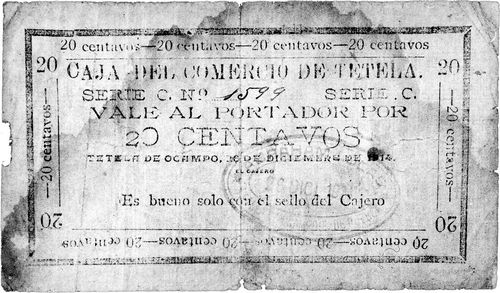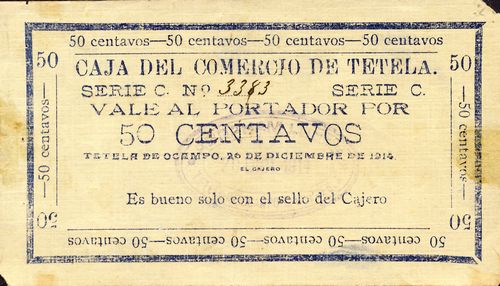 Series
from
to
total
number
total
value
5c
A
includes number 722
20c
C
includes number 1599
50c
C
includes number 3383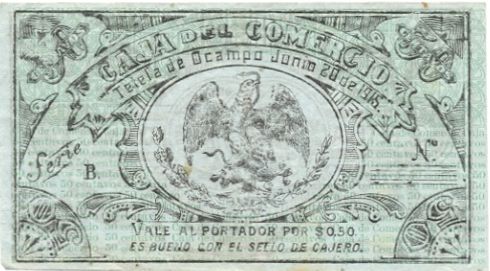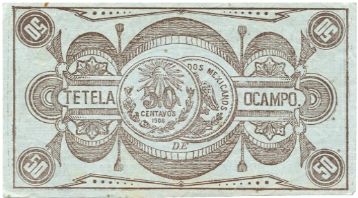 An ornate 50c note dated 20 June 1915
Puebla
Hotel Francia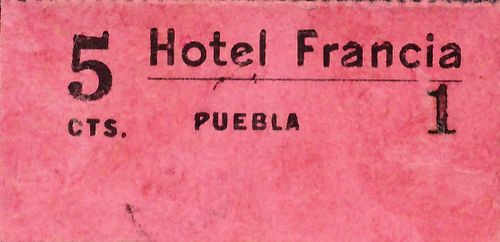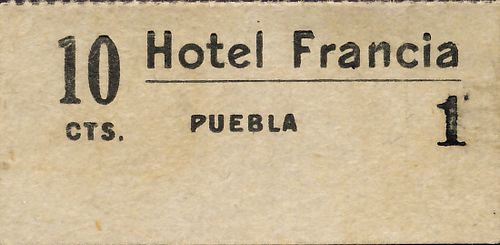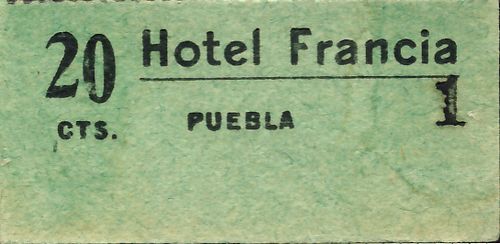 "La Constancia"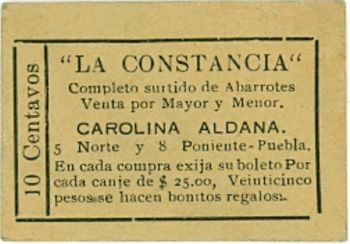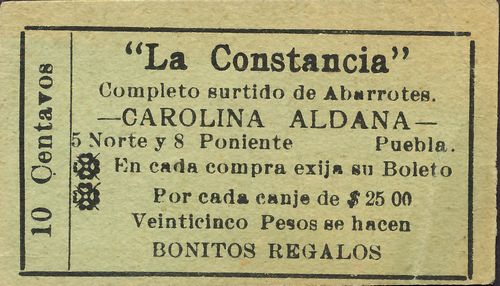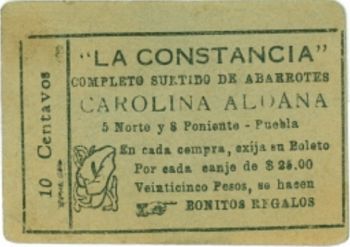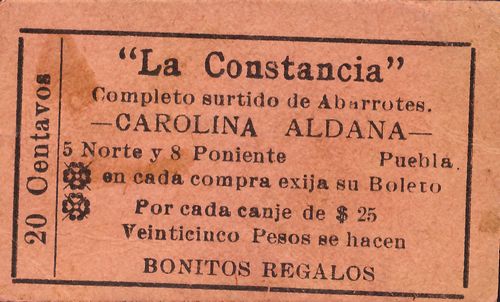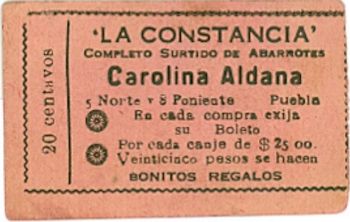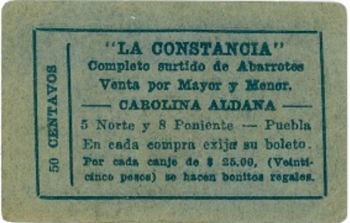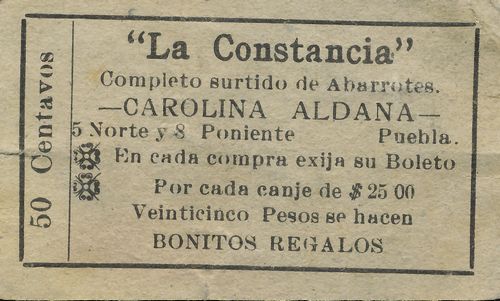 It is not known whether these notes, which on the face of it are vouchers given out with purchases, to be redeemed once one had saved $25, were ever used as fractional currency. To be certain we would require some official or unofficial authorization or some contemporary reference, such as a newspaper item or inclusion in Casarola's exposition.
Nor is it known whether the differences in design had any significance.
"La Invencible"
In April 1916 the propietor of La Invencible restaurant put out a notice that they would not accept the vales with the restaurant seal with her name, Margarita Luna Vda. de Jiménez, and of Delfino L. Jiménez since some had been stolenEl Constitucional, Puebla, Tomo I, Núm. 171, 20 April 1916.
Circulo Espanol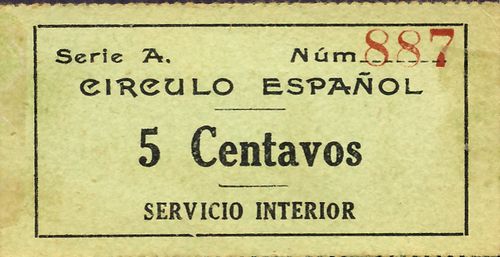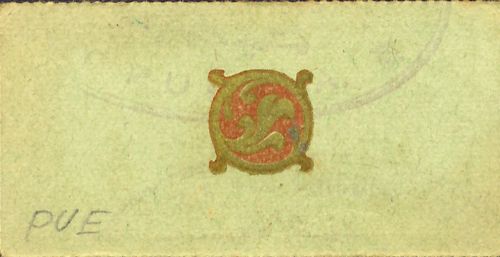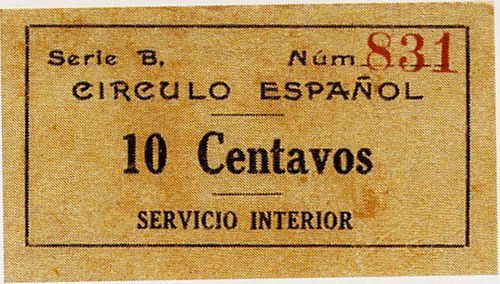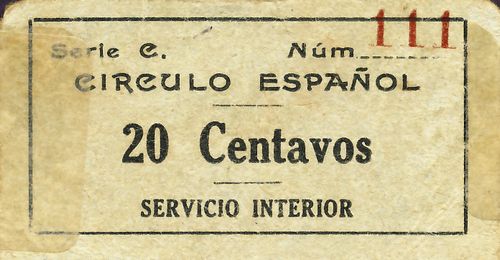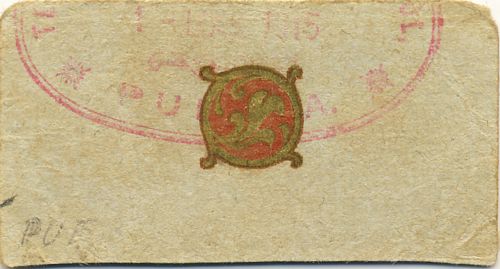 Series
from
to
total
number
total
value
5c
A

1

includes number 887
10c
B

1

includes number 831

CNBanxico #11926

20c
C

1

includes numbers 111 to 456

CNBanxico #6615
Puebla had a large Spanish contingent. The Circulo Español was established in October 1910 to offer the youth of the city "instruction and recreation" and occupied premises on the corner of Avenida de la Reforma and 5 de Mayo.
There is little indication that these were used as currency but they have been listed in catalogues since Gaytan's.
Metepec
Tienda de Metepec
Metepec is part of Atlixco. Is this right, or is it the Metepec in Estado de México?
Acatlán
"La Favorita"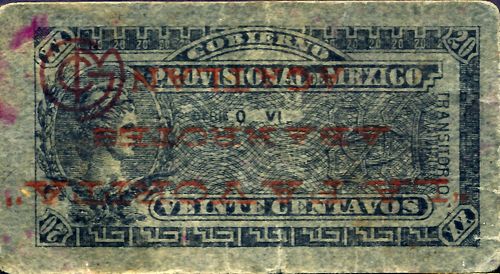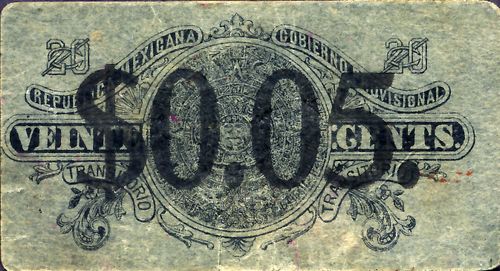 This is a 20c Gobierno Provisional de México cartón overprinted with a new denomination of 5c and, on the face, in red, the legend "LA FAVORITA" / ABARROTES / ACATLAN.
One scenario is that the grocery store itself would not have been responsible for the devaluation/revaluation, which will have been an official overprint in the short window between the beginning of June 1916 when Carranza informed the governors of various states that the Gobierno Provisional de México notes should be accepted at a rate of $4 Gobierno Provisional as one peso infalsificableCEHM, Fondo XXI-4 and the circular núm. 102 of 10 June that sets the exchange rate at ten for one. As such, the overprint will not have restricted the potential circulation and so this is not, strictly, a private issue.
Amother scenario is that, at a later date, the store found itself with a load of useless cartones and used them as a limited, private currency.
Tehuacán
Tehuacán is the second largest city in the state, nestled in the Southeast Valle de Tehuacán, bordering the states of Oaxaca and Veracruz.
Corporación Mercantil
The Corporación Mercantil de Tehuacán issued a series of notes (5c, 10c, 20c, dated 25 February 1915, and 50c) only for use locally. The 50c carries the signatures of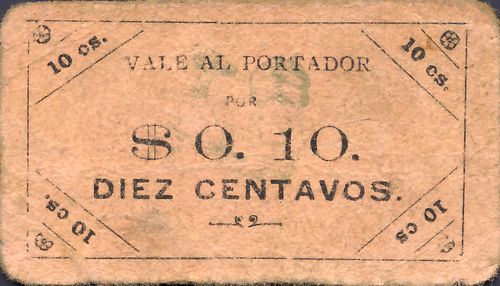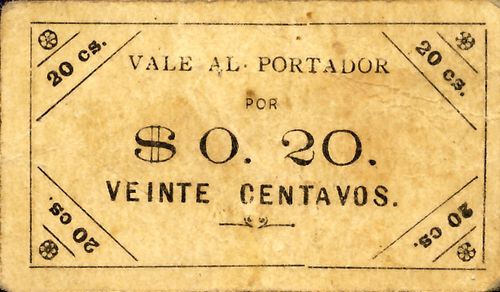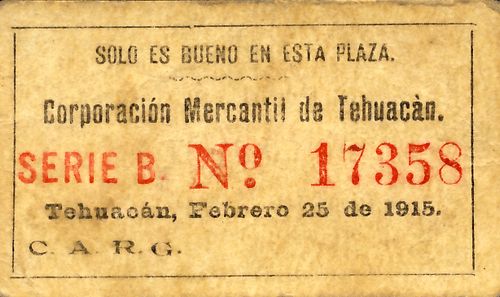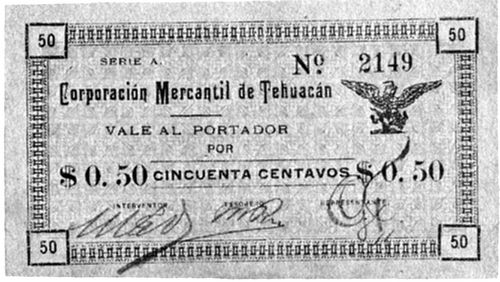 Series
from
to
total
number
total
value
5c
10c
C
includes number 1301 to 8797

CNBanxico #5948

20c
B
includes numbers 17358
50c
A
includes number 2149
Luis G. Contreras
A 2c note.