Advertisements
Remainders were also used as an advertising medium. Carranza's Secretario de Hacienda had outlawed the practice of applying countermarks to notes and also threatened those who 'used paper money as a means of announcement, printing on the notes commercial or other types of notices'Circular núm. 68 of Secretaría de Estado y del Despacho de Hacienda y Crédito Público, 22 April 1916 as early as April 1916. The advertisements printed on Sonoran remainders appear to be of a later date and include
Los Martínez and La Azteca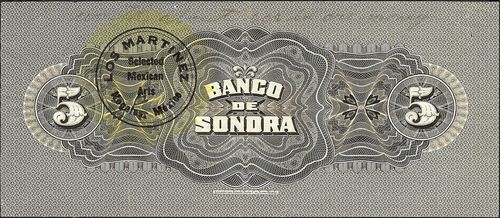 'LOS MARTINEZ Nogales Sonora/Selective Mexican Arts'
Known on Banco de Sonora $5 and $10.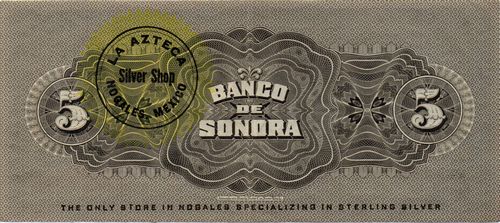 'LA AZTECA/Silver Shop/Nogales Mexico/ The only store in Nogales specialising in sterling silver'
Known on Banco de Sonora $5 and $10
Elías Martínez was an apprentice silversmith in Guadalajara, working under the tutelage of some of Mexico's finest artisans, and then, with his brother, José, established the La Azteca silver shop in Nogales, Sonora, where for over thirty years they produced excellent jewellery and silverware. In the 60s they sold the shop to a successful Nogales businessman named José Guadalupe Jiménez Cortés.
La Atzeca was very close to La Caverna, a renowned club-restaurant, housed in a man-made cave-prison ostensibly dug out by prisoners themselves. In the 1940s, with several Western movies shot in the surrounding area, Nogales became the playground for famous actors who would cross over to visit La Caverna. In 1946 Howard Hawks filmed his Red River in Elgin, Arizona just about fifty or so miles from Nogales, and the Martínez possibly made the "Red River D" buckles. Howard Hawks had these made after filming was complete and gave them to key members of the cast and crew. The rope border symbolizes the cattle drive, and "Red River D" is the brand for Dunson's ranch in the film. John Wayne and Howard Hawks traded belt buckles and Wayne wore his "HWH" buckle in many of his later films, including Rio Bravo, El Dorado and Rio Lobo. Both Hawks' and Wayne's "Red River D" belt buckles were subsequently stolen.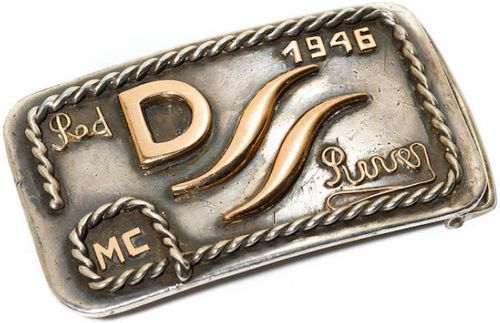 Mitchell Finance Corp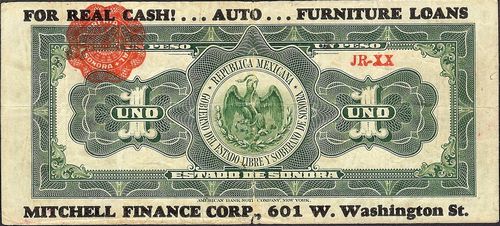 FOR REAL CASH!…AUTO…FURNITURE LOANS/MITCHELL FINANCE CORP., 601 W. Washington St.
An advertisement for a Los Angeles firm, known on Estado de Sonora $1
[ ] Furniture, Los Angeles
Known on Estado de Sonora note. In 1939 a certain furniture company in Pasadena, Los Angeles county was using these notes for advertisingABNC, letter J. R. Ruoff, Pasadena to ABNC, 21 March 1939.
Cantina La Despedida
Cantina 'La Despedida'/ROBERTO A. FLORES. Prop/Avenida Juarez y Mejia Num 300 telefono 362/Vinos, Licores y Ceverzas/de Todas Marcas/desea a Ud. una Alegre Navidad/ y Felix Año Nuevo/Ciudad Juarez Chih 1941[image needed].
Known on Estado de Sonora $20