La Pagaduría de la División del Suroeste
Listed in catalogues is a black on grey 5c note, from Frontera, Tabasco, dated 16 March 1915. There are also these small notes for 5c, 10c, 20c, 50c and $1, issued in accordance with a decree of 16 March 1915[text needed], currently catalogued as from Guerrero.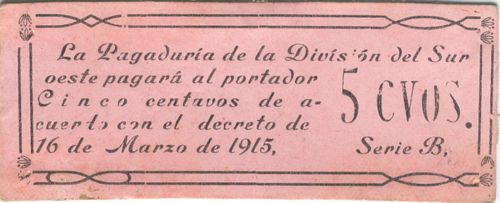 Series
from
to
total
number

total

value

5c
B
10c
A
50c
includes numbers 4464 to 5907

CNBanxico #11117

$1
includes numbers 1122 to 5819

CNBanxico #11118
Battalón Irregular Numero Treinta
Also currently catalogued as from Guerrero are a 20c note 'Garantizados por el Jefe de las operaciones del Sur' and two types of $1 notes.