A Huertista issue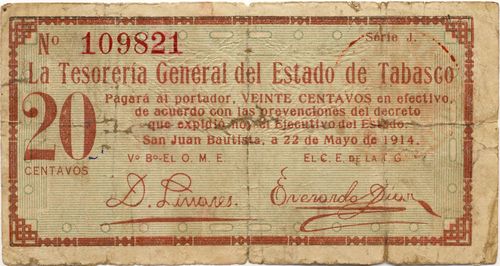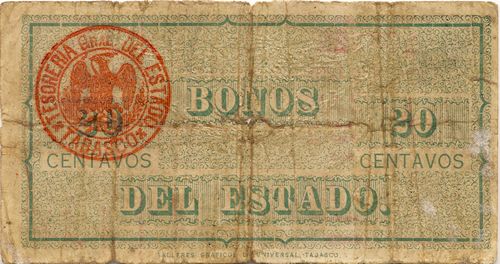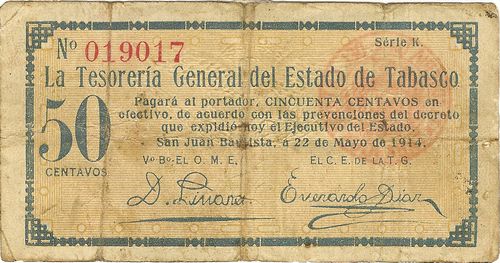 Series
from
to
total
number
total
value
20c
G
includes numbers 039484

CNBanxico #6335

J
includes number 109821
50c
E
includes number 033090

CNBanxico #6336

K
includes number 019017
$49,999.80
Because of the shortage of small change on 22 May 1914 the Huertista governor Alberto Yarza authorized the Tesorería General to issue $50,000 in 20c and 50c notesPeriódico Oficial, Tomo XXXV, Núm. 41, 23 May 1914. The notes were as specified in the decree and carry the visto bueno of Donaciano Linares as Oficial Mayor del Estado and printed signature of Everardo Díaz as Contador Encargado de la Tesorería General.
Donaciano Linares was born in 1888. A young Linares, who had just graduated from the Instituto Juárez, took over as juez 1o de lo civil y hacienda on 16 May 1911Periódico Oficial, Tomo XXXII, Núm. 40, 20 May 1911; Periódico Oficial, 5 August 1911.

He was Oficial Mayor Encargado de la Secretaría General del Despacho by September 1911. The correspondent of La Patria, writing about the Mestre regime, was not a fan. "Having formed his administration of the most evil and harmful elements, he had the idea of placing the new attorney Donaciano Linares as Oficial Mayor encargado de la Secretaría … This young man, totally lacking in aptitude and energy …, has only been able to climb to that position because of the abnormal conditions of the time. A man is recommended by his deeds, but of Linares we know that he has never produced anything that elevates him other than writing letters that any humble scribe knows how to do. He is rubbish that in the present whirlwind has managed to ascend, but will fall sooner or later descending to his right level"La Patria, Año XXXV, Núm. 10971, 25 November 1911.

Everardo Díaz Ferrer

Everardo Díaz was the Oficial 2o by December 1890 and appointed Contador of the Tesorería General of the state in July 1898El Popular, 4 July 1898; El Tiempo, 13 July 1898.
These were to be of voluntary acceptance but the Tesorería General and oficinas de Hacienda in the state had to accept them. The oficinas also had to exchange them for banknotes on demand.
These were to be put into circulation by being sold, in quantities of no less than fifty pesos, to whoever asked for them in exchange for coins or banknotes.
They were to be valid until 31 December 1914 and the government would, twenty days before the end of this period, publish a notice to holders so that they could hand them in. However, with the triumph of revolutionaries in the state and the fall of Huerta, Yarza was forced to relinquish the governorship on 31 August 1914.
By that time the whole issue ($49,999.80) had been put into circulationPeriódico Oficial, Tomo XXXV, Núm. 20, 9 September 1914.