Generals Juan Carrasco and Ernesto Damy
General Juan Carrasco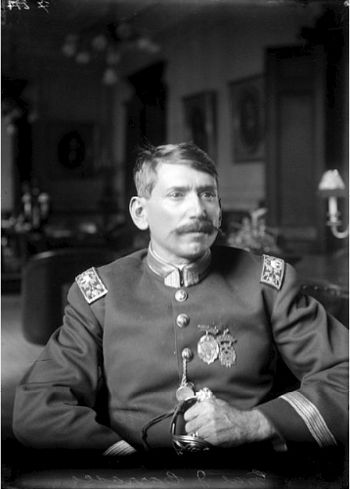 General Juan Carrasco was born on 24 June 1878. In 1911 he joined the revolution, operating in the south of the state, especially around Mazatlán. With Madero's accession he returned to his ranch but took up arms again at Madero's death, leading a group of around 600 men and attacking the lines of communication. When the Cuerpo del Ejército del Noroeste moved south he came under the command of General Ramón F. Iturbe in Culiacán and took Mazatlán on 9 August.
On 1 November 1915 Carranza confirmed him in the rank of General de Brigada. He later opposed Angel Flores and in 1922, having disowned Obregón, he lost his life while in an ambush while trying to join up with forces in Durango.
Carrasco was jefe politico of Tepic for two months from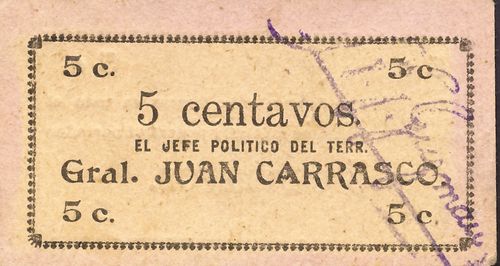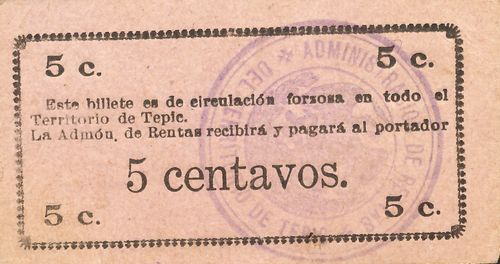 General Ernesto Damy
Ernest Damy Campaña was born in 1892. In 1913 he joined the forces commanded by General Juan Carrasco, jefe of military operations in the state. He was a Teniente in 1913, a Mayor in 1914 and a General Brigadier in 1915. He died at Tierra Blanca, Veracruz on 17 May 1919, from a wound received when the train in which he was travelling was ambushed.
Damy took over from Carrasco as jefe politico of Tepic in and served
Similar notes for 5c, 10 and 50c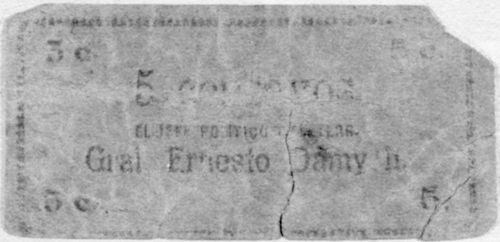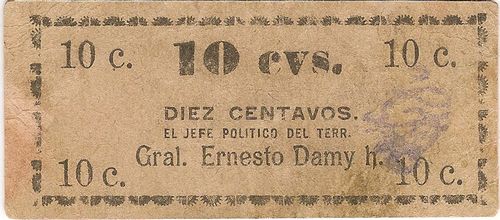 On 16 October 1914 it was reported that the notes issued by the Jefatura Política in Tepic would be withdrawn from circulationBoletín Militar, Tomo II, Núm. 79, 16 October 1914.
In May 1917 when Andrés G. Guzmán handed over the contents of the Administración de Rentas of the now defunct territory to Antonio de la Torre, the new Director de Rentas del Estado, among the $3,521,469.55 in issues that had been withdrawn from circulation was $33,330.00 in 'documentos pendientes de datar, por ministraciones a la fuerzas de la Brigada Carrasco'Periódico Oficial, Tomo 1, Núm. 3, 13 May 1917. There is a further reference to $5,180 in billetes que hizo el pagador de l Brigada Carrasco, C. Rodolfo Bazúa por igual suma que le ministró la Tesorería Municipal de esta ciudad en Julio 8 de 1915 de órden del entonces Jefe Político General Ernesto Damy h; suma que devolvió la expresada Tesorería Municipal con oficio No 364 de 29 de diciembre de 1916, de lo que se dio cuenta a la Secretaría de Hacienda en oficio número 392 de 22 de enero 1917 (Periódico Oficial, Tomo 1, Núm. 4, 20 May 1917) but these will have been receipts.