Gobierno Provisional de México Veracruz $50 notes
(1) These were Series E and dated 1 December 1914. They had imprint 'MEXICO OFICINA DEL GOBIERNO', title 'EL O. M. ENCARGADO DEL SRIA DE HACIENDA, and underprint Type 1.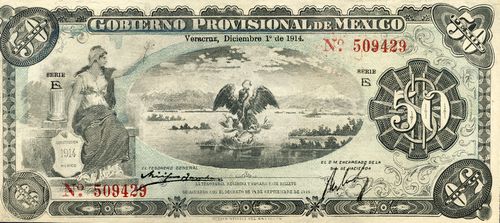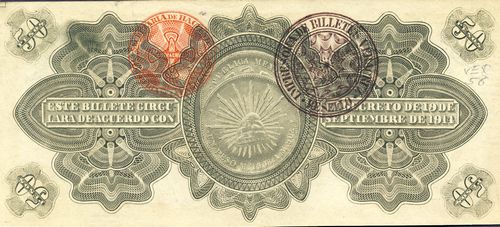 (2) Some had suffix 'Z' after the serial number.
Anastasio Rojas, in his report, records that up to 30 April 1915 the Oficina Impresora de Billetes in Veracruz had, in April, printed 60,000 $50 notes. The "Tórculos" press had produced 91,760 notes and there were 37,867 notes were still in the officelisted as 24,867 in Folio y Corte and 13,000 in Revisión y Entrega. After acknowledging 200,000 notes printed in Mexico City, this left 103,73 notes to make up the decreed sum of $20,000,000CEHM, Fondo-XXI, carpeta 39, legajo 4265.
On 8 December Nicéforo Zambrano listed the serial numbers of the notes that had a printed (as opposed to embossed) seal.
Date of issue
Date on note
Series
from
to
Comment
1 December 1914
E
200001
280000
printed seal
280001
344000
344001
360000
printed seal