Revalidation stamps on Veracruz Gobierno Provisional notes
Overprints on the Veracruz Gobierno Provisional notes can be divided into those revalidating the notes (which could be applied before the notes were put into circulation for the first time) and those marking that the notes had been withdrawn from circulation. The latter will have been applied in offices before the notes were accumulated together for incineration, in accordance with the prescribed regulations.
On 27 September 1915 Rafael Nieto stated that his office had refrained from issuing information on counterfeits because, without simultaneous explanations, it would cause alarm. As General González and others sources had made pronouncements that had calmed the public he now announced that there would be an exhibition in the central patio of the National Palace of all the different issues made by the Gobierno Constitucionalista, and that all genuine notes of the Ejército Constitucionalista and Veracruz issues would be revalidated in the Oficina Impresora de Estampillas, in Mexico City, and in the Oficina Impresora de Billetes, in VeracruzEl Democrata, Tomo II, Núm.304, 29 September 1915.
Distrito Federal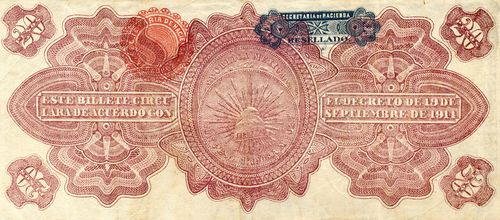 On 4 October they began revalidating the notes in the Tesorería General in Mexico City. The rules laid down by the Oficial Mayor, R. N. Millán y Alva, were that they would revalidate the higher values ($20, $50 and $100) first and then move on to the lower denominations. They would accept packets of notes on Tuesdays, Wednesdays, Thursdays and Saturdays and return them on Mondays and FridaysThe Mexican Herald, Año XXI, No. 7317, 2 October 1915.
Durango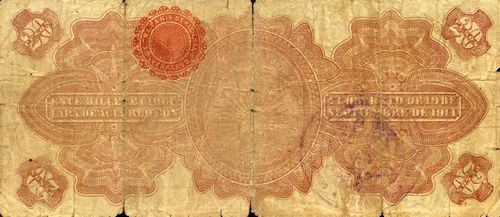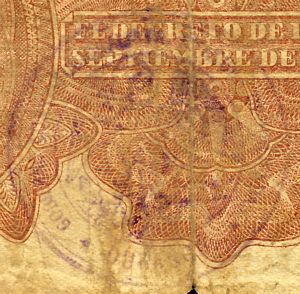 - DURANGO
On 7 March 1916 the government issued a notice reiterating that Veracruz notes were of forced circulation, whether or not they were revalidated, and threatened to punish people who refused themAQ, Libro Copiador 303, Telegramas 23 April 1915 - 10 April 1916, p608 letter Celestino Simental, Secretario General to R. González, Presidente Municipal, Gómez Palacio, 15 March 1916
Guanajuato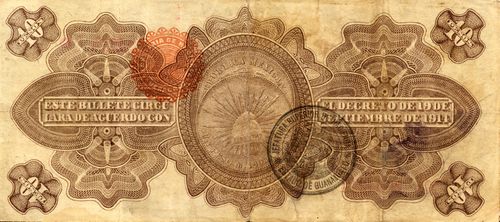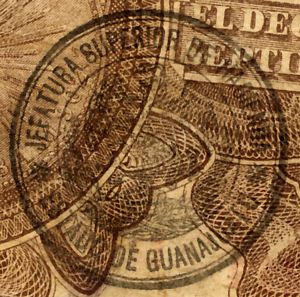 JEFATURA SUPERIOR DE HACIENDA - ESTADO DE GUANAJUATO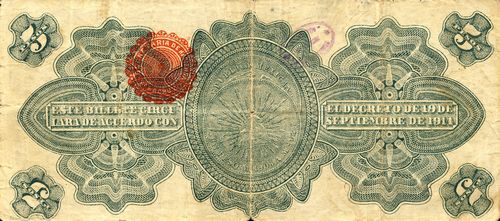 Tesoreria Municipal de Guanajuato
Jalisco
Guadalajara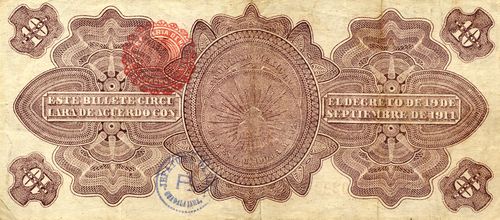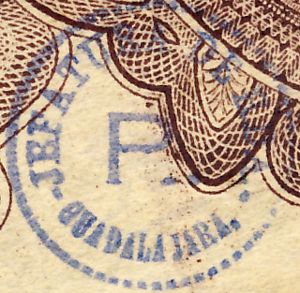 JEFATURA DE HDA - GUADALAJARA with P. in centre
On 22 March 1916 Carlos García Mares arrived in Guadalajara, designated by the Secretaría de Hacienda to review the notes in circulation. He intended to set up a special office to inspect every type of note, revalidating those that were not counterfeit and were of legal circulating and invalidating the restEl Presente, Tomo II, Núm. 99, 24 March 1916.
La Esperanza
La Esperanza, Canton, Jalisco
Michoacán
Mich. de Ocampo, Jefatura de Hacienda – Resellado
Querétaro
Jefatura de Hacienda Querataro
Sinaloa
In Mazatlán it was reported that the government was going to revalidate the Veracruz notes in the Dirección Principal del Timbre and in another government office, but that in fact there were almost none in circulationProgreso, Tomo I, Num. 4, 14 October 1915.
Tabasco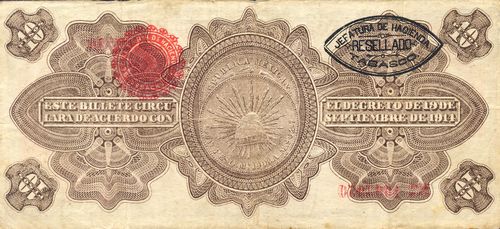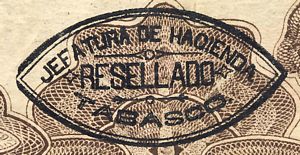 JEFATURA DE HACIENDA - RESELLADO - TABASCO
Tamaulipas
Tampico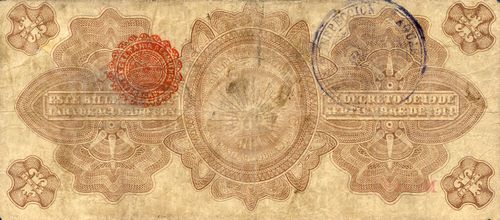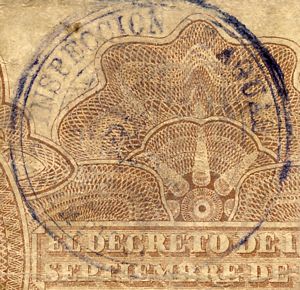 INSPECCION DE AGUAS - [TAM]PICO [ ]
Veracruz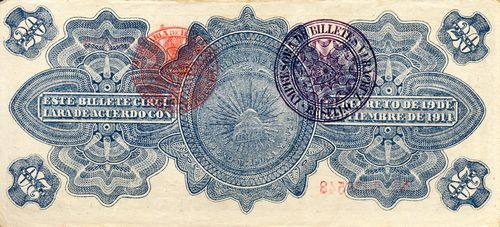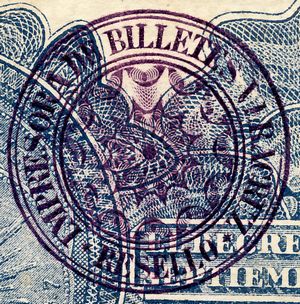 Misantla
Legalizado Art. 24 Ley del Timbre Misantla Mayo de 1915 El Admon
If this reported overprint exists, it will have been a mistake. The Administrador del Timbre in Misantla at the time was acknowledging the payment of revenue taxes for private issues, such as those of the Hacienda Miramar.
Yucatán