Other Misantla issues
The Constitutionalists arrived at Misantla on 30 July 1914 and after five days of fighting drove out the Huertistas. In late May 1915 the town was taken by Zapatistas of the Ejército Liberador and Manuel Armenta established a Zapatista government in Misantla. The Carrancistas then retook the town on 10 July and held it until the commander, General Rojas, was transferred to Teziutlán, Puebla, on 24 August. The rebels returned under the command of the Generals Lucio Alonso y Zeferino Rodríguez, Capitán Julio Palacios and pagador Manuel Riviello Gil, and expropiated the tesorerías municipales and forced loans from Douglas Weatherston and David Carlos Brandon (below). The Carrancistas returned on 8 September.
Because of the shortage of small change the authorities permitted hacendados to issue vales and cheques al portador to pay wages and meet their obligations. These notes were readily accepted by businesses without problems until the Constitutionalist government prohibited them and insisted on the national currency.
Hacienda La Lima
The hacienda is 7 kilometres south-east of Misantla. In 1914 it was owned by the sons of Perfecto Acosta, the Acosta Hermanos (hence the monogram 'HA').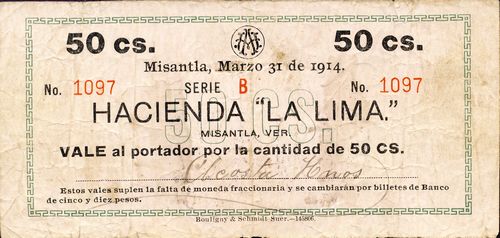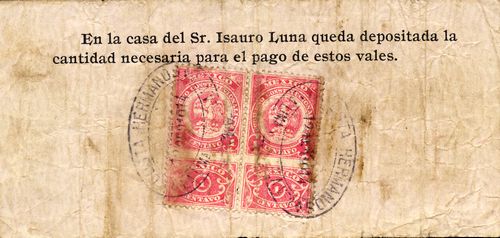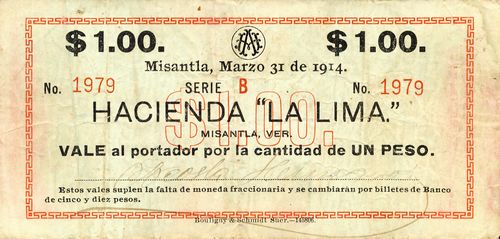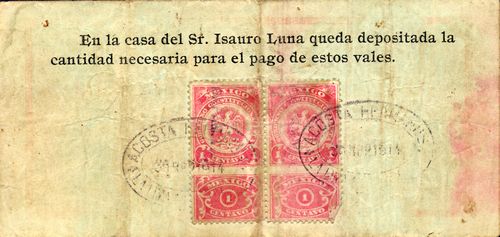 series
to
from
total
number
total
value
50c
B
includes numbers 1097 to 1202
$1
B
includes numbers 0847

CNBanxico #6406

to 1979

The notes are dated 31 March 1914 and the revenue stamps on the back are dated 14 September (50c) and 30 September ($1). the text states that they are guaranteed by a deposit held by the casa Isauro LunaIsauro Luna Toyos was born in 1863, in Xalapa, and died on 24 May 1944, in Misantla, at the age of 81. He was presidente municipal of Misantla in 1917-1918 and again in 1920-1921. (En la casa del Sr. Isauro Luna queda depositada la cantidad necesaria para el pago de estos vales.) and redeemable for $5 or $10 bank notes.
These were printed by Bouligny & Schmidt, of Mexico City, under, under order no. 145806.
D. C. Brandon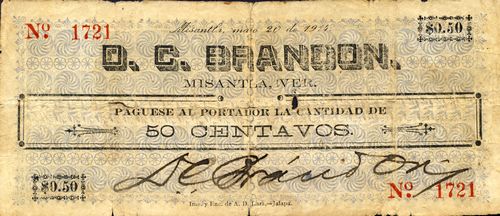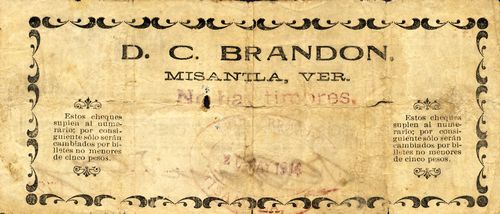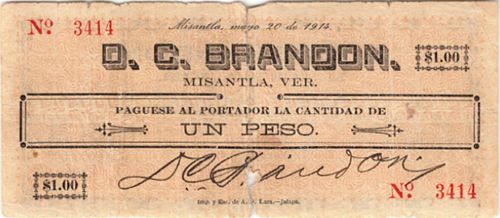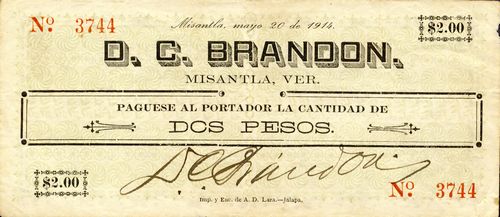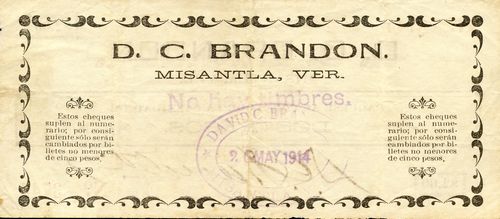 to
from
total
number
total
value
50c
includes number 1721
$1
includes number 3414

CNBanxico #12296

$2
includes numbers 2659 to 3744
The coffee mill (beneficio de café) "El Dinamo" is located in the southeast of the city of Misantla at the end of calle Ing. Cánovas. Its owner, David Brandon, issued a series of notes (50c, $1 and $2) to a similar design as Hacienda Miramar, dated 20 May 1914.
| | |
| --- | --- |
| David Carlos Brandon was born in Lewisburg, Tennessee on 23 August 1872 and emigrated to Mexico at the beginning of the 20th century. He acquired various properties, mostly coffee plantations, including El Dinamo, La Púrisima and Torrecillas, bought from Douglas Weatherston, who also owned the Hacienda Miramarinformation and photograph from Manuel Muslera Muslera, "El Dinamo" D. C. Brandon, Cuadernos de Numismática 4/4. Misantla, 2014. | |
These were printed by Imprenta y Encuadernación de A. D. Lara, in Xalapa.
Finca "El Renacimiento"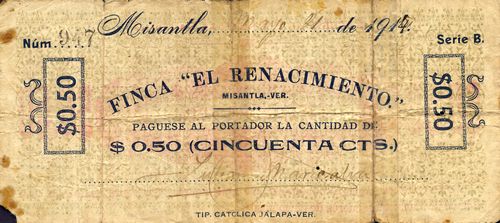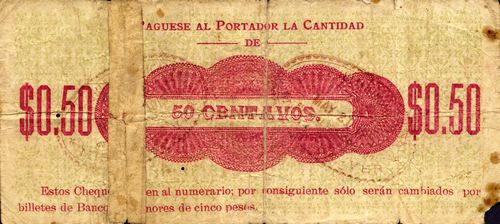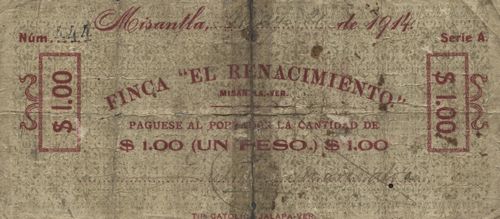 series
date on note
to
from
total
number
total
value
50c
B
21 May 1914
includes number 835

CNBanxico #12298

to 947
20 September 1914
$1
A
21 May 1914
includes number 444
These were printed by the Tipografía Catolica in Xalapa. All are signed by Julián Maricalva and some have revenue stamps cancelled by an oval handstamp of JULIAN MARICALVA.
| | |
| --- | --- |
| Julián Maricalva was a Spanish priest, in charge of the Iglesia Santa María de la Asunción, Misantla, from 4 March 1908 until 28 July 1913 before he saw the dark. | |
According to Manuel Muslera MusleraManuel Muslera Muslera, Misantla Otros Billetes, 2019 the finca "El Renacimiento" cannot be definitively located but it is known that it was a holding of about 70 hectares to the south of Misantla in the direction of Mohonera y Banco and dedicated to the production of coffee.
Antonio Galvan y López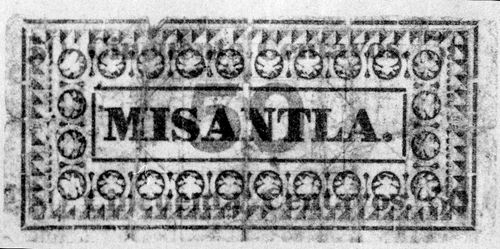 from
to
total
number
total
value
50c
includes number 479
According to Manuel Muslera Musleraibid. Antonio Galvan López was from La Unión, in Juchique de Ferrer, a town 30 kilometres south-east of Misantla.
We know of an orange and green 50c note, dated 1 September 1914.
La Finca Plan de las Hayas
Plan de las Hayas is about 40 kilometres south-east of Misantla.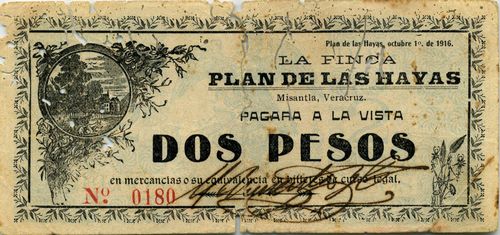 to
from
total
number
total
value
$2
includes number 0180

CNBanxico #12297
Roberto G. Levet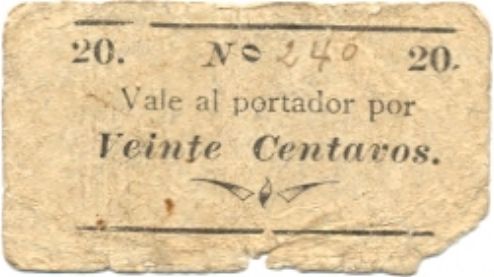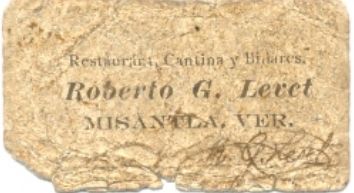 to
from
total
number
total
value
20c
includes number 0240
This restaurant owner (restaurante, cantina y billares) issued a 20c note.