El Banco Mercantil de Yucatán
The first bank established in Yucatán was the Banco del Avío, during the French Intervention, but this was dissolved in 1867. From 1875 the state government tried to encourage the leading businessmen, who already carried out banking functions, to create a bank of issue, to aid commerce. This did not happen, although in 1882 the state executive was authorised by Congress to allow branches of the Banco Nacional Mexicano and the Banco Mercantil Mexicano to establish branches, which the Banco Nacional Mexicano did a few months later.
Then two separate groups of henequeneros agreed to establish their own banks. The first to open its doors was the Banco Mercantil de Yucatán.
El Banco Mercantil de Yucatán
Yucatán was one of the few states that supported more than one bank, as they were established within months of one another by two competing groups of businessmen. The group headed by Eusebio Escalante Bates were traditional businessmen, linked by family networks with their strength in the south and west of the state. The second group, headed by Olegario Molina Solís, was composed of more recent arrivals, who had benefitted from the concessions and railroad contracts, and used these as a beachhead to increase their commercial, financial and political influence. Both groups were driven by loyalty to their own and aggression towards members of the other group.
The Banco Mercantil's main shareholders were the owners of the leading trading house at the time, Eusebio Escalante é HijoThe first board was headed by Eulogio Duarte, Eusebio Escalante Bates, Rafael Otero Dondé, Raimundo Cámara Luján and Joaquín Peón. Eulogio Duarte received a concession to establish the bank in Mérida on 18 September 1889, and the bank opened for business on 4 March 1890.
Its original capital was $750,000, increased on 1 April 1893 to $1,000,000 and on 15 December 1899 to $1,750,000.
It celebrated a new contract on 18 September 1897 following the Ley General de Instituciones de Crédito.
Homer Lee Bank Note Company print runs
These were designed by Tom Morris, Superintendent of Design and Engraving at Homer LeeThomas F. Morris II, "The Life and Work of Thomas F. Morris (1852-1898)" in The Essay-Proof Journal, vol. 24, no. 2, spring 1967.
There are some comments in the American Bank Note Company's order book about these prints runs by a different company, namely that the first was ordered by Thebaud Bros.(?) (ABNC's questionmark), and each note was to have a separate vignette and be different in size. On the $1 note half the sheet had the date "1890" engraved on the notes and the other half "189_" (this was not in fact the case, see below).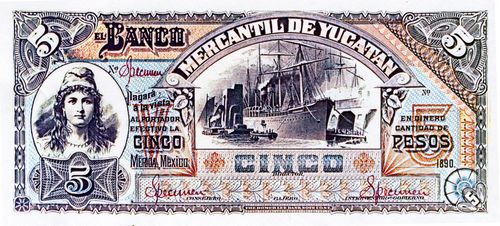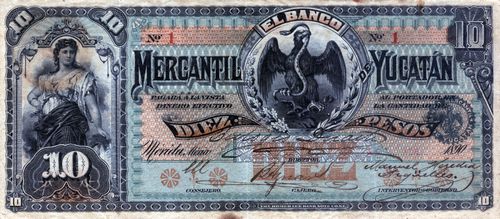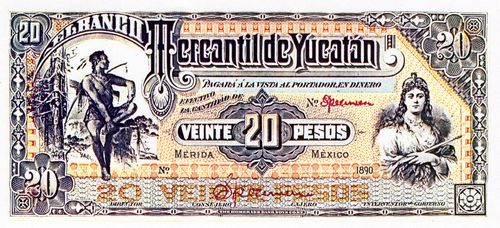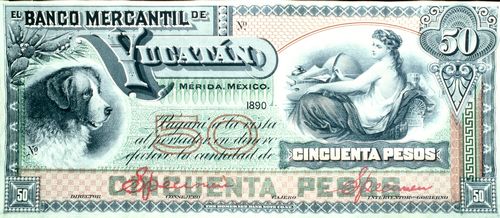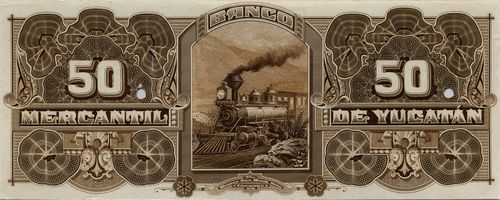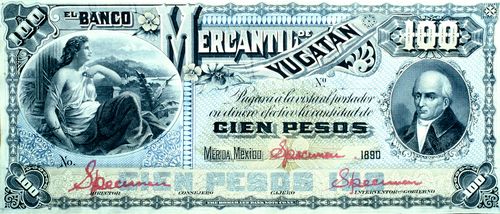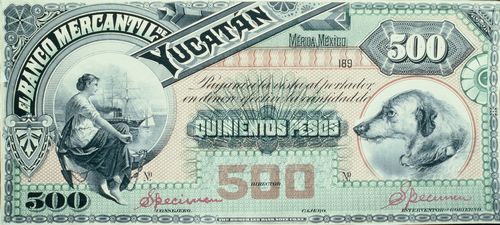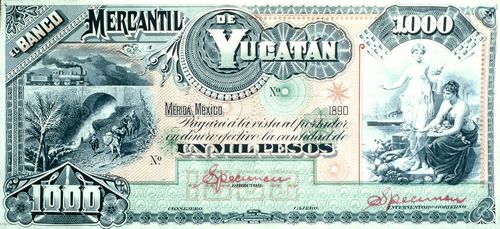 Date
Value
Number
Series
from
to
30 October 1889
$5
12,000


$10
10,000


$20
5,000


$50

5,000


$100

3,000


$500
180
$1000
100
The $1 notes were printed in sheets of six. The first three banknotes on each sheet have the date, 1 February 1892 and signature engraved on them. The other three have no date or signature.
| | | | | | |
| --- | --- | --- | --- | --- | --- |
| Date | Value | Number | Series | from | to |
| 29 September 1891 | $1 | 50,000 | | 1 | 50000 |
Signatures
Director
Eulogio Duarte Troncoso was born in 1841. He came from an important family of sugar hacendados, including Anselmo Duarte de la Ruela, who had been dedicated to the production of sugarcane since the beginning of the nineteenth century. With his sons, Anselmo Duarte formed "Duarte Hermanos," which was a major player in the henequen industry.

Duarte possessed multiple henequen estates and served as vice president of the Cámara Permanente, an organisation established to protect the interests of the henequen barons. In 1893 Duarte bought the Hacienda San Juan Bautista Tabi from Governor Carlos Peón, He invested heavily, with modern machinery and even bringing sixty Cuban sugar experts to improve agricultural and refining techniques, and made Tabi the foremost hacienda in the state. Despite the transformative and modernising effects of capital investment and industrialisation at Tabi and other estates, many preindustrial features hacienda life persisted, including peonage.

Duarte died on 27 February 1904.
Cajero
Benito Aznar Santamaria

Aznar was treasurer of the Cámara de Comercio in 1886Semana Mercantil, 15 March 1886.

Aznar was originally the bank's Administrador but continued being manager but with the title of Director from 1 February 1903Períodico Oficial, 6 February 1903
Interventor
Manuel Heredia Argüelles was born in 1845. He was a printer who, in 1875, bought the government printing press and received a contract to publish the oficial gazette, La Razón del pueblo. Later he was an editor of Pimienta y Mostaza, and then Interventor of the bank.

In 1890 Heredia was ungraciously described as "plump, fat and stale, with hair, moustache and billy-goat beard of thick gray and overly curly; he has a deep bass voice and is the father of numerous progeny (rechoncho, gordo y trigueño, con pelo, bigote y espesa perilla canosos y excesivamente rizados; tiene voz de bajo profundo y es padre de prole numerosa)" Eduardo Urzaiz, Cartas de un exialiado, UADY, Mérida, 1990, p89.