The crisis of 1943
In 1943, during the Second World War, Mexico was again faced with a silver crisis. A combination of reasons - anticipation of a rise in the price of silver; the Mexican government's agreement to sell practically its entire silver production to the United States for its military industry; and a boom in the Mexican and US jewellery industries - caused the price of silver to rise and silver coins to be hoarded. On 21 August Mexico imposed a heavy export tax on silver products, to make it unprofitable to melt down silver coins to ship as bullion, and temporarily suspended a contract which promised all surplus silver production to the United States. However because of a shortage of fractional coinage, especially the fifty centavos denomination, it was compelled to authorise banks to issue cheques with printed denominations of twenty- five and fifty centavos. while it arranged for the production of new coins.
Merida
The Chamber of Commerce made at least three issues.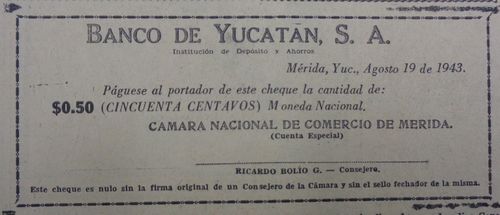 The first issue, dated 19 August, was for 50,000 notes with a value of $25,000. They were printed by the Cía. Tipográfica Yucateca on special light green paper, with a purple henequén plant as a background, the legend in black and the number in redDiario de Yucatán, Tomo LXIV, Año XIX, Núm. 6113. 22 August 1943. They were signed by one of ten directors and had the datestamp of the CámaraDiario del Sureste, Mérida, Año XII, Tomo XXXXVII, Núm. 4026, 22 August 1943. The Chamber issued a notice in the press.
A second issue was dated 25 September. For this the manager, Arturo Rendón R., got off the bench and signed some of the notes.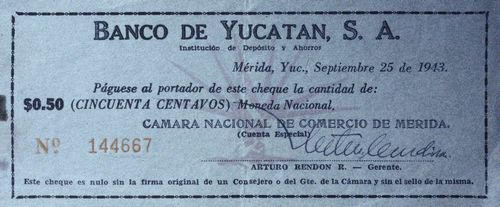 date on note

from
to
total
number
total
value
signed by
50c
19 August 1943
Julio Patrón Cervera
Delio E. Alonso
Miguel Peón de Regil
Ramon Febles C.
Fernando Cervera Monsreal
Eugenio Herrero
Enrique Ferraez P.
Angel Thomas
Ricardo Bolio G.
Enrique Losa L.
25 September 1943
Arturo Rendón R.
includes number 144667
Thus the signatories were:
Delio E. Alonso
Ricardo Bolio G.
Fernando Cervera Monsreal
Ramon Febles C.
Enrique Ferraez P.
Eugenio Herrero
Enrique Losa L.

Julio Patrón Cervera was born on 14 June 1906, to a prominent family. He was one of the leading financiers in Yucatán, and in 1948 was on the board of the Banco del Sureste, founded in 1943. He was president of the Cámara in this year.

He died on 11 June 1968Diario de Yucatán, Núm. 15,480, 12 June 1968.

Miguel Peón de Regil

Miguel Peón de Regil was manager of the Banco del Sureste from [ ] until 1954.

Arturo Rendón R.
Angel Thomas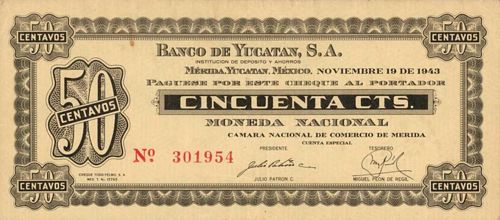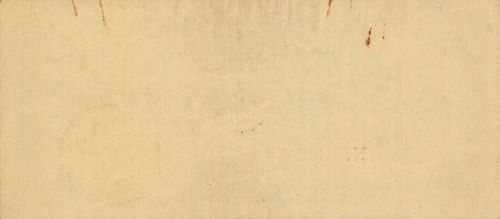 from
to
total
number
total
value
50c
includes numbers 216084

CNBanxico #6554

to 351312

CNBanxico #12409
A more professional issue is dated 19 November and has the facsimile signatures of Julio Patrón Cervera as Presidente and Miguel Peón de Regil as Tesorero.
Progreso
In the port of Progreso some businesses issued notes (tickets) to make up for the lack of change. Therefore, on 25 August, the local Chamber of Commerce agreed to issue 10,000 50c cheques drawn on the Banco de Yucatán, S. A. As it expected these to be in circulation by 30 August, in a press notice it called on businesses to withdraw their tickets within 24 hours, and for the public no longer to accept them. The Presidente at the time was Fernando M. Ortega and the Secretario Eudaldo B. Cruz P.
| | |
| --- | --- |
| Fernando M. Ortega | |
| Eudaldo B. Cruz P. | |
Dzemul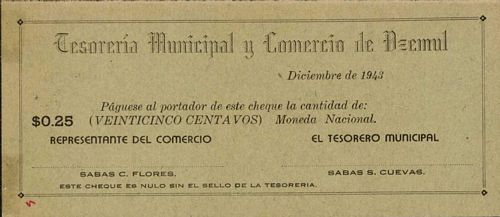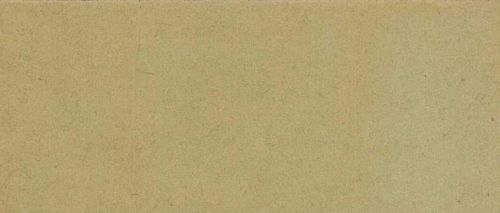 Dzemul is a town 50 kilometres northeast of Mérida.
This 25c piece, with its design based on the first Mérida issue above, shows that the authorities and businesses at least contemplated issuing notes to address a shortage of small change, as late as December 1943.
| | |
| --- | --- |
| Sabas C. Flores | |
| Sabas S. Cuevas | |