Cecilio García, governor, declares all notes to be of forced circulation, Morelia, 13 April 1915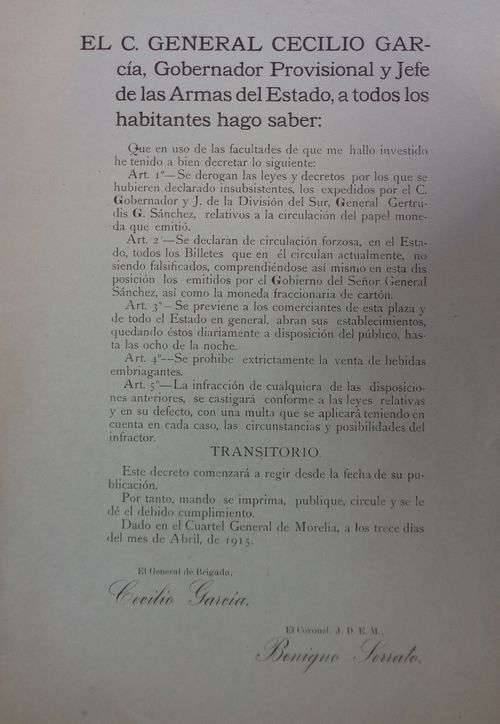 EL C. GENERAL CECILIO GARCIA, Gobernador Provisional y Jefe de las Armas del Estado, a todos los habitantes hago saber:
Que en uso de las facultades de que me hallo investido he tenido a bien decretar lo siguiente:
Art. 1º - Se derogan las leyes y decretos por los que se hubieren declarado insubsistentes, los expedidos por el C. Gobernador y J. de la División del Sur, General Gertrudis G. Sánchez, relativos a la circulación del papel moneda que emitió.
Art. 2º - Se declaran de circulación forzosa, en el Estado, todos los Billetes que en él circulan actualmente, no siendo falsificados, comprendiéndose así mismo en esta disposición los emitidos por el Gobierno del Señor General Sánchez, así como la moneda fraccionaria de cartón.
Art. 3º - Se previene a los comerciantes de esta plaza y de todo el Estado en general, abran sus establecimientos, quedando éstos diariamente a disposición del público, hasta la ocho de la noche.
Art. 4º - Se prohibe extrictamente la venta de bebidas embriagantes.
Art. 5º - La infracción de cualquiera de las disposiciones anteriores, se castigará conforme a las leyes relativas y en su defecto, con una multa que se aplicará teniendo en cuenta en cada caso, las circunstancias y posibilidades del infractor.
TRANSITORIO
Este decreto comenzará a regir desde la fecha de su publicación.
Por tanto, mando se imprima, publique, circule y se le dé el debido cumplimiento.
Dado en el Cuartel General de Morelia, a los trece días del mes de Abril de 1915.
El General de Brigada.
Cecilio García.
El Coronel, J. D. E. M.,
Benigno Serrato.