Early issues
La Gran Fundición Central Mexicana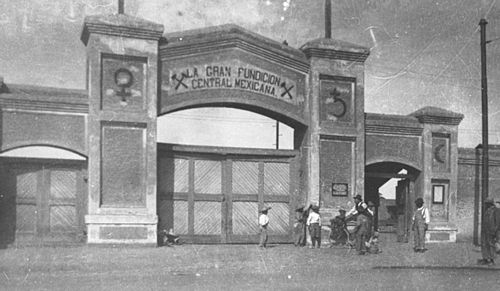 This smelter was established by the Guggenheims in 1895 and became the largest employer in the state.
According to the Diario del Hogar it paid its workers with vales which they were compelled to spend in the tienda de raya, where it had a monopoly. It also discounted the vales and provided expensive and shoddy goods.
In March 1897 Ignacio Ríos é Ibarrola (or Ignacio Ruiz Ibarrola) denounced the company to the authorities. The company argued that the vales could not be called paper money (papel moneda)La Voz de México, 21 March 1897 : El Diario del Hogar, 28 March 1897, presumably claiming that they were advances on wages and any outstanding wages were paid out on the regular payday.
A year later the same abuse was still being reportedLa Voz de México, 16 March 1898 and then in September 1898 it was claimed that few were willing to work in this dangerous works because it paid 50c a day in paper money only redeemable in the tienda de raya for goods at prices twice as much as normal. Apparently the company was thinking of bringing in a thousand ChineseLa Patria, 22 September 1898.
Conversely, in 189[ ] the manager of the Grand Fundición Central informed the state governor that most workers would be paid daily, and "for this reason the tienda de raya was no longer important." As a result, the tienda would henceforth only hold those items that were strictly necessary and that the workers who live on the smelter's grounds neededAHEA, Fondo Secretaría General de Gobierno, caja 9, exp. 43 .
In 1901 the smelter became part of ASARCO.
La Hacienda "Cañada Honda"
This hacienda is situated 22 kilometres north-east of Aguascalientes.
In 1897 Roberto Camarena was sentenced to a large fine and a month in jail for paying with valesEl Diario del Hogar, 28 March 1897.