1885 robbery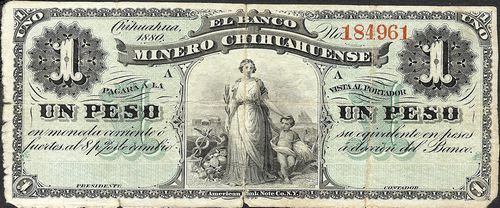 On the night of 26 April 1885 a large number of 25c and (green) $1 notes were stolen from a strongbox in the Customs House in El Paso del Norte (Ciudad Juárez). The notes had yet to be signed and did not have the stamp of the Administración de Rentas.
The serial numbers were 25c Series A 304501 to 320000, and $1 Series A 144001 to 200000, making a total value of $59,875.
Inocente Ochoa and Mariano Samaniego offered a reward of $200 for information leading to the discovery of the notes or arrest of those responsibleEl Tiempo, Mexico City, 14 May 1885. In May a Mexico City newspaper reported that over half the amount had been recovered and that the El Paso Times said that ten thousand dollars had been found in a public houseThe Two Republics, 10 May 1885.
The bank notified the authorities throughout the state of the loss. However, notes with false signatures (but without the Administración General de Rentas stamp) began to appear. Apparently the 25c notes were commonly found in the small change in Allende and on 9 November Gumesindo Loya was arrested in Parral after buying some cheese in Conchos with forty-two $1 notesAMP, Judicial, caja , exp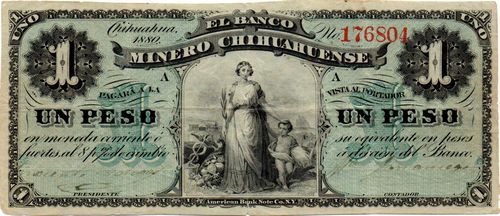 In September 1885 a Mexico City newspaper reported that the police in Chihuahua had recovered a large number of the notes, which had been cancelled (inutilizados)El Tiempo, 25 September 1885. In October 1885 an El Paso newpaper reported that the police in Chihuahua had gathered a quantity of counterfeit banknotes of the Banco Minero (The El Paso Daily Times, 8 October 1885). This probably refers to these stolen, rather than counterfeit, notes.. The actual thieves were apprehended in Pinos Altos 18 months after the robbery and sentenced to prison in Ciudad ChihuahuaEl Correo de Chihuahua, 13 August 1908.
In August 1886 an El Paso newspaper, in giving the local rates of exchange, had Mexican silver and Banco Nacional notes at 70-71c, Banco de Santa Eulalia and Banco Mexicano notes at 60-61c, but Banco Minero Chihuahuense notes were so abundant that dilapidated ones (hecho garras) were 0-2c while clean, untorn peso notes were 59c and clean, untorn centavo notes 6c. Across the border in El Paso nobody was either accepting or giving out Banco Minero Chihuahuense notesEl Tiempo, Mexico City, 21 August 1886, quoting Observador Fronterizo of Ciudad Juárez. Was this a consequence of the robbery or of rash issuing?