Branches of the Banco de Londres y México
Aguascalientes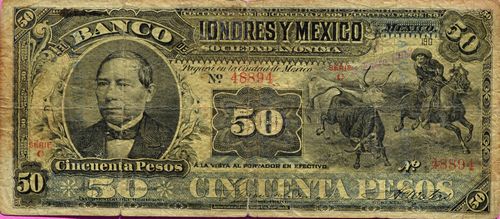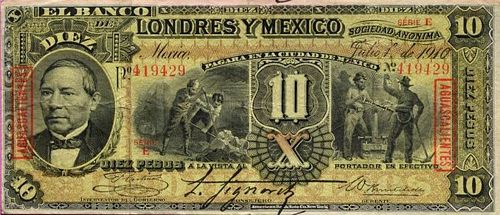 Cocula
Durango
Following Carranza's circular núm. 7 and the bank's failure to reopen its branch the Constitutionalists took over the branch at calle de la Constitución 72 and its annexe, at 7a Calle de la Pila 92 in early 1914. On 23 February 1915 , their lawyer, Laureano Roncal, asked governor Saravia to restore the two propertiesADUR, Libro Copiador 298, Hacienda 23 February 1915 - 26 May 1915, p6.
Guadalajara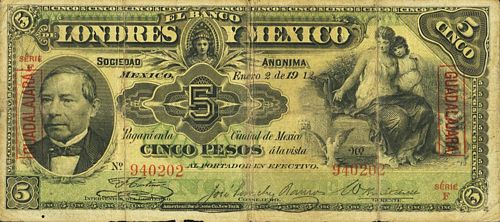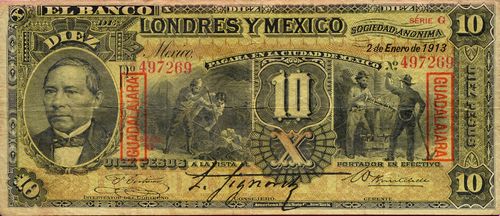 Guanajuato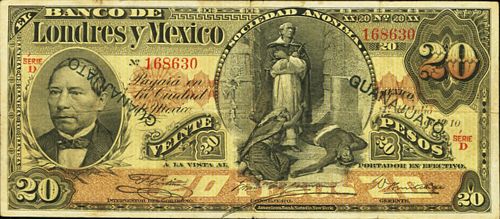 Lerdo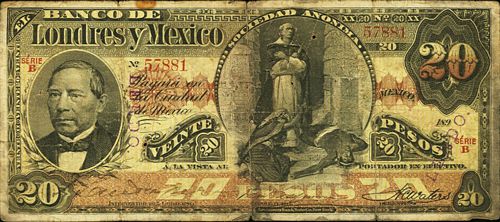 The branch opened in 1898.
Mazatlán
0n 27 October 1897, in decree núm. 42, the state legislature authorised Federico Comparot, representing H.C. Waters, manager of the Banco de Londres y México, to establish a branch in Mazatlán. The branch opened its doors on 23 March 1898, under the management of Roberto HendersonASIN, Luis Rivas García, Mazatlán, 18 September 1900. Henderson was manager until 3 April 1907.
Monterrey
Morelia
The first attempt to establish a bank in Michoacán was when the local congress on 31 May 1882 authorised governor Pudenciano Dorantes to organise with one of the existing banks in the capital to establish a branch or agency in Morelia but nothing came of this. Then on 25 June 1888 the governor, General Mariano Jiménez, agreed a contract with Santiago Wastall, representing the Banco de Londres y México y Sudamérica, to establish a branch but this failed over the question of jurisdiction. Finally, on 14 October 1897, half a year after the Ley general, the Banco de Londres y México opened in Morelia and three months later set up agencies in Zinapecuaro, Ario de Rosales and PuruándiroPeriódico Oficial, Tomo VI, Núm. 6, 20 January 1898.
Puebla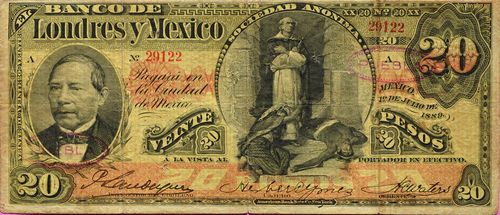 The Banco de Londres y Sudamérica established a branch in 1864 under a concession to the business houses Velasco Hermanos and Nerón y Compañía.
Querétaro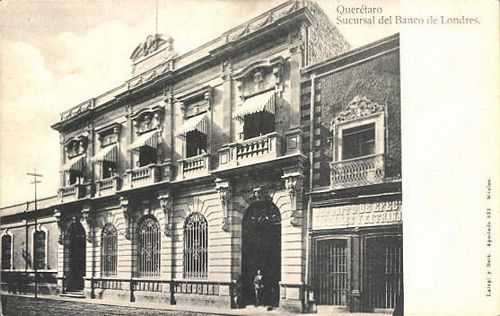 San Luis Potosí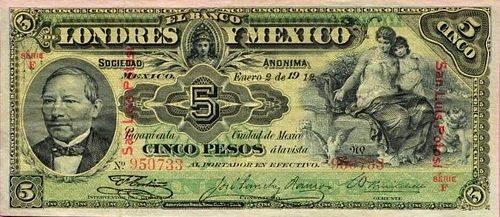 Davis y Compañía were the representatives of the Banco de Londres, México y Sud America in San Luis Potosí with agency number fiveLa Restauración, 7 May 1865.
On 1 February 1889 Santiago Wastall, as representative of the Banco de Londres y México, signed a contract with the state government to establish a branchPeriódico Oficial, San Luis Potosí, 24 April 1889,which enjoyed exemption from taxesASLP, RPPC, Notorio Antonio de P. Nieto, t. XXVII 1889, inscrip. 37. It only had to redeem notes issued in San Luis Potosí. Holders of other notes did not have a right to redemption and holders of San Luis Potosí notes could not redeem them in Mexico City. To do so they had to pay a commission to the bank.
Torreón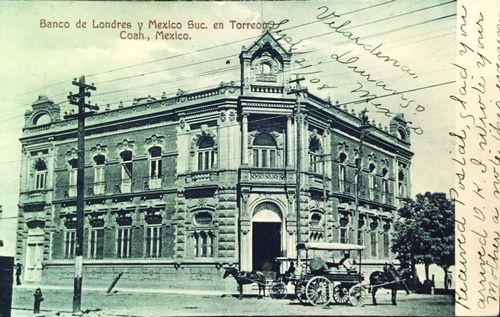 The bank acquired a site on the north-east corner of the junction of avenida Hidalgo and calle Valdez Carrillo, a block from the Plaza de Armas. The building was completed in March 1902 and opened on 1 May, with the branch offices on the ground floor and the home of the manager, D. Motta, and his family above.
The building was demolished in 1952.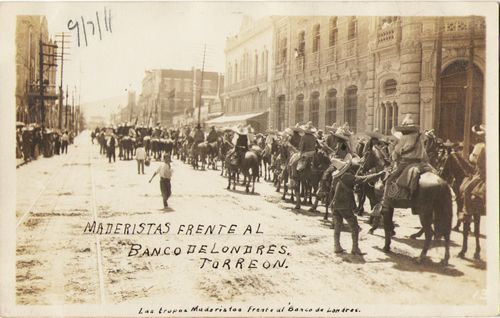 Veracruz