Bonos of the Asociación Durangueña
In the beginning the rebels extorted forced loans from merchants and other well-to-do citizens, many of whom had all their wealth in lands and buildings. As these properties could not be readily sold, a group of businessmen, who called themselves the Asociación Durangueña, made another suggestion.
On 29 July 1913 the Association agreed a contract with Manuel del Real Alfaro, the Director General de Rentas del Estado, for an issues of bonds (bonos). These 100,000 pesos, in denominations of 50c, $1 and $5, were to be used to overcome the shortage of small change and to pay for the costs of war; they were to be local, of forced circulation and unlimited duration, until the restoration of peace when they would be redeemed in cash. The Association underwrote the issue with properties. Anyone who needed bonos could purchase them from the Tesorería in exchange for merchandise or stock. This contract was ratified by the provisional governor, Pastor Rouaix, on 31 July, who declared the notes of forced circulationPeriódico Oficial, Durango, Tomo XXXVIII, Núm. 54, 17 August 1913.
The Asociación Durangueña set up an office in the Palacio del Gobierno which opened to the public on 16 August, and the notes began to circulateEl Demócrata, Durango, Segunda Época, Tomo II, Núm. 2, 17 August 1913. On 1 September it was reported that the $1 and 50c notes had been issued but the $50,000 in $5 notes had not yet been put into circulationThe Mexican Herald, 1 September 1913.
The first fine for refusing to accept the bonos was levied a couple of days later El Demócrata, Segunda Época, Tomo II, Núm. 7, 4 September 1913.
On 13 September, because of the shortage of small change, Rouaix agreed that the Association could replace $5,000 in $5 notes with a similar amount in 20c notes, so there were four different valuesPeriódico Oficial, Durango, Tomo XXXVIII, Núm. 57, 21 September 1913.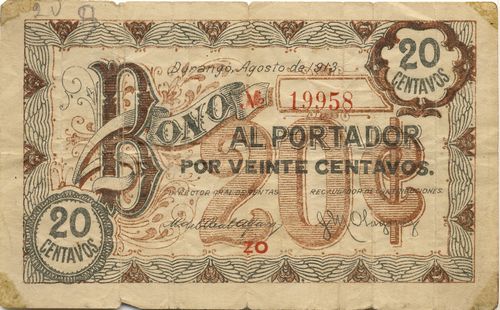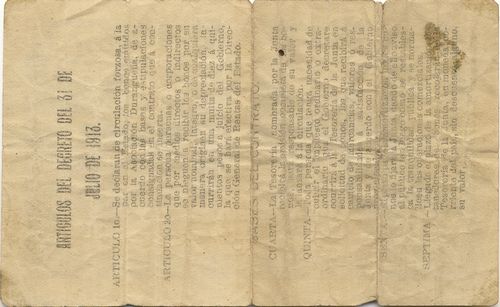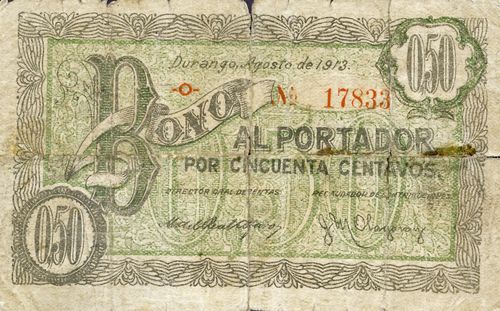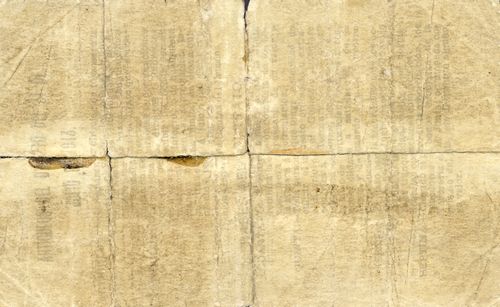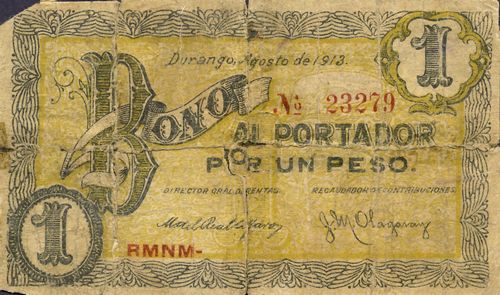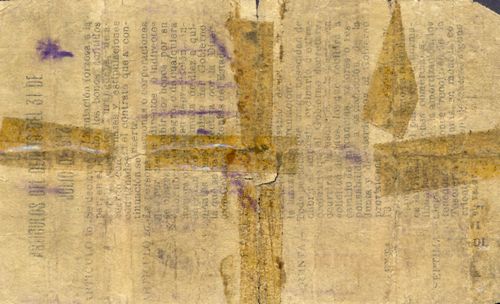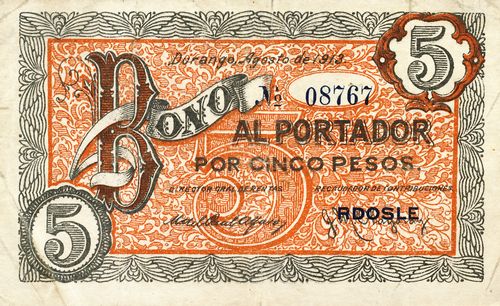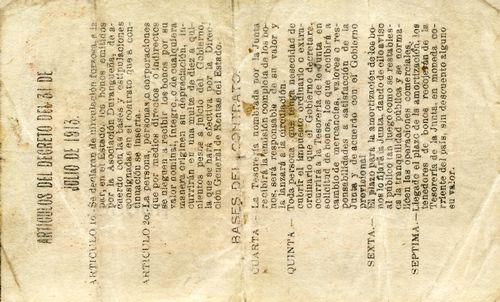 These notes have red code letters.
from
to
total
number
total
value

code
letters

20c
ZO
includes number 19958
25,000
$ 5,000
50c
IDZ
-O-
includes number 17833
A-A
includes number 18467

CNBanxico #10879

90,000
45,000
$1
NENS-
RMNM-
includes number 23279
E-ITG-
includes number 24754

CNBanxico #10880

VLOD-
$5
UDIE
vertical
EONQ
includes number 04431

CNBanxico #10881

RDOSLE
includes number 08767
$100,000
These notes carried the signatures of Manuel del Real Alfaro as Director General and Juan M. Olagaray as Collector of contributions (Recaudor de Contribuciones). On the back they carried the first two articles of the 31 July decree and four clauses from the agreement with the Association.
Manuel del Real Alfaro was a local hacendado. In 1909 he registered the Lavina gold and silver mine in GuanacevíDiario Oficial, 16 April 1909.

He was elected to the 1912-1914 federal legislature as an alternate deputy for Durango.

In 31 May 1914 he (together with Miguel Torres, Eduardo Gámez and Jesús R. Ríos) formed the Comisión de Agricultura de la Laguna, to carry out Villista agrarian policies. Later, in 1917 he was the first secretary of the newly-formed Cámara Agrícola Nacional de la Comarca LaguneraEl Pueblo, 12 June 1917. Jesús R. Ríos was elected a board member and Antonio Rangel the comisario at the same time. and on 2 August 1936 was appointed secretary at the establishment of the Cámara Nacional Minera de TorreónThe Mining Journal, 30 August 1936.

Juan M. Olagaray

Olagaray obviously stood in for del Real Alfaro as he gave up the post of Director General Interino de Rentas on 7 August 1914ADUR, Libro Copiador 280, Hacienda 28 July 1914 - 15 December 1914, p76.
After a meeting with more than 30 businessmen on 2 October the Director de Rentas agreed a second issue of $100,000 in 20c, 50c and one peso notesEl Demócrata, Segunda Época, Tomo II, Núm. 19, 16 October 1913. They were of the same design but have the overprint '2a. Emision', and the new date on the face and reverse.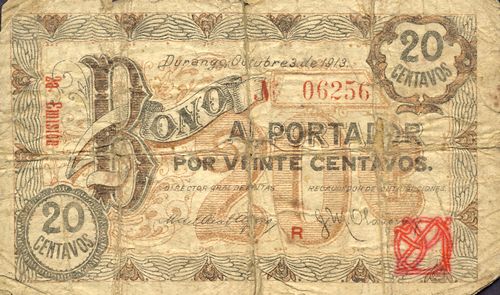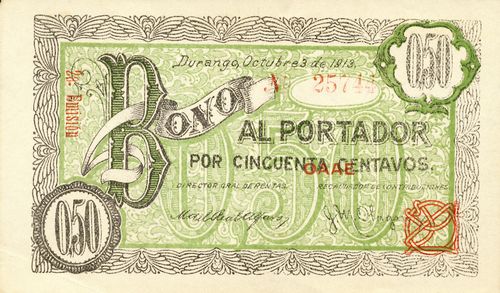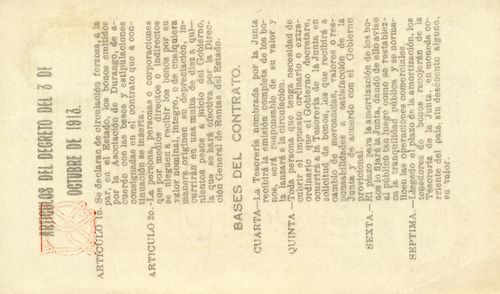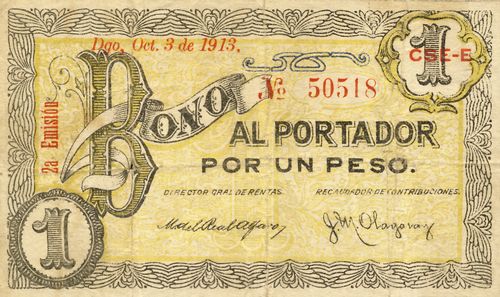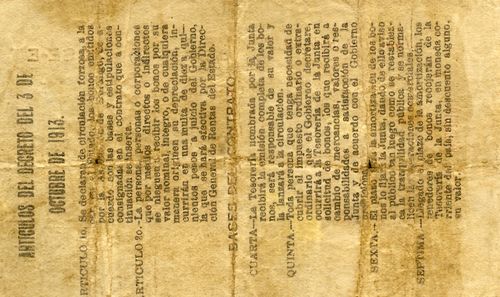 Again, these notes have red code letters.
from
to
total
number
total
value

code
letters

20c
R
'knot' overprint
includes number 06256
U
'knot' overprint
C
'knot' overprint
includes number 31345

CNBanxico #10882

50c
OAAE
'knot' overprint
includes numbers 25744 and 25761

CNBanxico #10883

$1
EOPR
RFTA
IEQI
vertical
includes number 37144

CNBanxico #10884

CSE-E
includes number 50518
$100,000
All these new notes were in circulation by 16 OctoberEl Demócrata, Segunda Época, Tomo II, Núm. 19, 16 October 1913.
On 18 October 1913 the Jefe de Armas, Severino Ceniceros, and Presidente Municipal of Torreón, Ciro M. Santelices, added these Durango notes to those in forced circulation in the townPeriódico Oficial, Durango, 6 November 1913.
For the future history of the acceptance of these notes see the section 'Villista attacks on 'Carrancista' issues'.