First Estado de Durango notes
Decree of 12 December 1913
On 12 December 1913 Pastor Rouaix issued a complicated decree authorising the creation of state bonds. It noted that it would be difficult, given economic conditions, to raise more taxes; that many taxes were unpaid, and that if these were not paid, the government could seize assets and issue bonds, with a 10% interest, guaranteeed by the rights over such assets (derechos reales). The total amount of bonds issued would be determined by the value of the assets.
The next day Pastor Rouaix issued a decree that made the bonds issued by the government and by Constitutionalist forces authorized by it of forced circulation throughout the state, under the threat of a fine¡Patria Libre!, Primera Epoca, Tomo 1, Núm. 22, 18 December 1913; Periódico Oficial, Durango,Tomo XXXVIII, Núm. 36, 21 December 1913.
First Estado de Durango notes
These were issued in accordance with the decree of 12 December 1913. They were to carry an annual interest of 6%, and guaranteed by rights over real estate, as stated on their reverse. They bore a single signature, that of del Real Alfaro.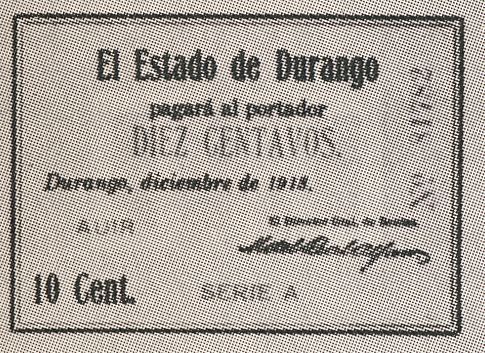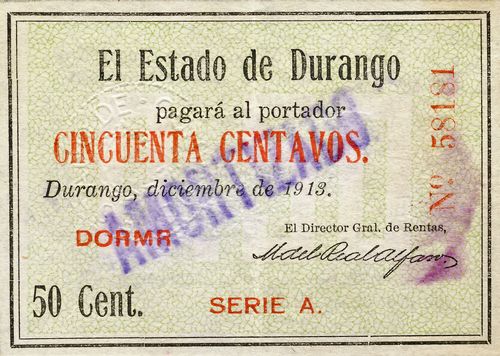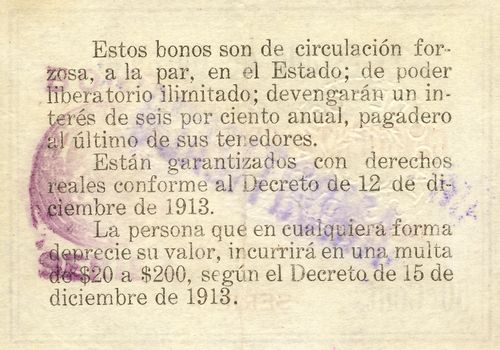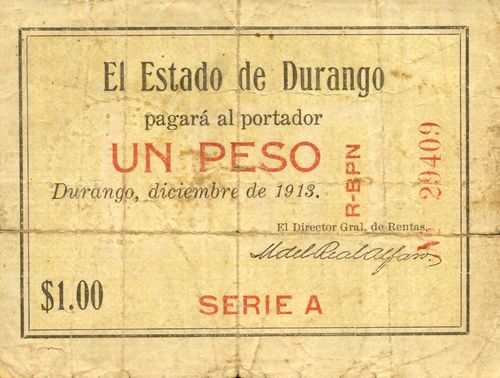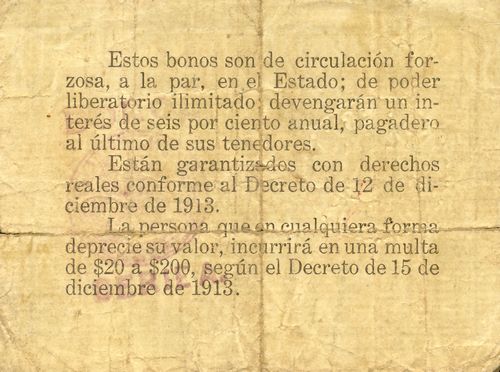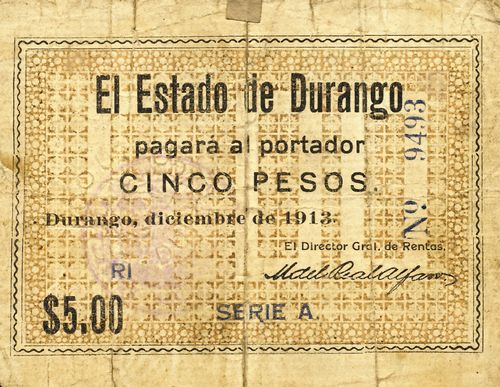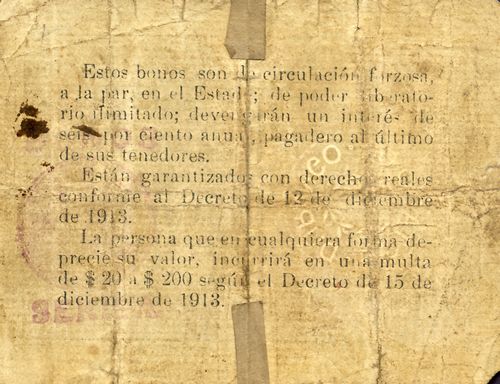 These notes have red code letters.
Series
from
to

code
letters

50c
A
DORMR
$1
A
NCR
vertical
R-PBN
vertical
a O M
R 1 O
$5
A
NICA
vertical
EO9
RI
Counterfeits
50c, $1 and $5 notes were counterfeited.
On 26 June 1914 F. Rios Laurenzana asked the Jefe Politico of Ciudad Lerdo and Presidente Municipal of Torreón to investigate the origin of some false $5 notes which he presumed came from a printshop in TorreónADUR, Libro Copiador 279, Hacienda 25 April 1914 - 27 July 1914, p286 and p287.
In February 1915, because of the large number of counterfeit 50c Series A notes in circulation, the government decided to revise the notes in the Dirección General de Rentas and perforate and overstamp the bogus onesLa Voz de la Revolución, Tomo 1, Núm. 38, 5 February 1915.
On 6 February, in a reply to Luis Orozco, the Jefe Político Interino of Mezquital, Gaxiola said that the yellow $1 and $5 bonos had been counterfeited on a grand scale. The counterfeits were easy to recognize because of the roughness of the printing, particularly of Alfaro's signature, which in the genuine was of delicate characters and features, while in the false the impression was dirty and the features and characters very rough (por lo tozco de la impresión, particularmente la firma de Alfaro que en los buenos es de caracteres y rasgos delicados, mientras en los falsos la impresión es sucia y los rasgos y caracteres muy toscos)ADUR, Fondo Secretaría General de Gobierno, Sección Siglo XIX, Serie Correspondencia, Subserie Revolución, gaveta 6, nombre 88.
On 7 May Gaxiola sent the Jefe Político of San Dímas a note containing instructions to recognise false December 1913 notesADUR, Libro Copiador 298, Hacienda 23 February 1915 - 26 May 1915, p405.
According to one notice bogus $1 notes were almost always 'aged' to hide their weak colours, and some were copies on India paper, touched up in pencil and with paper stuck on the back. The bogus $5 notes were notably larger, the printing cruder, the lithographed signature of del Real Alfaro was poorer but most obvious was that the '$5' in the lower left corner was thicker and larger. Finally the deep pink background was poorly imitated. Both denominations lacked the embossed seal and the rubber stamp on the back was badly done. Another notice highlighted the different endings of Alfaro's signatureADUR, Fondo Secretaría General de Gobierno, Sección Siglo XIX, Serie Correspondencia, Subserie Revolución, gaveta 6, nombre 88.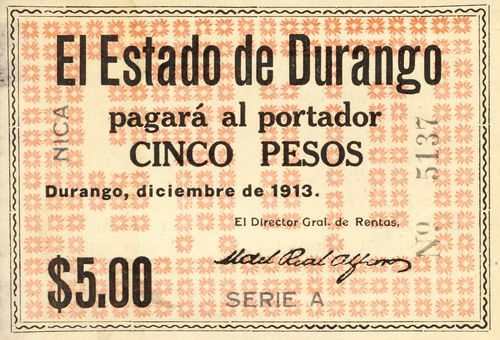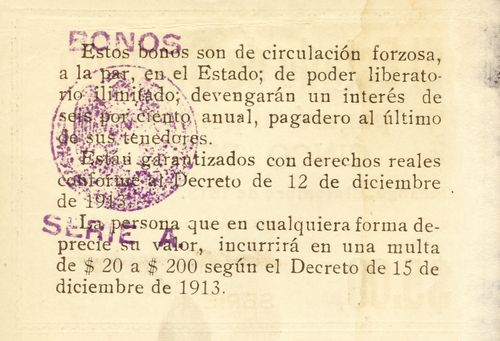 Much later, on 4 April 1916, the then interim Director General, V. M. Castaños, produced the following analysis of issued notesPeriódico Oficial, Durango, Tomo XLI, Núm. 22, 23 April 1916. This information was summarised in a telegram from Celestino Simental, Secretario General, to Pastor Rouaix, then Subsecretario de Fomento, on 5 April 1916 (ADUR, Libro Copiador 303, Telegramas 23 April 1915 - 10 April 1916, p668).
Series
Number
Total
10c
A
100,000
10,000
B
100,000
10,000
50c
A
100,000
50,000
$1
A
100,000
100,000
B
100,000
100,000
$5
A
15,680
78,400
$348,400
More fractional currency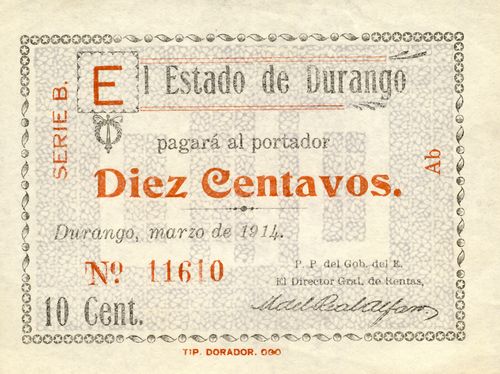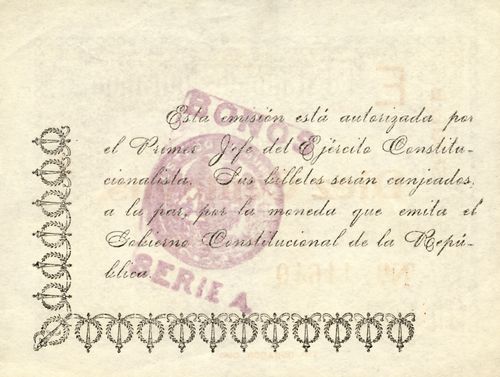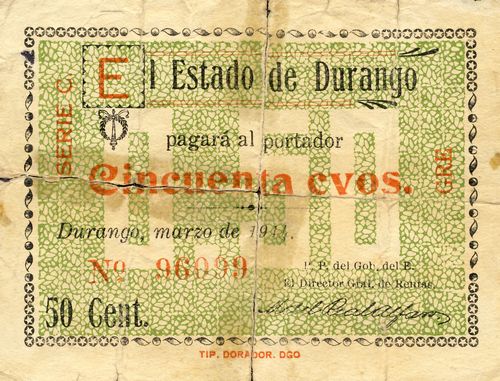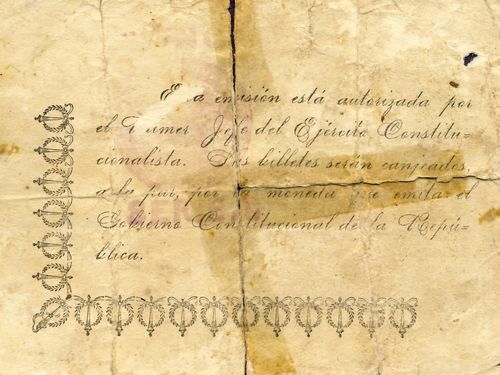 Obviously more fractional notes were needed as 10c and 50c notes were issued in March 1914, though a newspaper reports says that few 10c notes were issued and people did not expect change when they tendered a $1 note. The Director General was now signing per pro the state government, and on the reverse it stated that these notes were authorized by the Primer Jefe of the Ejército Constitucionalista and would be changed at par for the coins that the Constitutionalist Government would issue. These were produced by the local firm of Salvador Dorador.
Series
from
to
code
letters
10c
B
Ac
vertical
Cd
vertical
50c
C
RDB
vertical
GRE
vertical


On 2 June Carranza, while in Durango, authorised Pastor Rouaix to issue $1,500,000, in addition to the $1,000,000 already issued with his approval. Then on 24 June, by which time he had moved on to Saltillo, Carranza confirmed his authorization to Durango to issue up to $2,000,000 in vales. These were to be of forced circulation throughout the Constitutionalist territory.
On 18 March 1915 the Villista government, having learnt that businesses were refusing the lithographed notes with only one signature, warned that they were still of forced circulationPeriódico Oficial, Durango, Tomo XL, Núm. 13, 21 March 1915.