First Estado de Durango notes
Decree of 12 December 1913
On 12 December 1913 Pastor Rouaix issued a complicated decree authorising the creation of state bonds. It noted that it would be difficult, given economic conditions, to raise more taxes; that many taxes were unpaid, and that if these were not paid, the government could seize assets and issue bonds, with a 10% interest, guaranteeed by the rights over such assets (derechos reales). The total amount of bonds issued would be determined by the value of the assets.
The next day Pastor Rouaix issued a decree that made the bonds issued by the government and by Constitutionalist forces authorized by it of forced circulation throughout the state, under the threat of a fine¡Patria Libre!, Primera Epoca, Tomo 1, Núm. 22, 18 December 1913; Periódico Oficial, Durango,Tomo XXXVIII, Núm. 36, 21 December 1913.
First Estado de Durango notes
These were issued in accordance with the decree of 12 December 1913. They were to carry an annual interest of 6%, and guaranteed by rights over real estate, as stated on their reverse. They bore a single signature, that of del Real Alfaro.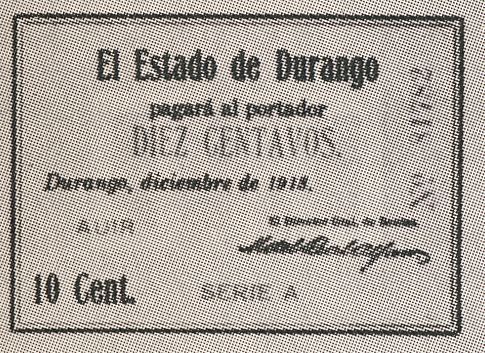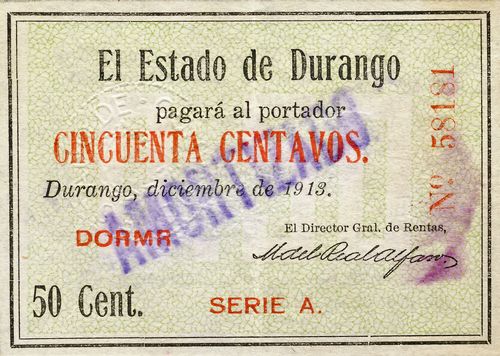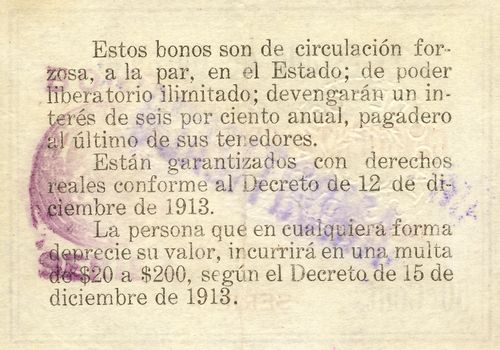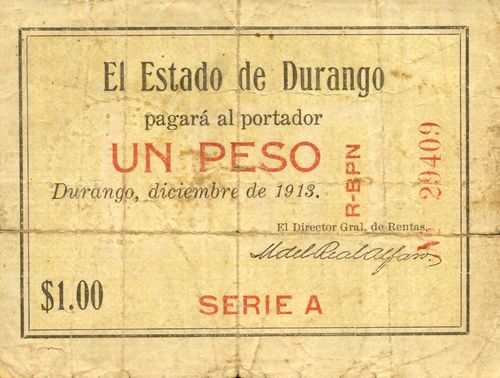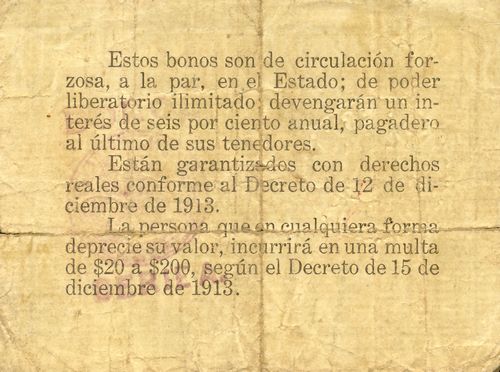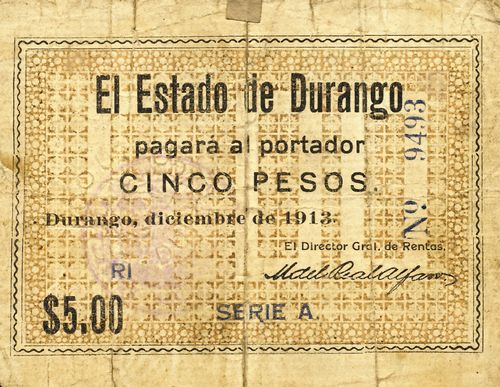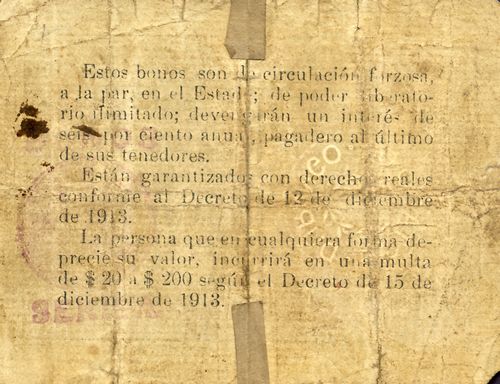 These notes have red code letters.
Series
from
to
total
number
total
value

code
letters

10c
A
GAE-TA
includes number 56856

CNBanxico #10885

AUIR
includes number 81782

100,000

$ 10,000

50c
A
DORMR
includes number 58427

CNBanxico #10886

100,000

$ 50,000

$1
A
PUNV
vertical
includes number 00477

CNBanxico #10887

NCR
vertical
R-PBN
vertical
OOR-O
vertical
includes number 12480

CNBanxico #3937

RERA
vertical
includes number 14870

CNBanxico #3939

TGOI
vertical
includes number 22508

CNBanxico #3938

a O M
R 1 O

100,000

$100,000

B
ASA
includes number 38061

100,000

$100,000

$5
A
NICA
vertical
includes numbers 4277

CNBanxico #3940

and 4654

CNBanxico #3941

EE4
includes number 9868

CNBanxico #10889

EO9
RI

15,680

$ 78,400
More fractional currency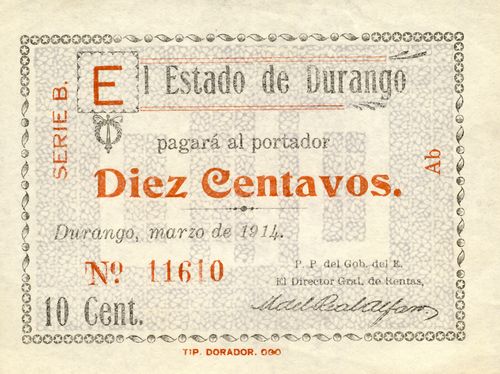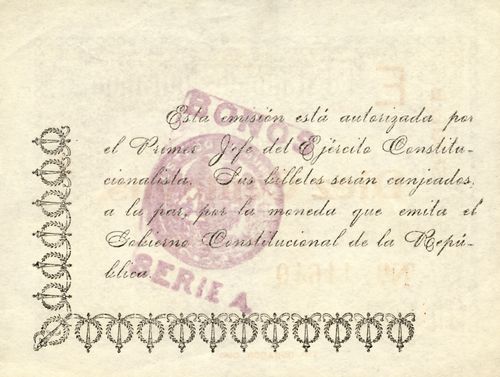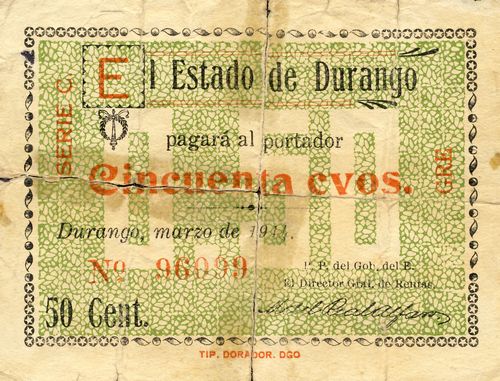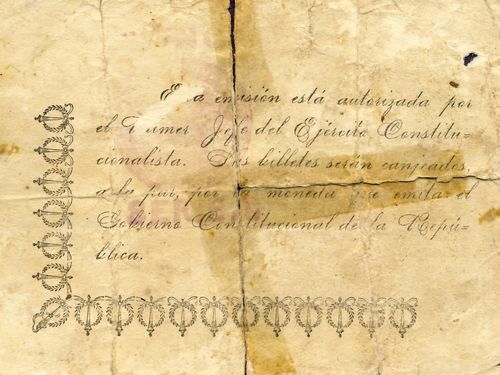 Obviously more fractional notes were needed as 10c and 50c notes were issued in March 1914, though a newspaper reports says that few 10c notes were issued and people did not expect change when they tendered a $1 note. The Director General was now signing per pro the state government, and on the reverse it stated that these notes were authorized by the Primer Jefe of the Ejército Constitucionalista and would be changed at par for the coins that the Constitutionalist Government would issue. These were produced by the local firm of Silvestre DoradorSilvestre Dorador was born in 1871, in Aguascalientes, but always considered himself Duranguense. In his youth he learned the trade of bookbinder and then established a workshop of his own, and in 1897 he founded a printing press that soon acquired a large clientele. He was a major advocate for the formation of the co-operative societies of artisans and workers, which gave him a great esteem among the popular classes. At the beginning of Madero's revolution he joined the movement and was elected municipal president of Durango in 1912, dedicating himself especially to the foundation of a colony for workers. In April 1913, when the revolutionaries were repulsed, he was accused of complicity with them and was sent to the penitentiary together with his sons and the most notorious Maderistas. When Durango was taken in June, he collaborated with Pastor Rouaix as Municipal President in the capital, and when Rouaix went to Mexico City to run the Secretaría de Industria y Comercio, Dorador was entrusted with the direction of its printing press, the most important that the Federal Government had.
Subsequently, he was elected deputy to the Constituent Congress for the district of Durango, where he collaborated in the drafting of articles 27 and 123 of the Constitution. He was later a deputy to the local Congress, author of the state's Labour Law (Ley de Trabajo), Municipal President, again, and federal deputy from 1926 to 1928 and, finally, he returned to be a deputy to the local Legislature, in the period of General Amaya. He wrote a work entitled Mi Prisión, in which he exposed the events that motivated him. He died on 16 November 1930..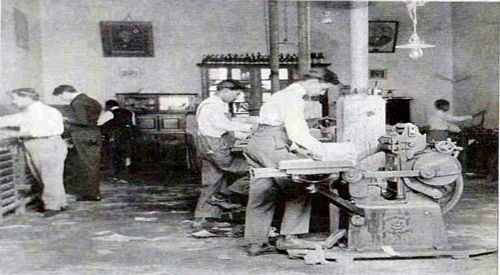 Series
from
to
total
number
total
value
code
letters
10c
B
Ab
vertical
includes numbers 00961 to 26827

CNBanxico #3944

Ac
vertical
Cd
vertical

100,000

$ 10,000

50c
B
SUN-PA
vertical
includes number 87348

CNBanxico #10902

C
RDB
vertical
GRE
vertical
includes number 99340

CNBanxico #10903

On 2 June Carranza, while in Durango, authorised Pastor Rouaix to issue $1,500,000, in addition to the $1,000,000 already issued with his approval. Then on 24 June, by which time he had moved on to Saltillo, Carranza confirmed his authorization to Durango to issue up to $2,000,000 in vales. These were to be of forced circulation throughout the Constitutionalist territory.
On 18 March 1915 the Villista government, having learnt that businesses were refusing the lithographed notes with only one signature, warned that they were still of forced circulationPeriódico Oficial, Durango, Tomo XL, Núm. 13, 21 March 1915. Saravia sent this circular to the jefes políticosADUR, Fondo Secretaría General de Gobierno, Sección Siglo XIX, Serie Correspondencia, Subserie Revolución, gaveta 6, nombre 88: ADUR, Copiador 298, Hacienda 23/2/1915-26/5/1915, p132. This was acknowledged and published in Nazas on 23 MarchADUR, Fondo Secretaría General de Gobierno, Sección Siglo XIX, Serie Correspondencia, Subserie Revolución, gaveta 6, nombre 88, San Francisco de Mezquital on 26 MarchADUR, Fondo Secretaría General de Gobierno, Sección Siglo XIX, Serie Correspondencia, Subserie Revolución, gaveta 6, nombre 88.
Much later, on 4 April 1916, the then interim Director General, V. M. Castaños, produced the following analysis of issued notesPeriódico Oficial, Durango, Tomo XLI, Núm. 22, 23 April 1916. This information was summarised in a telegram from Celestino Simental, Secretario General, to Pastor Rouaix, then Subsecretario de Fomento, on 5 April 1916 (ADUR, Libro Copiador 303, Telegramas 23 April 1915 - 10 April 1916, p668).
Series
Number
Total
10c
A
100,000
10,000
B
100,000
10,000
50c
A
100,000
50,000
$1
A
100,000
100,000
B
100,000
100,000
$5
A
15,680
78,400
$348,400