American Book & Printing Company notes
Following Huerta's modification to the Ley General of 1897 in January 1914, permitting the issue of low value notes, the bank issued $1 and $2 notes printed by the American Book & Printing Company of Mexico City. The face had a stock vignette of Hidalgo and the reverse imitated the vignette used by the ABNC.
$1 notes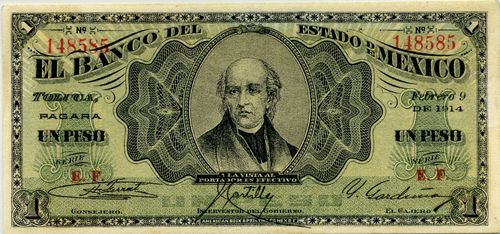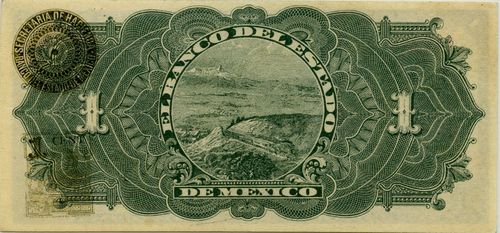 On 17 March 1914 10,000 of the $1 notes mysteriously disappeared. It appears that Miguel Fernández and José Trinidad Martínez, two employees of the Banco Central, were instructed to collect 36,000 notes of various denominations and banks from the Oficina Impresora de Estampillas, in the Palacio Nacional, where they had been stamped. They took along a boy (mozo) with a handcart, but when they delivered the notes to the Banco Central, found that one packet was missingEl Imparcial, Tomo XXXV, Núm. 6389 18 March 1914: the El País account said that the mozo worked for the Oficina Impresora.
The same evening someone was picked up at the "Monte Carlo", in Avenida de 16 de septiembre, whilst gambling with some of the notes. He claimed to have received them in change but was arrested and taken to the Inspeccion General de PoliciaEl País, Año X, Núm 4570, 18 March 1914.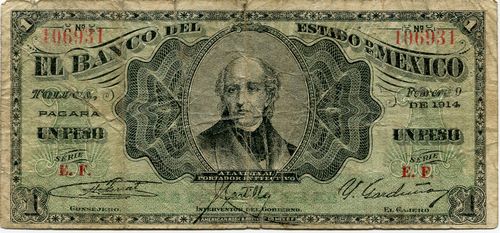 The bank knew the serial numbers of the missing notes, from 105001 to 115000, and told the public not to accept themEl Correo de la Tarde, Año XXIX, Núm. 9423, 25 March 1914. Note that the $1 note pictured above is one of those that disappeared.
Date of issue
Date on note
Series
from
to
Consejero
Interventor
Cajero


9 February 1914
C.D.
000001
100000
Ferrat
Castillo
Garduño
includes numbers 000135

CNBanxico #42587

to 094332

CNBanxico #4626

E.F.
100001
105000
105001
115000
stolen
115001
200000
includes numbers 129266

CNBanxico #42585

to 199695

CNBanxico #4629

G.H.
200001
300000
includes numbers 212566

CNBanxico #11431

to 284543
J.K.
300001
includes number 312254

CNBanxico #4622
$2 notes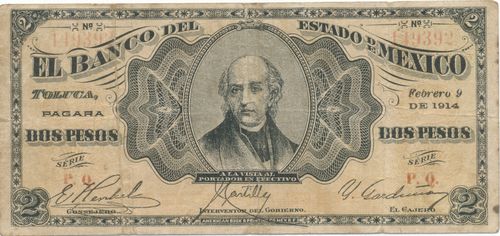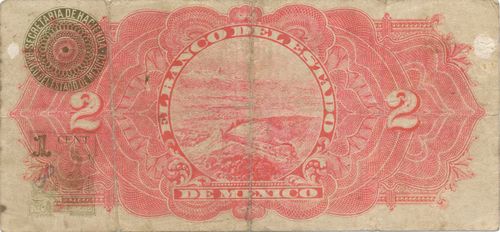 Date of issue
Date on note
Series
from
to
Consejero
Interventor
Cajero


9 February 1914
N.O.
000001
100000
E. Henkel
Castillo
Garduño
includes numbers 001366

CNBanxico #42605

to 099249

CNBanxico #42606

P.Q.
100001
200000
includes numbers 103325

CNBanxico #42590

to 194782

CNBanxico #42592