Gobierno Convencionista
These state that they were issued in accordance with a decree given in Mexico City on 1 July 1915[text needed]. As the Conventionists were driven out of the capital by Pablo González and his troops on 11 July, they are dated Toluca on 16 August 1915. They carry the facsimile signatures of Luis Zubiría y Campa as Ministro de Hacienda and Enrique Liñeiro as Tesorero de la Federación.
Luis Zubiría y Campa was born in Durango, Durango in 1878 and studied law. He represented Durango in the famous 1912-1914 XXVI Legislature and when Huerta dissolved the legislature he was one of the deputies who were imprisoned.

On release he supported Zapata. He served as Secretario General to the governor of the Federal District, Vito Alessio Robles, in January 1915 and as the Convention Secretario de Hacienda from 14 June to 10 October 1915. It was rumoured that he had been shot on Zapata's orders but in May 1916 he left Cuernavaca and with a group of fifteen others crossed to Tenancingo, in the Estado de México, where, taking advantage of Pablo González' decree on amnesty, they surrendered to General Alejo G. GonzálezEl Nacional, Núm. 6, 17 May 1916.

After a spell in exile in the United States he returned in the 20s and lived privately. He was also known as a painter in oils and watercolours and wrote several books on Durango's history and economics.

He died in Torreón, Coahuila, in 1936.

Enrique Liñeiro
Ironically, on 16 August Luis Zubiría y Campa, in Toluca, listed the issues that the Convention deemed of forced circulation, but these obviously had not yet been issued.
There were two designs: the second had the number "620" and "001" in the ovals on the reverse.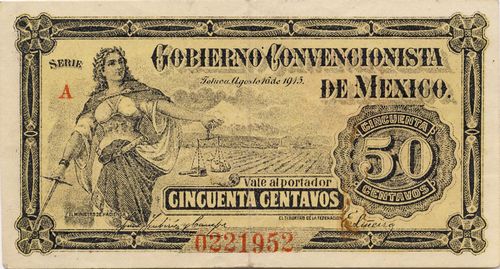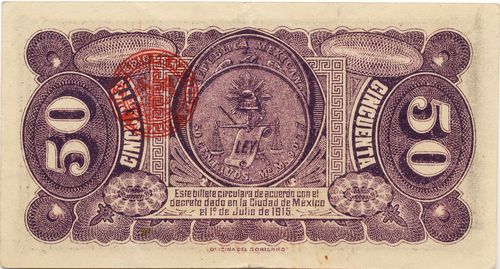 simple design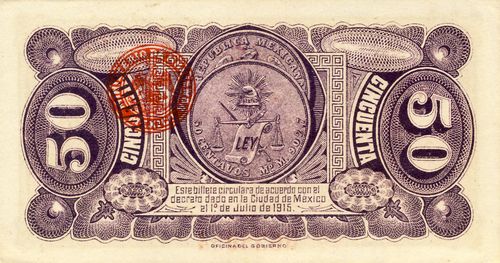 with 620 and 001
series
from
to
total
number
total
value
50c
A
simple design
includes numbers 0054971

CNBanxico #4765

to 0588816

CNBanxico #4719

620 / 001
includes numbers 0591128

CNBanxico #4764

to 1353663

CNBanxico #4818
On 21 October 1915 Coronel Jesus M. Ponce wrote to Emiliano Zapata that he had saved the presses used for printing notes when they were driven out of TolucaAGN, Colección Cuartel General del Sur, 187767/90 letter Ponce, Malinalco, to Zapata, 21 October 1915. Ponce has been in Toluca on some commission and when the time came to evacuate the town, used his escort to force people to help him get the presses to Tenango. There he met General Samuel Fernández, who had been instucted to save the machines, and the two of them managed to move them to Malinalco. Ponce would continue until he reached Zapata, unless given different instructions.
These notes bear a striking similarity to a subsequent issue of $5 notes that the Convention made in Cuernacaca in October 1915.