El Banco de Guerrero
The bank was granted a federal concession on 30 September 1903.
Branch offices were opened in Acapulco and Bravos (Chilpancingo).
American Bank Note Company print runs
The American Bank Note Company produced the following notes. They engraved special vignettes of Vicente Guerrero Saldana (C 280) for the faces, of the church at Taxco (C 942) for the $100 note, and of a view of Acapulco for the reverses.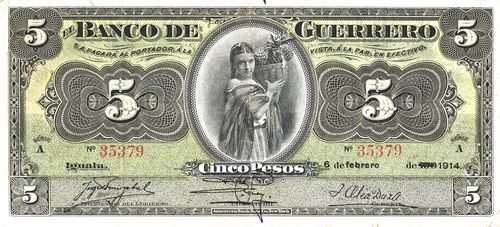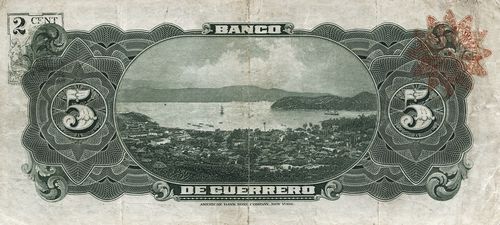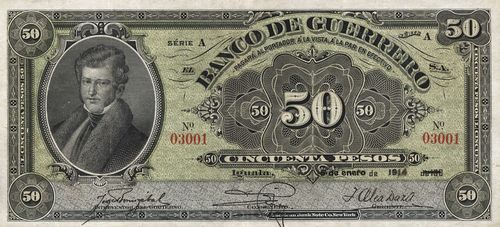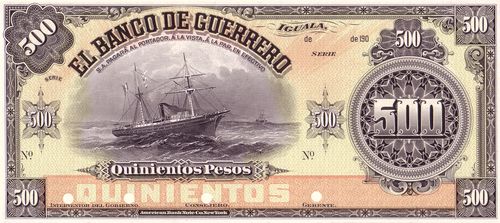 Date
Value
Number
Series
from
to
June 1904
$5
40,000
A
00001
40000
$10
20,000
A
00001
20000
$20
15,000
A
00001
15000
$50
10,000
A
00001
10000
$100
2,000
A
0001
2000
$500
200
A
1
200
When the ABNC produced another run of notes at the beginning of 1914 they altered the dateline on the plates from "Iguala__de_____de 190_" to "Iguala__de_____de19__" .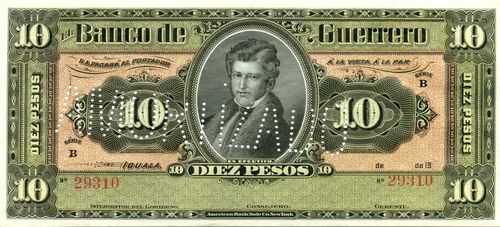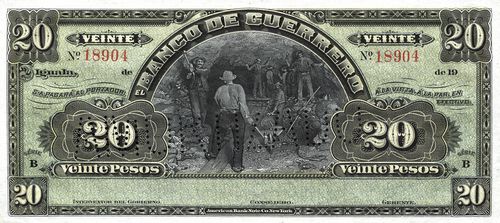 Date
Value
Number
Series
from
to
February 1914
$5
50,000
B
40001
90000
$10
25,000
B
20001
45000
$20
15,000
B
15001
30000
$50
10,000
B
10001
20000
$100
7,000
B
2001
9000
Signatories
Identified signatories are R. Buen Abad and J. Olea Daza as Gerente, Candido Nava, Emilio [ ]. Thomas P. Honey, Ricardo Honey, Porfirio Díaz, and Antonio Lavín as Consejero and [ ] and Jorge Berriozabal as Interventor.
Gerente
| | |
| --- | --- |
| R. G.Hershberger | |
| R. Buen Abad | |
| Ignacio Olea Daza | |
Consejero
Candido Nava
Emilio
Thomas P. Honey
Ricardo (Richard) Honey emigrated from Cornwall, England to Pachuca, Hidalgo in 1862 at the age of twenty-three. He bought an iron mine in Ixmiquilpan, and established a mine in Pachuca. He built the first iron bridge in Mexico, which crossed the river Tula in Tasquillo. Honey was incredibly successful and used his riches to purchase more iron mines, at La Encarnación, near to Zimapán, 75 kilometres north-east of Pachuca. He also acquired various smelters.
Honey married Emma Jane Phillips, another Cornish immigrant and had four sons and five daughters. His main residence was in Mexico City, where he founded the Jockey Club. He also founded the Reforma Athletic Club in Pachuca.
During an illustrious career Honey was the president of three banks, an iron and steel works, two mining companies, a paint factory and was a director of two railway companies, the Ferrocarril Nacional Mexicano and the Ferrocarril de Pachuca-Tampico.
Honey was known for the treatment of his workers, including always paying 25 centavos a day when the minimum wage was 18 centavos, and his humanitarian efforts to help the indigenous population.
Unfortunately, some of Honey's investments ultimately failed, the revolution increased his misfortunes and he died on 12 June 1913 practically penniless.
Porfirio Díaz
Antonio Lavín
Interventor
| | |
| --- | --- |
| Miguel Montúfar | |
| Jorge Berriozabal | |
Following an investigation by the Comisión Reguladora e Inspectora de Instituciones de Crédito the bank's charter was cancelled on 15 December 1915.