Various Constitucionalist military issues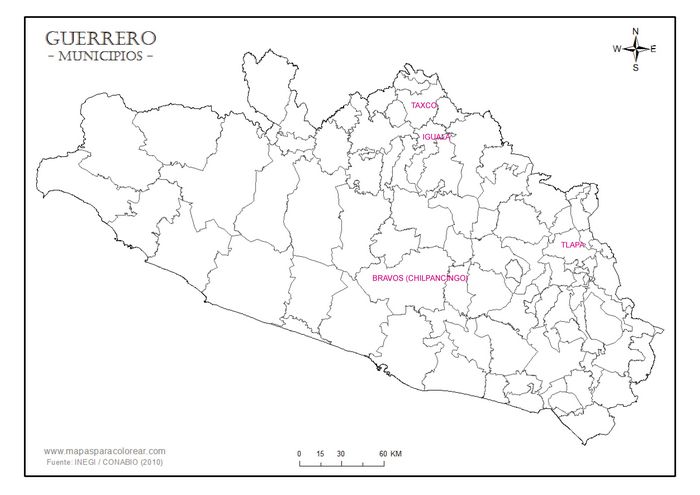 Julián Blanco was among the first to take military action against Porfirio Diaz's government, attacking the military quarters in Chilpancingo, capital of Guerrero, in April 1911. Blanco served in President Madero's forces and successfully undertook various military campaigns against Emiliano Zapata's army. After Madero´s assassination on 9 February 1913 Blanco´s troops tried again to occupy Chilpancingo but were pushed back.
By 24 March 1914 Blanco was serving in Carranza's Constitutionalist Army and he allied himself with the Zapatista Generals Jesús H. Salgado and Heliodoro Castillo in their campaign to take over Chilpancingo from the Federal troops of General Silvestre G. Mariscal. Mariscal's group soon joined Carranza's Constitutionalist Army.
On Huerta's renouncement the disagreements between the Carrancistas and Zapatistas flared again.
On 28 March General Salgado was appointed Director of the Provisional Government of Guerrero. In July Carranza appointed Salgado the Provisional Governor but after learning that his loyalty was to the Zapatistas he cancelled the appointment. On 26 December Carranza appointed Blanco Provisional Governor and his troops embarked upon an intense military campaign against the Zapatista army. On 31 December Chilpancingo was finally overcome and the Zapatista occupiers driven out.
Ejército Constitucionalista del Sur notes
At the beginning of 1915 the Constitutionalists issued a series of cartones. The notes are known in a variety of colours, with the serial number either handwritten or printed, and with General Canuto J. Neri's signature or his handstamped name on the reverse.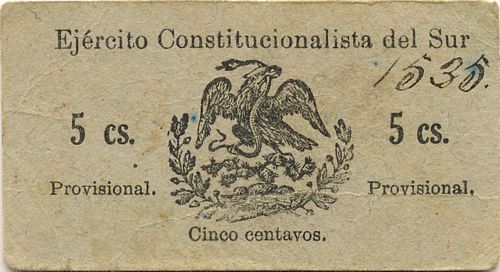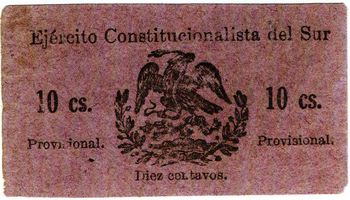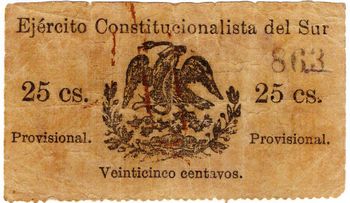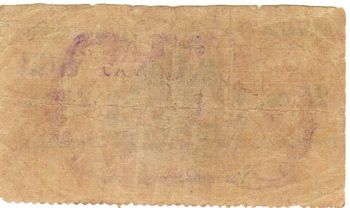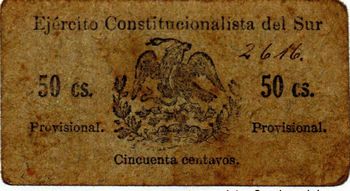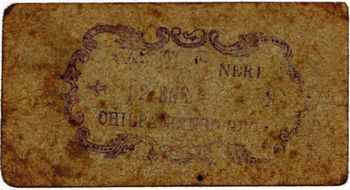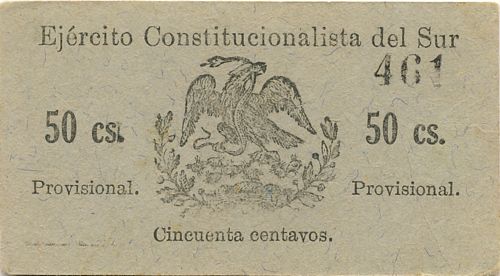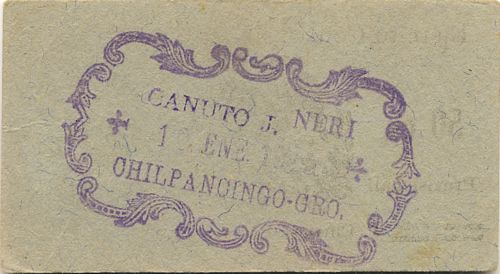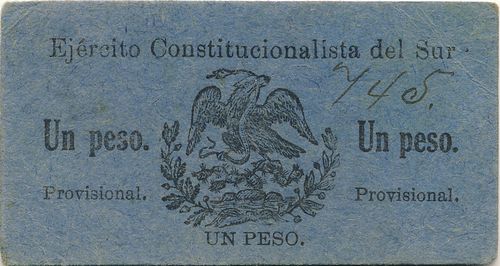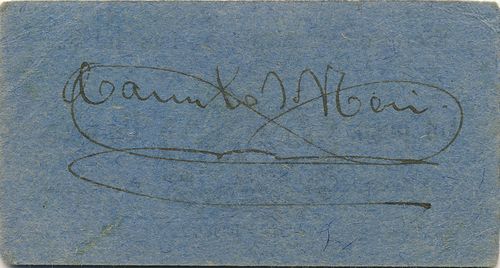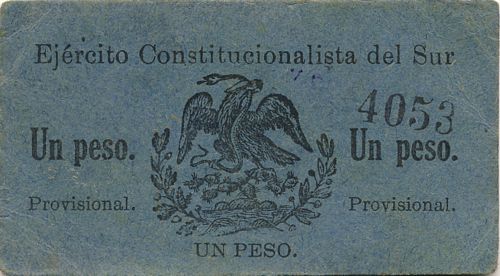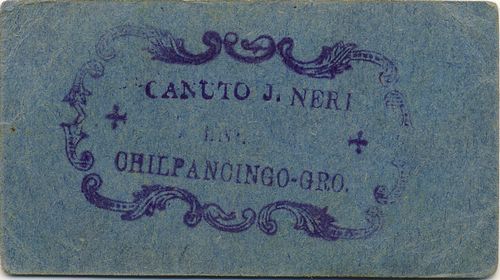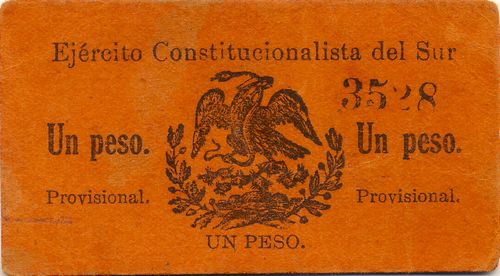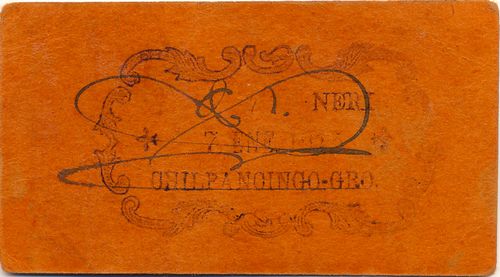 date on note
from
to
total
number
total
value
5c
includes numbers 1506 to 1535
10c
25c
includes number 863
50c
stamped number
includes number 430
handwritten number
includes number 2656
$1
handwritten number
includes numbers 694 to 745
7 January 1915
stamped number
includes numbers 2953

CNBanxico #11103

to 3528
includes number 4187

CNBanxico #4303

to 7508

CNBanxico #4299

10 January 1915
includes numbers 9605

CNBanxico #4297

to 9644

CNBanxico #4298
| | |
| --- | --- |
| Canuto J. Neri | |
On 5 June 1915 Governor Blanco travelled to Veracruz where he informed Carranza of his displeasure at the appointment of General Mariscal as chief of the military operations in Guerrero, as Mariscal was building up his forces and undermining Blanco's power. On 4 August, after his return to Acapulco, Blanco was out riding near General Mariscal's military quarters when his horse and himself were shot by a Mariscal captain. The wounded Blanco managed to get to his headquarters where he ordered Colonel Simon Díaz to attack Mariscal's troops. However, Díaz had been bribed and stayed neutral, and Mariscal, instead, attacked Blanco's troops and forced Blanco and his son, General Bonificio Blanco, to surrender unconditionally. Blanco's officers and some 50 additional soldiers were shot. Blanco and his son and General Canuto J. Neri were all executed on 6 August. Mariscal explained his actions by claiming that Blanco was going to betray Carranza to Zapata, had killed his own son and then committed suicide.
After Neri's execution some 30 Mariscal soldiers stole his funds.
Acapulco
On 24 March 1915 General Brigadier Mariano Barrios wrote to Carranza from Acapulco. He had come to pick up the supplies that were being sent in the gunboat Guerrero but had received only $2,000, not enough to meet what he owed to his troops, so he asked for permission to issue $50,000 as a temporary measure (bonos provisionales) to circulate until he received the necessary fundsCEHM, Fondo XXI-4 telegram General Brigadier Mariano Barrios, Acapulco to Venustiano Carranza, Veracruz, 24 March 1915.
If Barrios issued any notes, what were they?
Tlapa
Ejercito Constitucionalista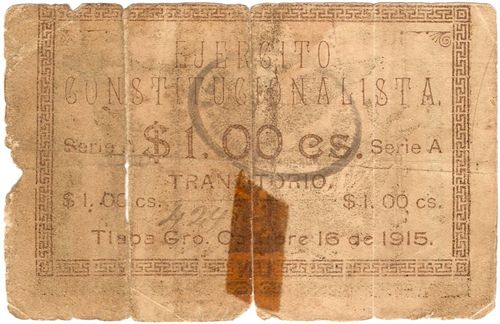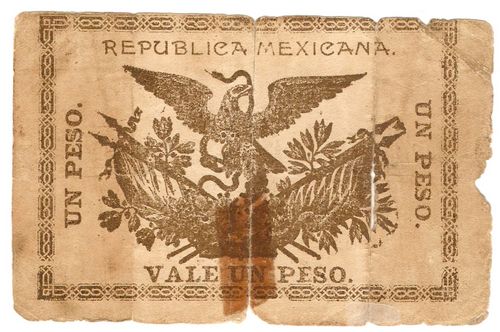 date on note
series
from
to
total
number
total
value
$1
16 October 1915
A
includes number 424[ ](?)
Iguala
Quinta Brigada
This unit was the fifth brigade of the fifth division of the Army of the Northwest (Cuerpo de Ejército del Noroeste). In June 1916 this 5a Brigada issued a a set of cartones (25c[image needed], 50c and $1) for local use.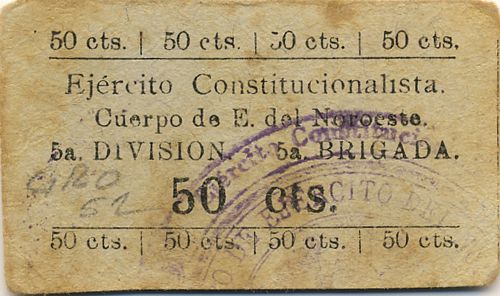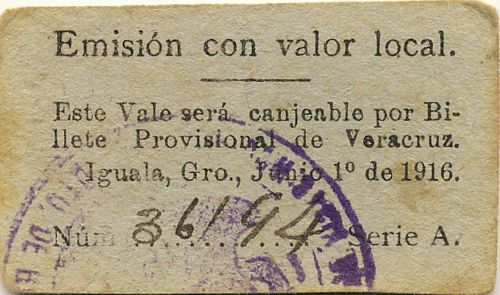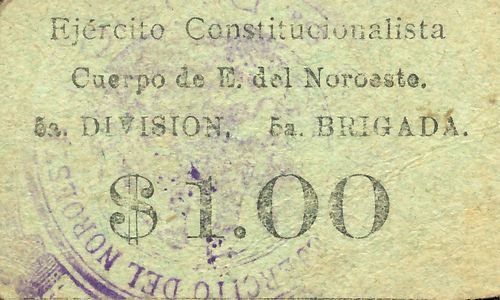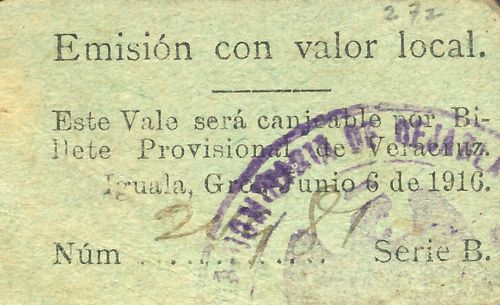 date on note
Series
from
to
total
number
total
value
25c
6 June 1916
50c
1 June 1916
A
includes numbers 3045 to 36738

CNBanxico #11105

$1
6 June 1916
B
includes numbers 3688

CNBanxico #4228

to 45161

CNBanxico #4308
On the face they read 'Ejército Constitucionalista. Cuerpo de E. del Noroeste. 5a DIVISION. 5a BRIGADA.50 cts.' and on the reverse 'Emisión con valor local. Este Vale será canjeable por Billete Provisional de Veracruz. Iguala, Gro., ....'. So these are obviously issued to address a local shortage of tostones and $1 Veracruz notes.
A couple of weeks later a new issue was changeable for infalsificables.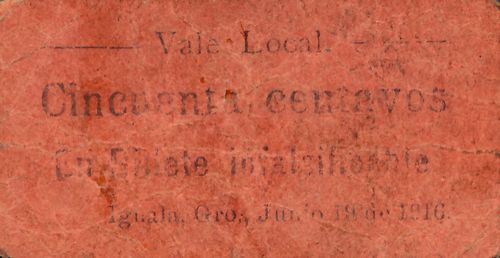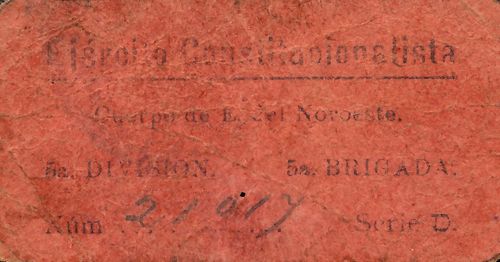 Series
from
to
total
number
total
value
50c
D
includes number 21917
On the face of the 50c it now read 'Ejército Constitucionalista. Cuerpo de E. del Noroeste. 5a DIVISION. 5a BRIGADA. Núm. Serie D.' and on the reverse 'Vale Local. Cincuenta centavos En Billete infalsificable Igual, Gro., Junio 19 de 1916'.
Taxco
Ejército Constitucionalista
A similiar issue of three(?) values (25c, 50c[image needed] and $1[image needed]) was made in Taxco, dated 1 July 1916.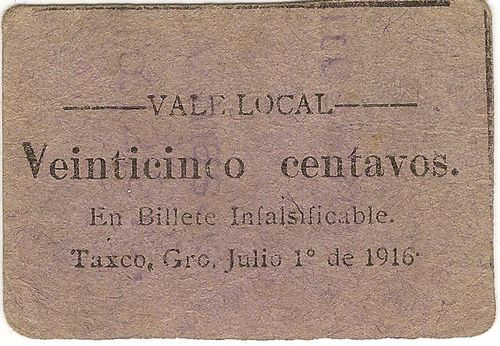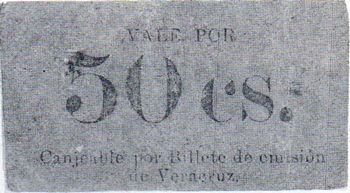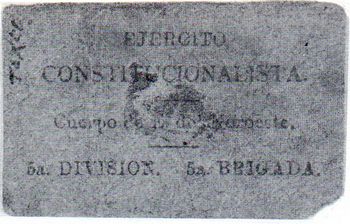 Gaytan lists these as one sequence, from Taxco, but they are quite disparate. The 25c is payable in infalsificables while the 50c. in Veracruz notes, is obviously earlier. The $1 is similar to the Iguala notes above.
Aldama
Jefatura de Armas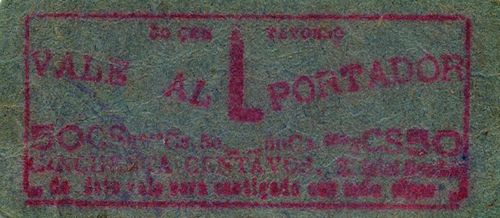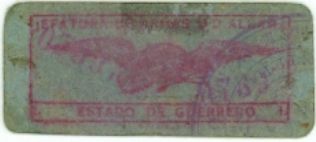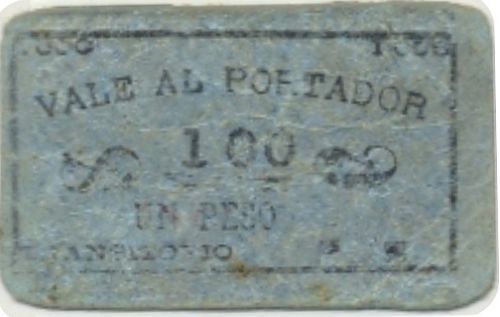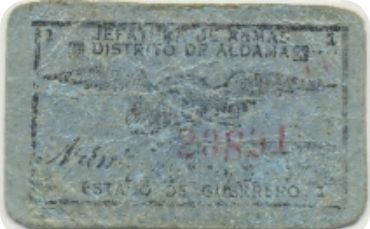 from
to
total
number
total
value
50c
includes number 1733

CNBanxico #11093

$1
includes numbers 20929

CNBanxico #11094

to 298919

CNBanxico #41789

$2