El Estado de Michoacán $10 note
On 5 February 1915 General Gertrudis G. Sanchez authorised the issue of $5,000,000 to cover the costs of his administration and the war, supposedly guaranteed by all the state's real estate and the product of intervened estates. This was to be in three denominations
total
number
total
value
$5
400,000
$2,000,000
$10
200,000
2,000,000
$50
20,000
1,000,000
$5,000,000
As laid down in the decree the notes were to carry the signatures of the Governor and Comandante Militar (G. G. Sanchez), the Tesorero General (J. R. Cardenas) and the Interventor (Gustavo Figueroa).
Copies of the decree were sent by the Prefecto of Morelia to the Presidente Municipal on 22 February 1915AMMor, caja 29, exp. 61.
It appears that only the $10 note was produced before Sánchez was driven out at the beginning of March.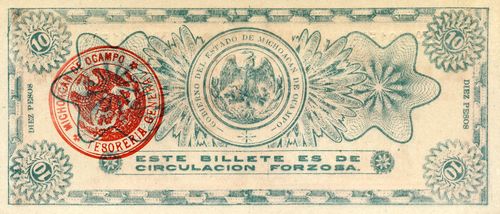 series
from
to
total
number
total
value
$10
A

1

200000

200,000

$2,000,000

includes numbers 11177

CNBanxico #5173

to 111479

CNBanxico #5178
On 4 March the new Villista Governor, José I. Prieto, remarked that Sanchéz had issued $1,237,000 and declared this issue null and void, on the grounds that to honour it would only deprive the state and enrich speculators.
However, these were used in neighbouring states. On 9 July 1915 when the Carrancistas arrived in Guanajuato, they put up notices that it was obligatory to accept notes of the Estado de Michoacán and of Obregon, which they had in large quantitiesCrispin Espinosa, Efemerides Guanajuatenses. They are also known with two revalidations from Guerrero.

COMANDANCIA MILITAR, LA UNIÓN, - GRO.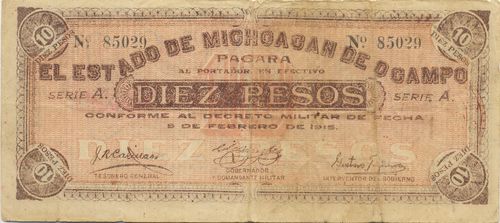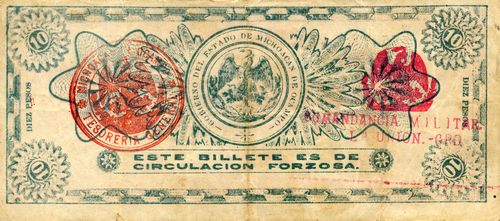 Estado de Guerrero, Ayuntamiento Constitucional de Acapulco de Juarez, Distrito de Tair.