La Pagaduria General del Cuerpo de Ejército del Noreste
Though listed in the catalogues under Nuevo León (of unknown origin) these notes appeared to have been printed in Tampico, Tamaulipas.
Whilst campaigning in the Northeast in the first half of 1915 General Pablo González found himself short of money to pay his troops, so on 4 March 1915, whilst at Montemorelos, Nuevo León, he authorised an issue of cartones and notesOn 15 March when R. Riviello sent J. Blas Treviño, at Ebano, a copy of the decree, he asked Treviño to tell him if he needed to make any changes (ATreviño, Sección: Ejército Constitucionalista, Serie: operaciones militares, caja 1, exp. 4, fs. 216). This suggests that González was (retrospectively) authorizing a Treviño initiative, totalling $2,000,000, comprised of $500,000 in 10c and 20c, $500,000 in 50c, $500,000 in $1 and $500,000 in $5 notes.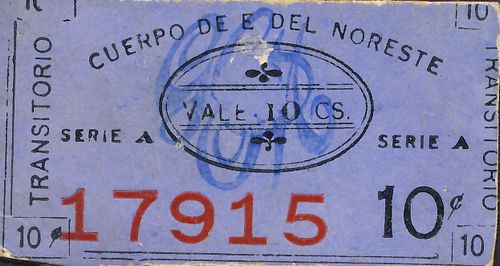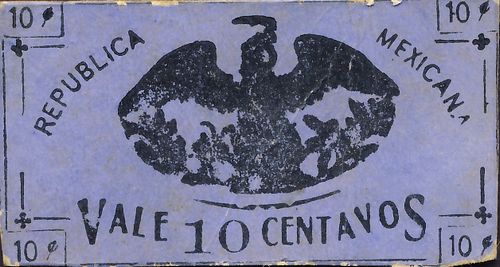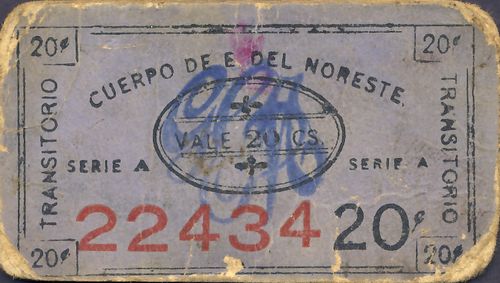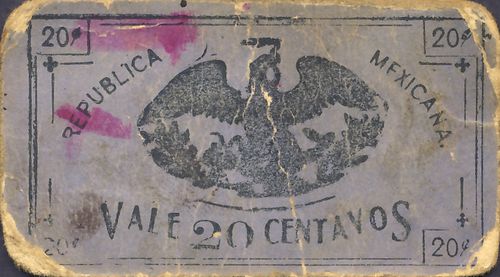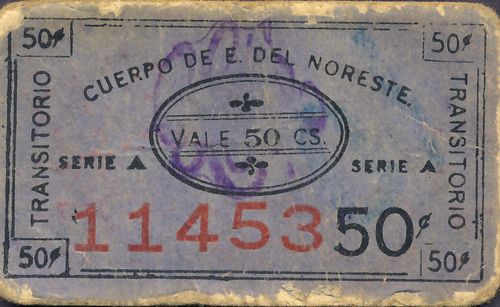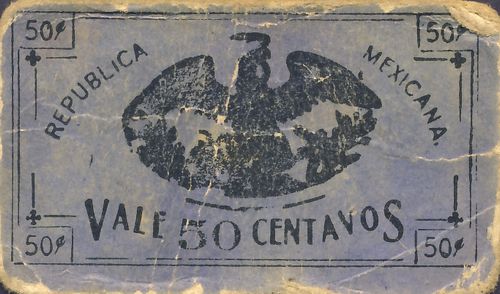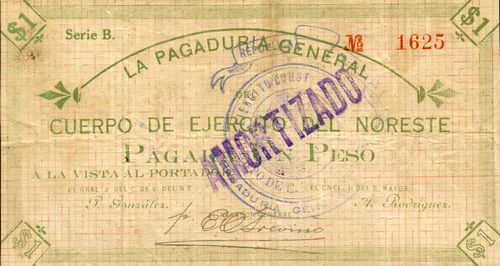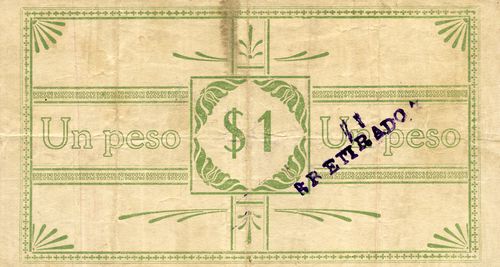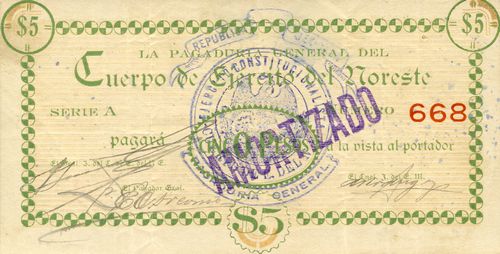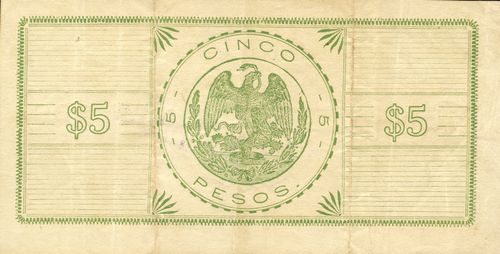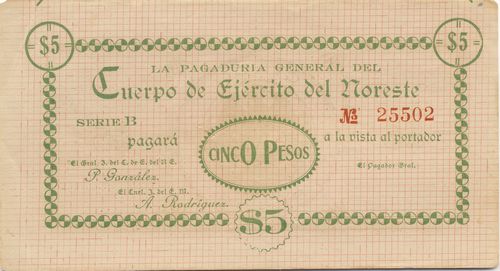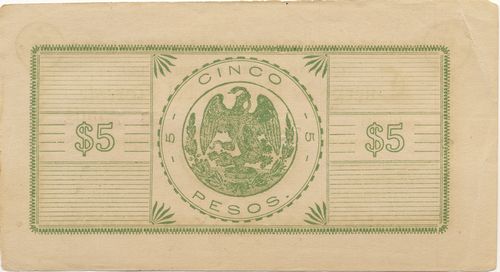 Series
from
to
total
number
total
value
10c
A
$500,000
includes numbers 17915 to 24667

CNBanxico #11746

20c
A
includes numbers 18835

CNBanxico #11746

to 22434
50c
A
1,000,000
$500,000
includes number 11453 to 11644

CNBanxico #11747

$1
A
500,000
$500,000
B
includes numbers 0334 to 9824

CNBanxico #11748

$5
A
100,000
$500,000
includes numbers 668 to 1351
B
includes numbers 1078

CNBanxico #5651

to 25502
$2,000,000
These notes in their title (Pagaduria General del Cuerpo de Ejército del Noreste) specifically identified themselves as a military issue. The notes were to be signed by Pablo González as General en Jefe, Alfredo Rodríguez as Jefe de Estado Mayor and E. O. Treviño as Pagador General.
Pablo González Garza was born in Lampazos, Nuevo León on 5 May 1879 and grew up in the town of Nadadores, Coahuila, where his parents owned a store. He was orphaned at six years old. Eventually, he received a scholarship to the military academy in Chapultepec but decided not to finish his studies. In the early years of the twentieth century he worked in a foundry, on the railways and for an oil company, in various places in northern Mexico and the southern United States.

González participated in Francisco Madero's insurrection against Porfirio Diaz in 1911 and his forces occupied Monclova and Cuatro Ciénegas. Subsequently, in 1912, he fought against the rebellion of Pascual Orozco. After Huerta's coup d'état against Madero, González fought against Huerta and Pascual Orozco in Coahuila.

Later on he was appointed chief of the Ejército del Noreste (Army of the Northeast) in Carranza's government and in 1914 occupied Monterrey, Tampico and other places for him. González's occupation of Monterrey, along with the Battle of Zacatecas, was crucial in Huerta's defeat and subsequent decision to go into exile. At the same time, Alvaro Obregón was appointed to lead the Army of the Northwest, which was a position equivalent to that of González.

González was in charge of pacification of the Zapatista rebellion in Morelos where he earned a reputation for brutality and ruthlessness. He was mostly successful in squashing the rebellion in Morelos for the time being. However, after the break out of another revolt in Coahuila, led by Lucio Blanco, González was recalled and Zapata reclaimed his home state. In 1919 he was the mastermind behind Zapata's assassination, which was carried out by his Colonel, Jésus Guajardo.

In the run up to the 1920 presidential election González initially remained loyal to Carranza but on 30 April 1919 broke with him, although instead of arresting him and immediately occupying Mexico City (most of the troops in the region supported him), he allowed Carranza to escape to Veracruz and he himself withdrew to nearby Texcoco.

During the interim presidency of Adolfo de la Huerta, González was accused of treason and sedition and arrested. He was initially sentenced to be executed, but was pardoned and instead went into exile in the US. González returned to Mexico when Obregón became president. He retired from active duty and politics and went into business. He was left almost destitute by the collapse of his bank, and died on 4 March 1950 in Monterrey.

Alfredo Rodríguez was born in Mexico City in 1885. In 1912, during the Madero administration, he joined the Rurales with the rank of Captain. He opposed the Huerta government, joining Lucio Blanco's forces and reaching the rank of Major. During 1914, he was in the 95th Coahuila Regiment and the General Staff of General Pablo González. The same year he took part in actions in Nuevo León, Tamaulipas, Querétaro, Tlaxcala, Puebla and Hidalgo and in 1915 fought in Nuevo León, Estado de México and the Federal District as well as taking part in the capture of Mexico City.

He was a delegate to the Aguascalientes Convention on behalf of Pablo Gonzalez. He attained the rank of brigadier general.

E. O. Treviño
On 13 March J. Blas Treviño wrote from Tampico that in spite of issuing these Pagaduría General del Cuerpo del Ejército del Noreste vales (which Carranza had authorized) since time was lost in printing and signing the notes they still could not resolve the situation and he asked Carranza, in Veracruz, to send money for the troops and general expenses by the first steamboatCEHM, Fondo XXI-4, telegram J. B. Treviño, Tampico, Tamaulipas to Venustiano Carranza, Veracruz, 13 March 1915. The next day Pablo González told Carranza that he had issued $2,000,000 in vales but they needed to be withdrawn as soon as possible to avoid counterfeiting. He needed two million pesos a month for expenses (including Caballero's brigade but excluding Maclovio Herrera's brigade)CEHM, Fondo XXI-4, telegram Pablo González, Montemorelos, Nuevo León, to Venustiano Carranza, Veracruz, 14 March 1915.
On 17 March González told J. Blas Treviño in Ebano to publish his decreeATreviño, Sección: Ejército Constitucionalista, Serie: operaciones militares, caja 1, exp. 4, fs. 228 González to Blas Treviño, Ebano, 17 March 1915 and on the same day Rodolfo Riviello published González' decree in TampicoATreviño, Sección: Ejército Constitucionalista, Serie: operaciones militares, caja 1, exp. 4, fs. 216 R. Riviello, Tampico, to Blas Treviño, Ebano, 17 March 1915: ATreviño, Sección: Ejército Constitucionalista, Serie: operaciones militares, caja 1, exp. 4, fs. 223. On 24 March the governor of Tamaulipas, Luis Caballero, decreed that these notes were valid and of forced circulationPeriódico Oficial, Tamaulipas, Tomo XL, Núm. 24, 24 March 1915.
Withdrawal
On 1 June in its circular núm. 28 the Secretaría de Hacienda y Crédito Público declared that as the reason for issuing the cartones of 10c, 20c and 50c had ceased they should be withdrawn and exchanged in the Tesorería General de la Nación for the legal fractional currency or Constitutionalist notes. This was reported in Tamaulipas on 21 JulyPeriódico Oficial, Tamaulipas, Tomo XL, Núm. 43, 24 July 1915.
However, this was one of the military issues that Carranza acknowledged when he decided to unify the currency and withdraw all such issues. On 28 April 1916 Carranza decreed that, in order not to prejudice the holders of such notes, the Tesorería General de la Nación, the Jefaturas de Hacienda and the Administraciones Principales del Timbre would receive such notes on deposit. Holders had until 30 June to hand them in and obtain a receipt. Thereafter any outstanding note would be considered null and void, and meanwhile anyone who dealt with such notes, or retained them in their possession, would be punished.
Can anything be read into the fact that the notice refers to "billetes"? Were the cartones excluded?
On 24 July 1916 Carranza decreed that from 1 August notes that had been deposited in accordance with the former decree would be exchanged for infalsificables at a rate of ten for one. Finally on 4 September 1917 Carranza decreed that, since certain individuals and businesses were still speculating with the nullified issues, it was strictly forbidden to deal in these issues.