El Banco de Oaxaca
An earlier attempt
On 8 April 1892 the federal executive agreed a contract[text needed] with Samuel Lederer to establish a bank of issue in the state of Oaxaca. However, Lederer was unable to fulfil the conditions of the contract and it was finally declared void in the bonfire of unfulfilled concessions that Limantour made in March 1897 to clear the way for his Ley General de Instituciones de Crédito.
The branch of the Banco Nacional de México
"With the boom in mining, agriculture, and commerce, the demand for credit [in Oaxaca] increased. In the late 1880s a group of prominent Oaxacans visited General Díaz to advocate for the establishment of a branch of the Banco Nacional de México, which they argued would offset the usury of local moneylenders and provide access to funds for economic development. Always attentive to the welfare of his patria chica, Díaz persuaded the directors of the Banco Nacional to found this branch. Given the threat of bandits, the crucial problem facing this project was how to transport the initial funds of $800,000 (no railroad yet existed). The directors of the Banco Nacional asked the president for an escort of rurales or even an army detachment to accompany the transport of this money. Díaz replied that a detachment of soldiers would call even more attention to the party. The progress-minded Bishop of Oaxaca, Eulogio Gillow, came up with an original solution. President Díaz advised the bank officials that their representative and the $800,000 in bills would travel to Oaxaca with Gillow: "I will put the treasurer who will carry the funds in contact with the bishop and traveling together, with the object of maintaining the utmost reserve, the money will surely arrive at its destination. Thus, if the illustrious Mr. Gillow treats the bank's employee as one of his most intimate friends, having placed the valise in the coach, or on the prelate's litter during the day and under his bed at night, until they arrive in Oaxaca". Thus did the Catholic Church enable the establishment of a branch of the Banco Nacional de México in the city of Oaxaca in 1888"Francie R. Chassen-López, From Liberal to Revolutionary Oaxaca, Pennsylvania University Press, 2004..
El Banco de Oaxaca
This bank grew out of the branch of the Banco Oriental de México that was opened in July 1901 and the close ties of the founders (five from Puebla, almost all Spaniards and three from Oaxaca, again with Spanish roots apart from the Scotsman Jacobo Lucas Grandison). The concession for the bank was granted on 17 July 1902 to Quijano y Rivero, the succesors to José Zorrilla y Ca., and Manuel Rivero Collada, representing Trápaga y Ca, and Mowatt y Grandison, hijos.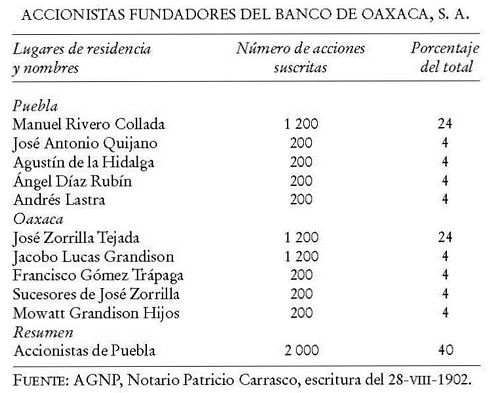 The new bank, though autonomous, continued to function as a branch, with the same manager, premises (at 1a calle Armenta y López), account holders and using the Banco Oriental de México notes until their own were delivered.
Branch offices were opened in Ocotlán, Puerto Angel, Salina Cruz, Tehuantepec (Istmo)a small city but with future promise. The branch opened on 31 July 1905 with Francisco Guzmán as manager and Rafael Silva as cajero-contador. Silva was replaced at the start of 1907 by Carlos Trinker, Guillermo's son and Tuxtepec.
The bank could not survive the financial crisis of 1908 and it was absorbed by the Banco Oriental de México, of Puebla, on 21 June 1909A detailed history of the origins and fortunes of the bank can be found in "De dependencia e insolvencia: el Banco de Oaxaca, 1902-1909" by Leticia Gamboa Ojeda, in Historia Mexicana, vol. LVI, núm. 2, 2006, pp. 471-531.
American Bank Note Company print runs
The American Bank Note Company produced the following notes. It engraved the vignette of the Juárez statue (C 863) for the $5, $50 and $100 notes and of a Tehuantepec girl (C 872) for all the reverses.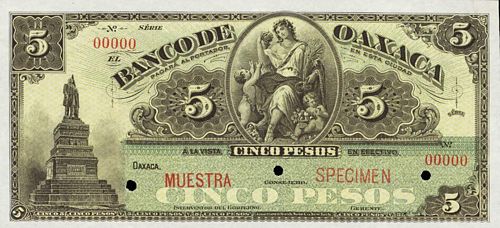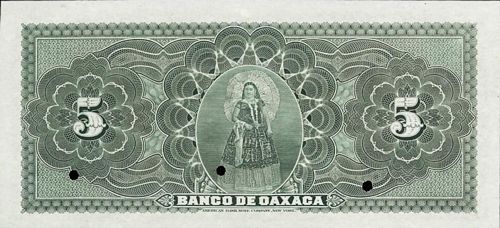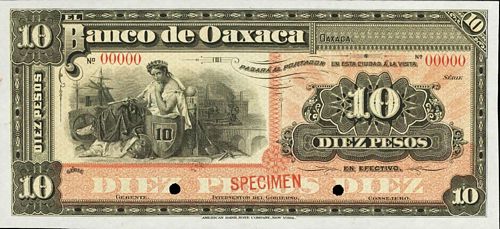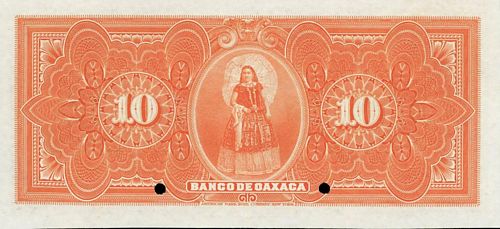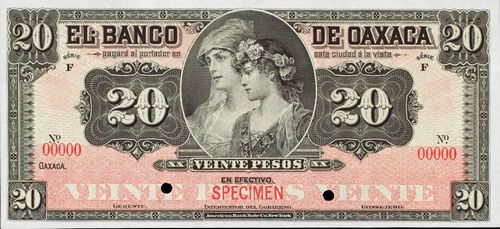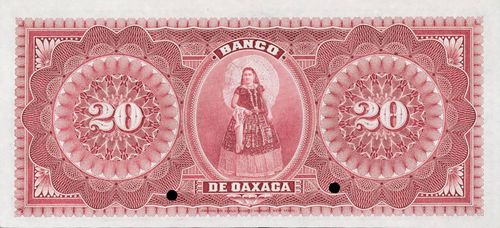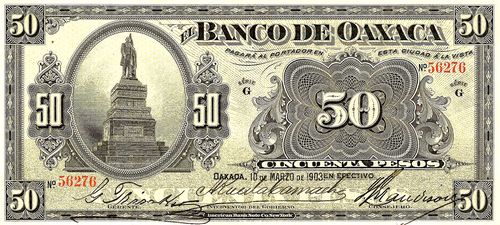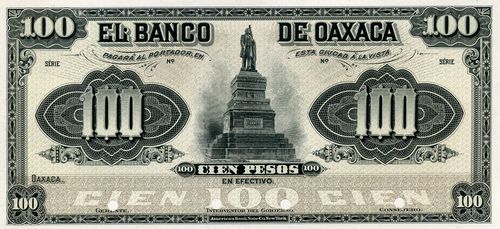 Date
Value
Number
Series
from
to
September 1902
$5
80,000
A
1
10000
B
10001
20000
C
20001
30000
D
30001
40000
A
57751
67750
B
67751
77750
C
77751
87750
D
87750
97750
$10
25,000
E
40001
52500
E
97751
110250
$20
7,500
F
52501
56250
F
110251
114000
$50

2,000
G
56251
57250
G
114001
115000
$100

1,000
H
57251
57750
H
115001
115500
Date
Value
Number
Series
from
to
November 1906
$5
20,000
I
115501
135500
$10
10,000
J
135501
145500
Signatures
The signatories are Guillermo Trinker as Gerente, José Zorilla T., Jacobo L. Grandison and Francisco Gómez Trápaga as Consejero and A. Rueda Camacho as Interventor.
Gerente
Guillermo Trinker, the manager, was the brother-in-law of Jacobo Grandison but was also related to the Zorilla because his daughter Inés married Enrique Zorilla, José's brother.
In 1891 Trinker and his brother-in-law founded Grandison y Trinker, "to invest in mining, agriculture and industry". In this decade he was also administrator of the Grandison's Xia textile factory in Ixtlán. He was manager of the branch of the Banco Oriental de México from 1901 to1902 and then of the Banco de Oaxaca from 1902 to 1906, as well as manager of Mowatt Grandison Hijos.

Trinker died in office on 20 May 1907informe of Interventor Rueda Camacho, 11 July 1907 Memoria de las Instituciones de Crédito correspondiente al año 1907.
Consejero
José Zorrilla Tejeda's father, Jose Zorrilla Trápaga, was born in Santander, Spain, in 1829. He arrived in Oaxaca in 1846 and joined his uncle, Juan Sáenz Trápaga, a textile expert, in a business producing cochineal dye. He made enough money to buy the San Nicolás hacienda in Zimatlán and then, with Trápaga, the San José textile mill in San Agustín Elta, 17 kilometres from the capital. In 1884 he opened the San Agustín factory in La Soledad de Vista Hermosa with the British businessman Tomás Grandison. Zorrilla became a major player in Oaxaca's social, political and economic networks and married the heiress Josefa Tejada. He established a second company, José Zorrilla y Compañía with Juan Trápaga and Tomás Grandison and after these two cofounders died brought in two of his sons, José hijo and Federico. With the backing of the Banco Nacional de México José Zorrilla y Compañía financed projects such as the Ferrocarril Mexicano del Sur and the Banco de Oaxaca and was involved in imports and exports. Jose Zorrilla Trápaga died in 1897.

The son, José Zorrilla Tejada, was Presidente Municipal in 1904 and served as a federal deputy. In 1902 he was president of the Club Central Unión y Paz which supported Emilio Pimental's bid for the governorship and in 1910 was president of the Club Central Reeleccionista, which supported President Díaz.

In 1915 he served as Tesorero General to governor José Inés Dávila, when the latter was asserting the state's sovereignty. For this he was arrested and briefly detained before being released to home detention in July 1916AMOax, Gobierno Preconstitucionalista 1916, Comunicaciones con el alcaide sobre diversos reos.

Jacobo Lucas Grandison
Francisco Gómez Trápaga
Interventor
Alejandro Rueda Camacho was appointed interventor on 19 August 1902, on the recommendation of Emilio PimentalCEHM, Fondo CDLIV Colección José Y. Limantour, 2a, 1902, carpeta 1 legajo 78.

Rueda Camacho was Interventor until April 1909 when he left to take up the post of Administrador Principal del Timbre in Colima, because the bank was merging with the Banco Oriental de México and so his post would disappearCEHM, Fondo CDLIV Colección José Y. Limantour, Copiadores. Ministro-III. 10. Libro26. 160.