La Brigada de Sinaloa notes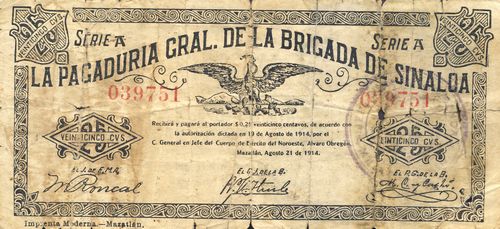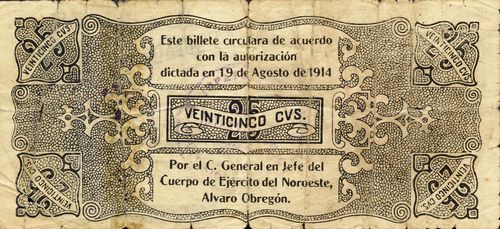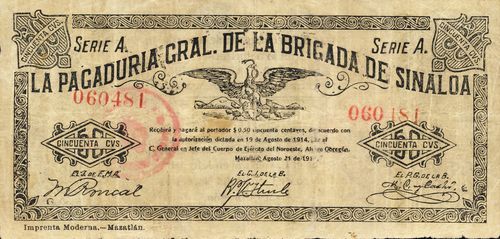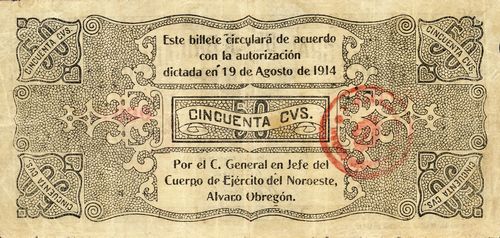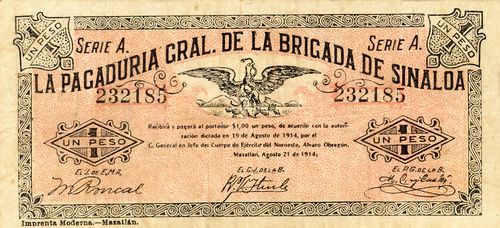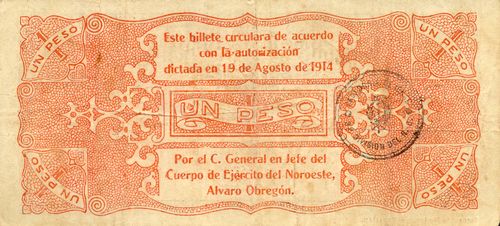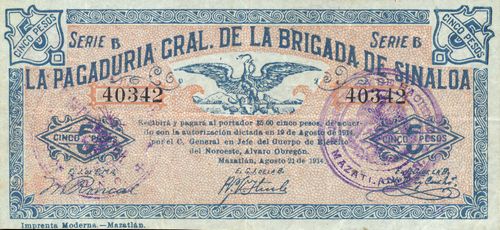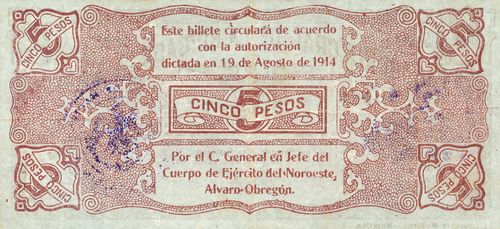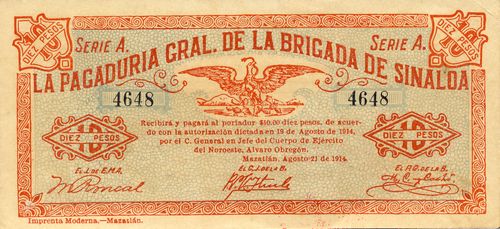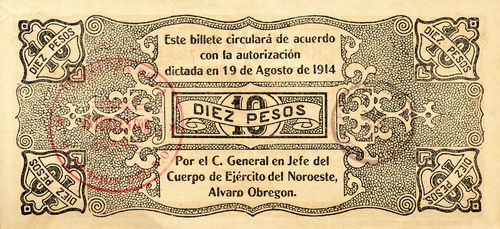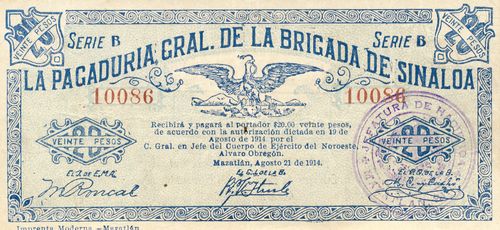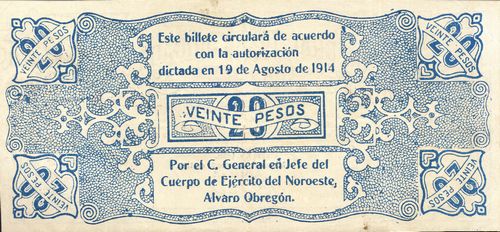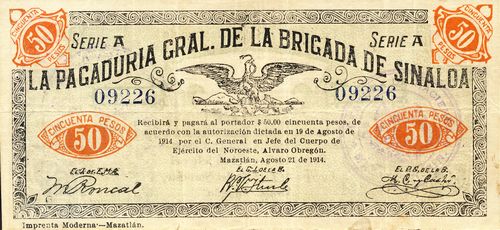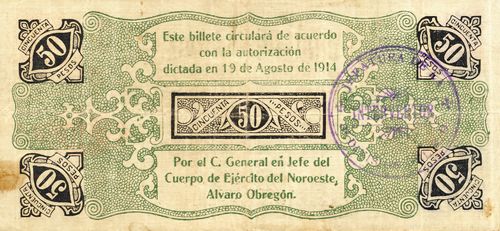 The federal forces in Mazatlán held out until 9 August 1914 when they evacuated by sea and the next day Colonel Angel Flores occupied the port. The federal notes must have quickly disappeared and were ultimately declared null and void by Carranza in a 23 October decree. In accordance with an authorization from the General en Jefe Alvaro Obregón on 19 August[text needed], the Constitutionalist army produced a series of notes, under the title 'Pagaduria Gral. de la Brigada de Sinaloa', with the date 21 August and signatures of Ramón Fuentes Iturbe as General Jefe de la Brigada, Manuel Roncal Gomezillanos as Secretario de Estado Mayor A., and M. C. y Castro as Pagador General.
| | |
| --- | --- |
| Ramón Fuentes Iturbe was in fact born in Mazatlán in 1889. An early rebel, he fought for Madero and was awarded the rank of General Brigadier for capturing Culiacán. When Madero attained the presidency he went to Los Angeles to study engineering but on Madero's murder returned to take up the fight, under Obregón, and with his Brigada de Sinaloa, captured Culiacán and Mazatlán. At the Convention in Aguascalientes he supported Carranza. | |
| Manuel Roncal Gomezillanos | |
| M. C. y Castro | |
These Brigada de Sinaloa notes were printed by a local firm, the Imprenta Moderna, in six denominations.
Series
from
to
total
number
total
value
25c
A
includes number 37891

CNBanxico #12020

50c
A
includes numbers 042134

CNBanxico #6202

to 057272

CNBanxico #6204

$1
A
includes number 87503

CNBanxico #6207

to 389225

CNBanxico #6211

B
includes numbers 046751

CNBanxico #6206

to 114654

CNBanxico #6208

C
includes number 185396

CNBanxico #6213

$5
A
includes numbesr 23431

CNBanxico #6222

to 32335

CNBanxico #6221

B
includes numbers 21470

CNBanxico #6214

to 49462

CNBanxico #6217

C
includes numbers 002554

CNBanxico #6215

to 059845

CNBanxico #6219

$10
A
includes numbers 1232

CNBanxico #6223

to 22033

CNBanxico #6225

B
includes numbers 44426

CNBanxico #6228

to 47258

CNBanxico #6229

C
includes numbers 017618

CNBanxico #12025

to 038367

CNBanxico #12024

$20
A
includes numbers 7345

CNBanxico #6231

to 8265

CNBanxico #12026

B
includes numbers 03452

CNBanxico #6232

to 08482

CNBanxico #6230

$50
A
includes numbers 02983

CNBanxico #6233

to 09226
B
In February 1915 General de Brigada Juan Carrasco learnt that Carranza was sending ammunitions and a million pesos in paper money on the steamer Pacífico from Salina Cruz to Mazatlán. On 10 February he wrote to Carranza from his headquarters in Escuinapa that he intended to appropriate these and distribute the money – $500,000 to redeem the brigade issue (bonos emitidos por la brigada), $250,000 to General Flores for his troops and $250,000 for his own troops. He had taken this decision because of the problems with the brigade issue, which businesses and the general public were refusing to accept, and would make sure that the notes of the neediest classes were changed first, leaving the rich businessmen and individuals to the lastAIF, . Presumably, Carrasco is referring to these Brigada de Sinaloa notes.
Use in other states
Baja California
On 1 January 1915 the Presidente Municipal interino of Todos Santos, Baja California, asked La Paz whether the Brigada de Sinaloa notes were of forced circulation and was told that they were, as long as the Jefatura Política did not specify otherwiseABCS, Gobernación, vol. 647 2.2, exp. 46. On 8 July the Comandante Militar declared them, along with the Gobierno Provisional notes, as of forced circulation, so their use must have been widespread. Their validity was confirmed in later pronouncements on 2 August and 5 October.
Sonora
These notes were listed as of forced circulation by Manuel M. Diéguez on 14 October 1915. On 19 December Alvaro Obregón, in Guaymas, Sonora, dictated that while the Secretaría de Hacienda was establishing offices for exchange (oficinas canjeadoras correspondientes) and until new order, the Brigada de Sinaloa notes were among the issues in forced circulation. The governor of Sinaloa, Manuel Rodríguez Gutiérrez, published this disposition on the following day.
Chihuahua
When Luis Herrera took Parral in Chihuahua in November 1915 he included the Brigada de Sinaloa notes amongst the issues he declared to be of forced circulationAMPar, Gobierno, Jefatura Política y Presidencia Municipal, Correspondencia, caja 71, exp 2.
Withdrawal
In a circular núm. 10, dated 25 February 1915, Carranza's Secretaría de Hacienda at Veracruz said that they had tolerated these notes whilst necessary but that now the Tesorería General de la Nación would exchange any on presentation. However, they continued to circulate for over a year.
In February 1916 a circular explained that the Brigada notes were of forced circulation and anyone refusing to accept them would de severely punished. On 28 April 1916, as part of his scheme to unify the currency, Carranza listed twenty different issues made by Constitutionalist commanders that the Tesorería General de la Nación, the Jefaturas de Hacienda and the Administraciones Principales del Timbre would receive on deposit before 30 June to be exchanged in a manner to be decided at a later date. After 1 July these issue would be null and void and anyone who tried to circulate them would be punished. Among the issues listed were these Brigada de Sinaloa notes.
On 8 May the Comandante Militar at Mazatlán, C. C. Solis, stated that it was no longer possible to put up with the many complaints regarding those who refuse to accept notes of compulsory circulation, amongst which are "Brigadas" (Brigada de Sinaloa plus also Obregón's and Diéguez' issues) that by decree of the governor and jefe of the 3rd division, such merchants, persons and others who refuse to accept these notes would pay the penalty with their lives, irrespective of nationalitySD papers, 1910-1929, 812.515/112.
On 11 May the Secretaría de Hacienda y Crédito Público, in circular núm. 85, declared that in spite of Carranza's decree withdrawing this issue, because of the lack of Gobierno Provisional and Ejército Constitucionalista notes the Brigada de Sinaloa notes had continued to circulate in the west of the country and depositing them would gravely prejudice the poorer classes who held most of these notes, so Carranza had authorized the Jefatura de Hacienda, Administraciones Principales del Timbre and Aduanas in Sinaloa and Tepic, to change notes presented in quantities up to fifty pesos, for Veracruz or Ejército Constitucionalista notes at a rate of one for two. This was confirmed in a telegram from the Jefe de Hacienda in Mazatlan. The amount accepted, but only in the case of the poorer classes, was increased to $100 on 17 May. These measures explain the notes with the overprint 'Withdrawn from circulation (Retirado de la Circulacion)' and stamp of the Recaudación de Rentas del Distrito de Mazatlán.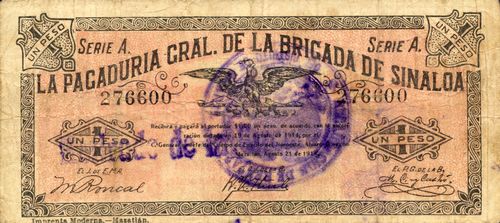 A week later, on 15 May, Solis repeated his threat, and said the Brigada notes should circulate at the exchange rate that had already been set. This, according to the governor, Angel Flores, was two Brigada for one Gobierno Provisional peso Periódico Oficial, Sinaloa, Tomo VII, Núm. 53, 16 May 1916. The next day the Comandante Militar in Culiacán, José Aguilar, in setting rates for the infalsificables,said that the rate for the Brigada de Sinaloa notes was eight pesos for one peso infalsificable. Even though the Brigada notes were to be withdrawn on 30 June, there was no need for alarm as the Administración Principal del Timbre had orders to exchange them for Gobierno Provisional de México and Ejército Constitucionalista notes.However, on the same day the Secretaría de Hacienda y Crédito Público told the Jefe de Hacienda in Hermosillo and the Administrador de la Aduana Maritima in Guaymas, Sonora, that Carranza, amplifying his circular núm. 85, authorised them to change the Brigada de Sinaloa notes for Gobierno Provisional and Ejército Constitucionalista notes for just the poorer classes and for amounts up to $100, at a rate of two for oneEl Constitucionalista, Tomo III, Núm. 169, 25 May 1 916.
On 18 May the Periódico Oficial reported as a late piece of news that Aguilar had declared that the Brigada de Sinaloa notes as well as the vales issued by Obregón and Diéguez were withdrawn from circulation (though they were still able to be exchanged)Periódico Oficial, Sinaloa, Tomo VII, Núm. 54, 18 May 1916. They were also accepted in payment of state and municipal taxes.
Finally, on 24 July 1916 Carranza decreed that from 1 August they would exchange the notes listed in the decree of 28 April that had been deposited in the offices of Hacienda with infalsificables at a rate of 10 to 1.