Luís Herrera
In late 1915 the Constitutionalist Luís Herrera, General Jefe of the Brigada 'Benito Juárez', was isolated from other Carrancista forces and needed to improvise paper currency to pay his troops until he met up with the forces under J. B. Treviño. Since he had captured a batch of $80,000 of Riveros' notes, he reused themAGN, Fondo Gobernación Periodo Revolucionario, caja 6, exp. 19, folletos 5 and on 29 November, in Parral, southern Chihuahua, included them in a list of issues that were legal tender, provided that they had been revalidated with the Brigade seal and the signature of either himself or Coronel R. Dominguez, his chief of staff (Jefe de Estado Mayor)AMPar, Gobierno, Jefatura Política y Presidencia Municipal, Correspondencia, caja 71, exp 2.
Luis Herrera Cano was born in 1877 in San Juan Ixhuatepec, Parral, Chihuahua. On 21 November 1910, together with his brother Maclovio, he joined Guillermo Baca's uprising in favour of Madero in Parral. After Huerta's coup he fought as part of Villa's División del Norte in Chihuahua, Coahuila and Zacatecas.

When Carranza and Villa split he supported the former and on 23 September 1914 issued a manifesto disowning his former commander. By this time he only had influence in the south of Chihuahua. He fought the Villistas in Durango and Sinaloa, and in July 1915 returned to Chihuahua. In the middle of November 1915 he recaptured Hidalgo del Parral, where he stayed in charge of the garrison.

In December 1916 he transferred to Torreón and on 22 December, when the town fell to a surprise Villista attack, he was captured and executed. His body was strung up in the railway station with a $1 note in one hand and a photo of Carranza in the other.

R. Dominguez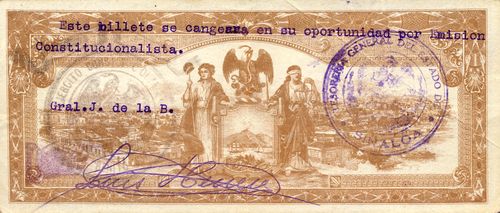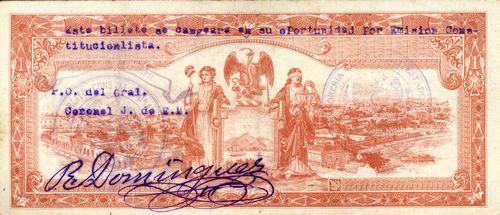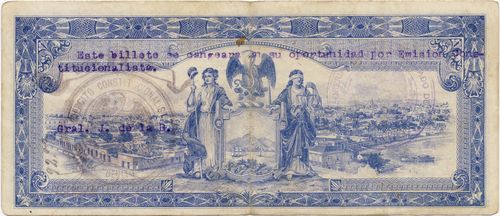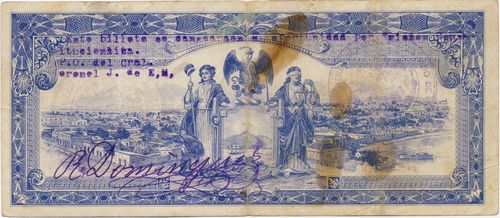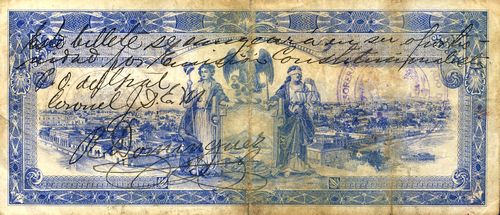 50c notes are known with, in addition to the Tesorería seal, a small circular resello of EJERCITO CONSTITUCIONALISTA BRIGADA BENITO JUAREZ' around an eagle and a large circular resello of DIVISION NORTE / EJERCITO CONSTITUCIONALISTA BRIGADA JUAREZ' around an eagle. There was no message or signature, presumably because they lacked the space or time.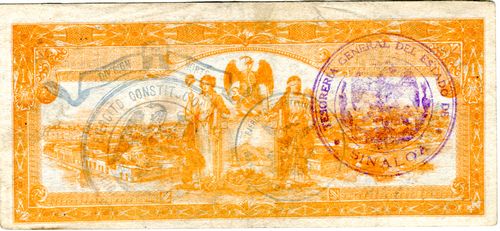 By April 1916 merchants in Parral were asking for these notes to be exchanged. A report was sent to the Secretaría de Hacienda, who replied to the governor of Chihuahua, C. Enríquez, that the notes of all the issues authorized by Carranza had to be handed in to the Jefaturas de Haciendas and Administraciones Principales de Timbre.
Known numbers are:
Series
Lowest
number
Highest
number
50c
A
15713
17083
resellos
$1
A
1839
1973
handwritten
2561
10949
typewritten
$5
A
4142
typewritten
$10
A
1664
7657
typewritten
B
12199
handwritten
12130
17121
typewritten
C
20077
20353
typewritten
21979
handwritten