Decree núm. 73 of 1 August 1934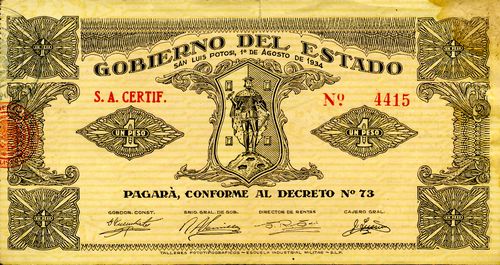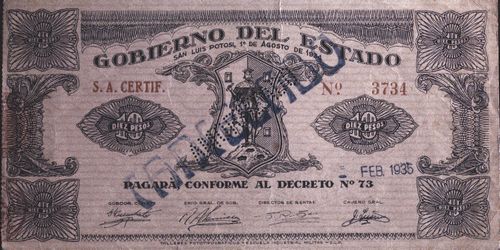 Decree núm. 73 created a Servicio de la Deuda Pública Interior del Estado to pay the any salaries of public servants still outstanding from 15 September 1927 to 31 June 1934. People had to make their claim by 31 December 1934. The Executive would order an issue of $200,000 in $1, $5 and $10 certificates, though this amount could be increased, if necessary.
These certificates would be accepted in varying proportions in payment of state taxes. As they were non-negotiable they are not really paper money.
The notes have the printed signatures of Ildefonso Turrubiartes as Gobernador, Rutilio Alamilla as Secretario General, [ ][identification needed] as Director de Rentas and [ ][identification needed] as Cajero General de la Dirección.
| | |
| --- | --- |
| Ildefonso Turrubiartes | |
| Rutilio Alamilla | |
| | |
| | |