The Depression
In the United States the 1929 depression caused bank failures, hoarding, and an inability to pay taxes, which in turn meant a shortage of normal currency and led to the issue of emergency scrip. Similar effects would have been felt in the northern states of Mexico.
Another possible reason for the issue of emergency money may have been the Escobarista rebellion. In March 1929 General José Gonzalo Escobar rebelled against interim President Emilio Portes Gil and Plutarco Elías Calles who, despite not being president, was actually running the country. He issued his Manifesto de Hermosillo on 3 March and established himself across Sonora and Sinaloa and other parts of northern Mexico. General Fausto Topete Almada, the governor of Sonora between 1927 and 1929, signed the Manifesto de Hermosillo and took a six months leave of absence to take up arms in favour of the Escobarista rebellion.
By 5 March Agua Prieta, Naco and Cananea were in the hands of the rebelsPrensa, 5 March 1929 but the Escobaristas were quickly defeated and normality had been restored in Naco and Cananea by 16 AprilPrensa, 17 April 1929.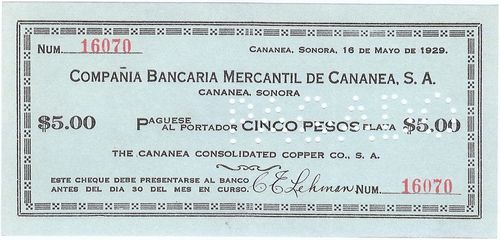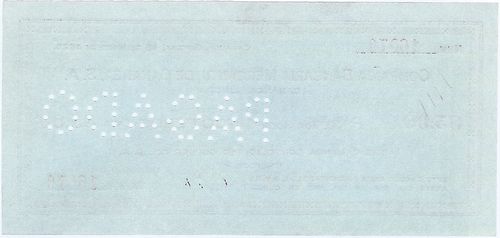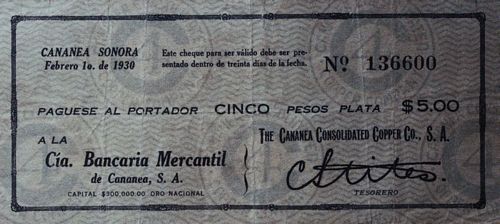 $5 bearer cheques from the Cananea Consolidated Copper Company drawn on the Compañía Bancaria Mercantil de Cananea are known with the printed dates 16 May 1929 or 1 February 1930. The only legible signature is that of C. E. Lehman.