Further fractional Estado de Sonora notes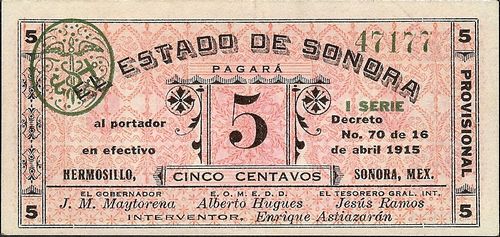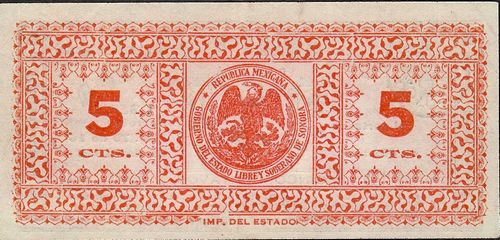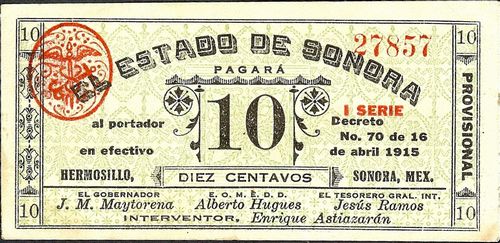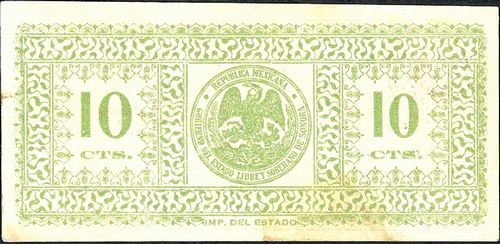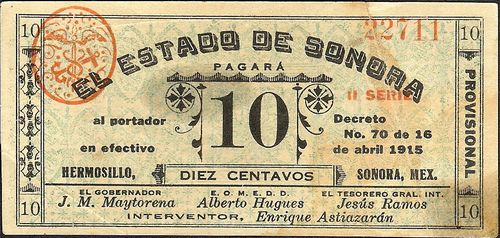 Obviously the shortage of small change continued to cause difficultiesOn 23 March 1915 the authorities in La Paz, Baja California reported that it was impossible to obtain fractional Estado de Sonora notes (from Hermosillo) in a short space of time. as decree núm. 70 of 16 April 1915 provided for an additional 100,000 pesos in ten series, labelled 1a to 10a, each of 100,000 five centavos notes and 50,000 ten centavosPeriódico Oficial, 20 April 1915. Series I was issued in April and May, whilst the Series II ten centavos notes were issued in July, in the following consignementsAGHES, Fondo Oficialidad Mayor, tomo 3024. On 14 May it was reported from Nogales that the new fractional notes of 5c, 10c and 20c (sic) had begun to circulate (Prensa, 16 May 1915):
Date
Oficio
number
Value
Series

from
to
30 April
23
30,000
5c
I
1
30000
1 May
25
34,000
10c
I
1
34000
8 May
26
70,000
5c
I
30001
100000
27
16,000
10c
I
34001
50000
28 May
31
25,000
10c
II
25001
50000
These notes were to a new design and had the signatures of Maytorena as Governor, Alberto Hugues as Oficial Mayor (E. O. M. E. D. D.), Jesús Ramos as Interim Treasurer General and Enrique Astiazarán as Interventor.
Alberto Hugues: Hugues was Oficial Mayor Encargado del Despacho to Interim Governor Padilla in January 1913 and named Inspector General de Aduanas on 11 September 1913

AGHES, Fondo Oficialidad Mayor, tomo 2965

. He took over as Oficial Mayor from Cespedes on 16 July 1914

AGHES, Fondo Oficialidad Mayor, tomo 2984

. He was Secretario General de Gobierno in March 1915.
Jesús Ramos: took over from Randall in [ ]. He was Interim Treasurer General by 21 April 1915.
Enrique Astiazarán: Like Randall, Astiazarán was a member of a petit bourgeois family from Guaymas. He was appointed by Sotomayor as Interventor on 24 September 1914

AGHES, Fondo Oficialidad Mayor, tomo 2993

.
Serie III notes are known but may have been remainders.