El Banco Mercantil de Veracruz
The interest of the Veracruz elite in the banking system was manifested by several of them acquiring shares in the Banco Nacional Mexicano in 1882. After the merger of the Banco Nacional de México in 1884 it maintained a branch and various agencies in the state, competing at this time with just the Banco de Londres y México.
As a result of the passing of the Ley General de Instituciones de Crédito on 14 October 1897 Zaldo Hermanos y Compañía, Palomo y Compañía and José Breier, all members of the Veracruz elite, asked for authorisation to establish a bank of issue in Veracruz, and this was granted on 18 October.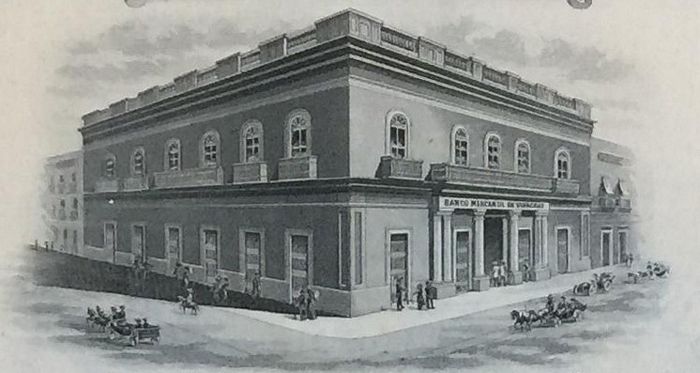 The bank opened on 1 March 1898La Patria, México, 3 March 1898in a purpose-built building on calle Cinco de Mayo and calle ZamoraSemana Mercantil, 10 January 1898.
The first board was composed of Anselmo Román Zaldo as president; Antonio Palomo as vicepresident with Primer Vocal Secretario Jacinto Villacieros Benito; Segundo Vocal Propietario Esteban J. Pons; Primer Vocal Suplente Antonio G. Presno; Segundo Vocal Suplente E. Speckter; Tercer Vocal Suplente C. Pardo y Sáinz; Cuarto Vocal Suplente Laureano Alvarez; Comisionario Propietario Saturnino Ulibarri and Comisionario Suplente Manuel Gómez O.
The first meeting of shareholders of the bank was held on 15 December 1897, and they asked that a special note be made for the bank's promoter, Anselmo R, Zaldo, and that his portrait be hung in the bankLa Época, Veracruz, Tomo II, Número 314, 19 December 1897.
The branch in Xalapa was opened in April 1904 under the management of Manuel NegreteEl Correo Español, 4 April 1904. Other branches were opened in Orizaba (1904), San Andrés Tuxtla (1906) and Córdoba (1908) and agencies in Coatzacoalcos (1906), Puerto México (1906) and Tuxpan (1910).
The bank originally suffered from the fact that use of its notes, unlike those of the Banco Nacional de México, were limited to within the state but in 1904 the bank signed an agreement with the government of Veracruz by which it provided banking functions to the government which in turn gave it privileges and accepted its note in all its offices.
American Bank Note Company print runs
The American Bank Note Company produced the following notes. The company engraved a view of Veracruz (C 651) for all the backs and a vignette of a group of Mexican cavalry (C 662),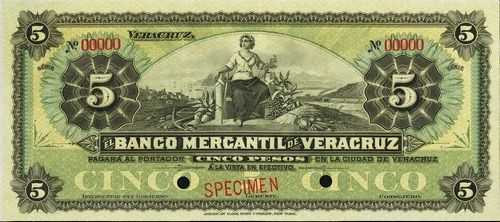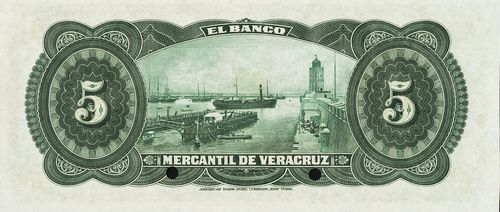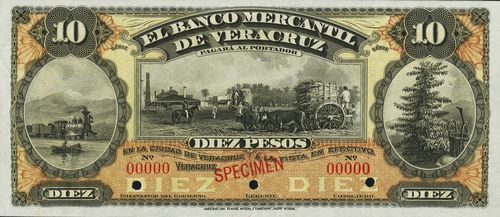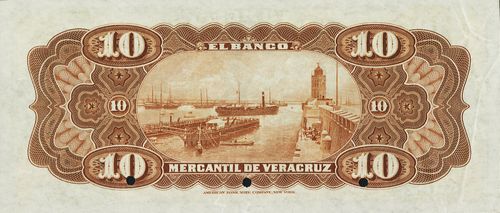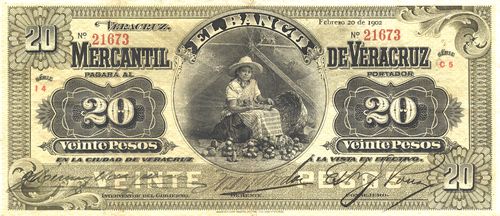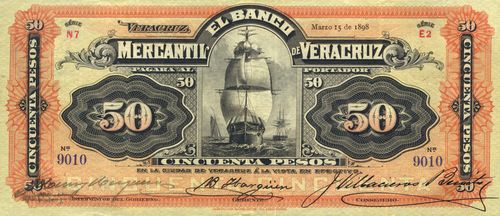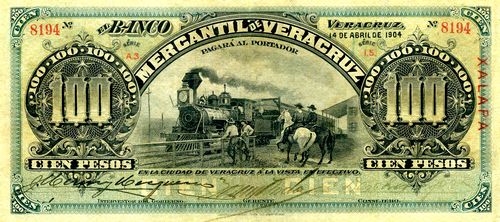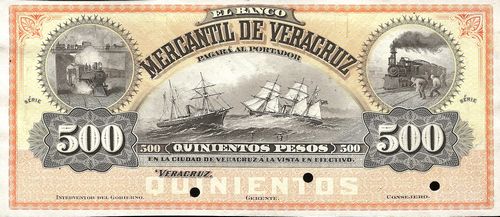 Date
Value
Number
Series
from
to
November 1897
$5
80,000
1
80000
$10
40,000
1
40000
$20
20,000
1
20000
$50

12,000
1
12000
$100

6,000
1
6000
$500
800
1
800
$1000
200
1
200
Date
Value
Number
Series
from
to
November 1898
$5
54,000
80001
134000
$10
27,000
40001
67000
$20
13,000
20001
33000
$50

8,000
12001
20000
$100

4,000
6001
10000
$500
500
801
1300
$1000
150
151
350
In February 1903 the ABNC produced a new $10 note, engraving a portrait of Miguel Lerdo de Tejada (C 261).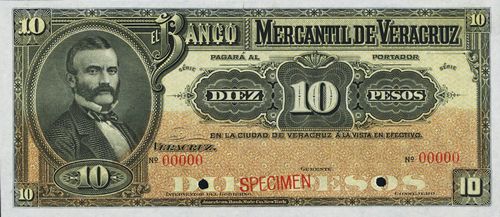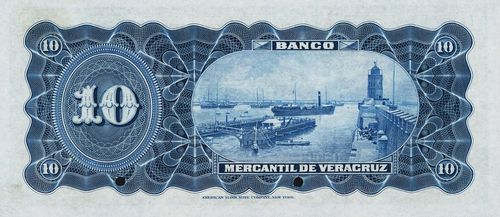 | | | | | | |
| --- | --- | --- | --- | --- | --- |
| Date | Value | Number | Series | from | to |
| February 1903 | $10 | 80,000 | | 1 | 80000 |
| | | | | | |
| --- | --- | --- | --- | --- | --- |
| Date | Value | Number | Series | from | to |
| February 1904 | $5 | 60,000 | | 134001 | 194000 |
Date
Value
Number
Series
from
to
July 1905
$5
76,000
194000
270000
$10
50,000
80001
130000
Date
Value
Number
Series
from
to
January 1914

$5
200,000
270000
470000
$10
100,000
130001
230000
$100
10,000
10001
20000
$1000
500
351
850