El Banco Mercantil de Veracruz
The interest of the Veracruz elite in the banking system was manifested by several of them acquiring shares in the Banco Nacional Mexicano in 1882. After the merger of the Banco Nacional de México in 1884 it maintained a branch and various agencies in the state, competing at this time with just the Banco de Londres y México.
As a result of the passing of the Ley General de Instituciones de Crédito on 14 October 1897 Zaldo Hermanos y Compañía, Palomo y Compañía and José Breier, all members of the Veracruz elite, asked for authorisation to establish a bank of issue in Veracruz, and this was granted on 18 October. In fact the first subscription for shares was so successful that the bank asked to double its share capital to two million pesosThe first board was composed of Anselmo Román Zaldo as president; Antonio Palomo as vicepresident with Primer Vocal Secretario Jacinto Villacieros Benito; Segundo Vocal Propietario Esteban J. Pons; Primer Vocal Suplente Antonio G. Presno; Segundo Vocal Suplente E. Speckter; Tercer Vocal Suplente C. Pardo y Sáinz; Cuarto Vocal Suplente Laureano Alvarez; Comisionario Propietario Saturnino Ulibarri and Comisionario Suplente Manuel Gómez O..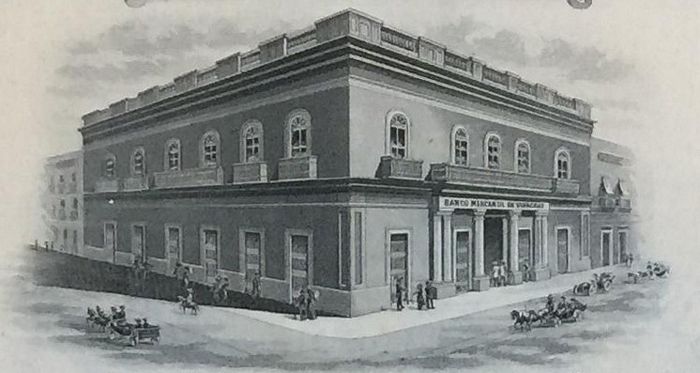 The bank opened on 1 March 1898La Patria, México, 3 March 1898. It opened to the public on 15 March according to report of interventor Mirón y Mosquera, 9 July 1898 in Memorias de las Instituciones de Crédito correspondientes a los años 1897-1898-1899, tomo Iin a purpose-built building on calle Cinco de Mayo and calle ZamoraSemana Mercantil, 10 January 1898.
The first meeting of shareholders of the bank was held on 15 December 1897, and they asked that a special note (billete) be made for the bank's promoter, Anselmo R, Zaldo, and that his portrait be hung in the bankLa Época, Veracruz, Tomo II, Número 314, 19 December 1897.
The competition between the two national banks (the Banco de Londres y México and Banco Nacional de México) and the Banco Mercantil de Veracruz was open and reciprocal so that in 1899 the first two ordered their branches and agencies not to accept the Banco Mercantil de Veracruz's notes because "they would not be accepted in the offices of the Aduana Marítima or Administración Principal del Timbre'. After an agreement the notes were accepted but the competition to serve Veracruz' financial needs continue.
The bank originally suffered from the fact that use of its notes, unlike those of the Banco Nacional de México, were limited to within the state but in 1904 the bank signed an agreement with the government of Veracruz by which it provided banking functions to the government which in turn gave it privileges and accepted its note in all its offices.
The bank's growth was slow and it was seven years before the bank opened branches in the central region. The branch in Xalapa was opened on 15 April 1904 on the groundfloor of calle de Enríquez 3 with Manuel López NegreteEl Correo Español, 4 April 1904: El Orden, núm. 37, 11 September 1904. Manuel López Negrete, from Burgos, Spain, arrived in Xalapa in 1900 and served as manager of the branch, apoderado of the Compañía Bancaria de Obras y Bienes Raíces and vice-consul of Spain. For a history of this branch see César Augusto Ordóñez López, La sucursal del Banco Mercantil de Veracruz en Xalapa, 1904-1910, Instituto Veracruzano de Cultura, 2005 as manager and Celestino Chamarrocame from Soria, Spain and set up in business in Xalapa in 1891 as consultor. The branch had a capital of $100,000, represented by $200,000 in notes (250 of $100, 1,250 of $20, 10,000 of $10 and 10,000 of $5source? But there were only 1,000 of $20 and also 400 of $50).
Other branches were opened in Orizaba (1904), San Andrés Tuxtla on 1 September 1905Memoria de las Instituciones de Crédito correspondiente a los años de 1904-1906, vol. I, tomo 2 report of interventor, 16 January 1906. Braulio Chamarro, from Velilla de Medina, Spain, came to Xalapa in 1901, and ran the La Castellana business, owned by Celestino Chamarro. In 1909 he became the manager of the branch in San Andrés Tuxtla and Córdoba (1908) and agencies in Puerto México (now Coatzacoalcos) (1906) and Tuxpan (1910).
In the face of the 1907 banking crisis the Banco Mercantil was cautious and reduced its issue of banknotes and credit. During the period 1908-1915 the bank survived but not without difficulty and the expansion was slowed and several branches and agencies even closed. Despite this it maintained profitability until the revolution. On 31 January 1916 the Comisión Reguladora y Inspectora de Instituciones de Crédito found that the bank conformed with the law and reasserted its concession.
In 1918 the bank closed its branch in San Andrés Tuxtla and its agencies in Tuxpan and Puerto México and in 1921 closed its branches in Xalapa and Córdoba.
Following Obregón's decree of 31 January 1921 and an examination of the bank's books and records, on 28 March 1921 the Secretaría de Hacienda authorized the reopening for businessEl Paso Herald, 11 April 1921. The bank finally went into liquidation in 1930.
American Bank Note Company print runs
The American Bank Note Company produced the following notes. The company engraved a view of Veracruz (C 651) for all the backs and a vignette of a group of Mexican cavalry (C 662),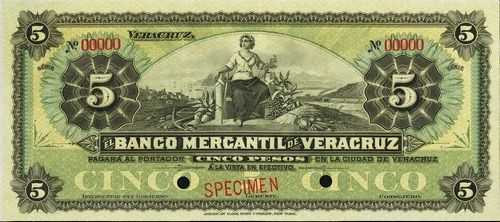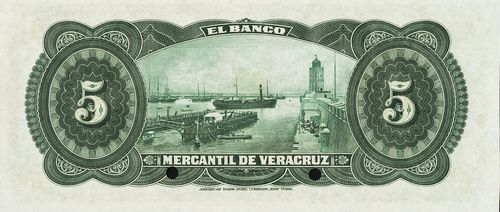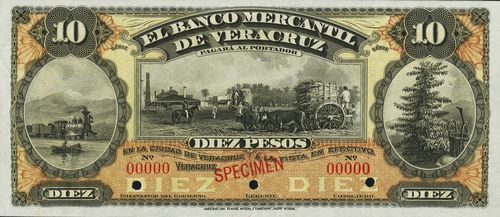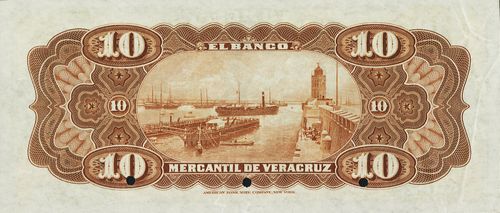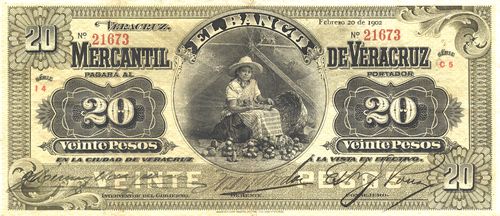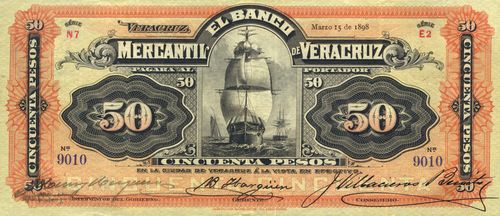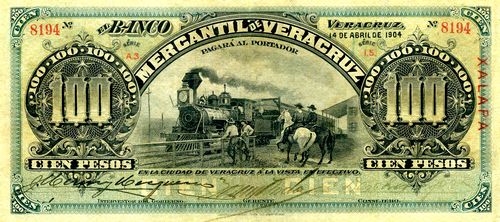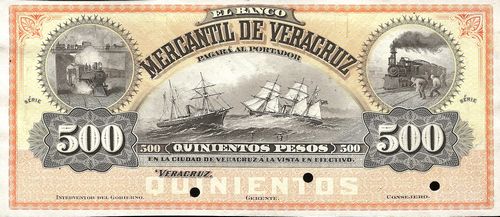 Date
Value
Number
Series
from
to
November 1897
$5
80,000
1
80000
$10
40,000
1
40000
$20
20,000
1
20000
$50

12,000
1
12000
$100

6,000
1
6000
$500
800
1
800
$1000
200
1
200
Date
Value
Number
Series
from
to
November 1898
$5
54,000
80001
134000
$10
27,000
40001
67000
$20
13,000
20001
33000
$50

8,000
12001
20000
$100

4,000
6001
10000
$500
500
801
1300
$1000
150
151
350
In February 1903 the ABNC produced a new $10 note, engraving a portrait of Miguel Lerdo de Tejada (C 261).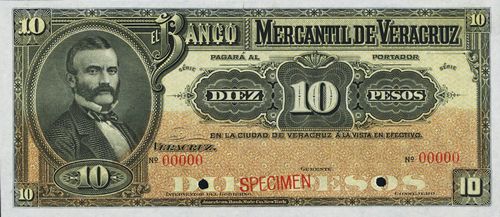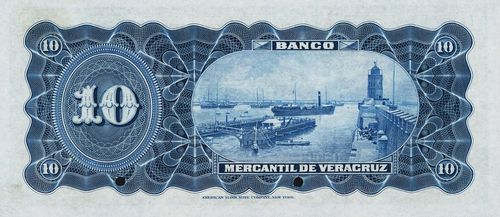 | | | | | | |
| --- | --- | --- | --- | --- | --- |
| Date | Value | Number | Series | from | to |
| February 1903 | $10 | 80,000 | | 1 | 80000 |
| | | | | | |
| --- | --- | --- | --- | --- | --- |
| Date | Value | Number | Series | from | to |
| February 1904 | $5 | 60,000 | | 134001 | 194000 |
Date
Value
Number
Series
from
to
July 1905
$5
76,000
194000
270000
$10
50,000
80001
130000
Date
Value
Number
Series
from
to
January 1914

$5
200,000
270000
470000
$10
100,000
130001
230000
$100
10,000
10001
20000
$1000
500
351
850