Chambers of Commerce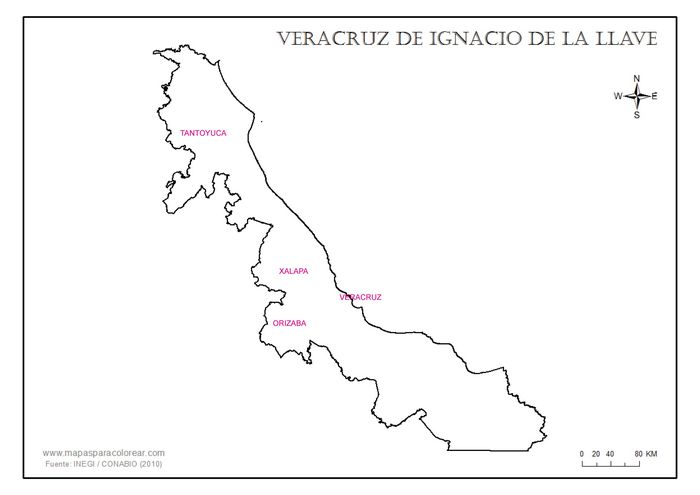 The state of Veracruz went through various vicissitudes during the Revolution. Pablo Gonzalez's army swept down from Tamaulipas on its way to Mexico City. Then, in response to an implied slight and to prevent a shipment of arms to Huerta, US President Woodrow Wilson ordered American forces to seize the customs facilities at Veracruz, and American forces occupied the state capital from 21 April 1914 until their evacuation on 23 November of the same year. When Carranza split with his former allies in November 1914 he reestablished his government in Veracruz, and from there Alvaro Obregón drove the Conventionist forces out of Mexico City. Various banking houses, stores and other businesses issued scrip during the Revolution to make up for the shortage of small change.Within the state issuers included the following local Chambers of Commerce.
Tantoyuca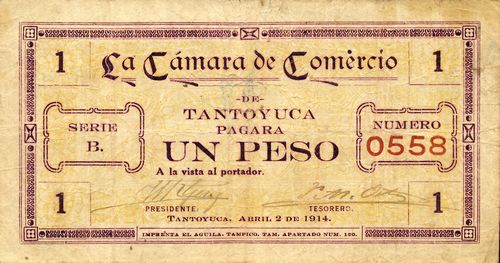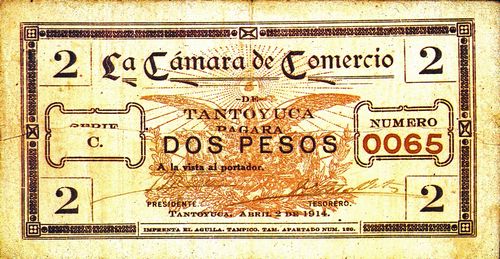 We know of one peso and two pesos notes issued by the Chamber of Commerce in Tantoyuca, which is located in the state's Huasteca Alta region. These notes, dated 2 April 1914, were printed by the Imprenta El Aguila, in Tampico, in the neighbouring state of Tamaulipas and signed by as Presidente and [ ] Ortiz as Tesorero. The series lettters suggest
| | | | | | |
| --- | --- | --- | --- | --- | --- |
| | Number | Series | from | to | Total value |
| 50c | | A | | | |
| $1 | | B | | | |
| $2 | | C | | | |
| | | | | | |
Veracruz
On 19 January 1914, during Huerta's regime, the Cámara de Comercio de Veracruz, through their president, Juan Gómez y Oreján, asked the Secretaría de Hacienda for permission to issue vales al portador for 10c, 20c and 50c, having deposited the same amount in a bankEl Diario, Año VIII, Núm. 2114, 20 January 1914; El Imparcial, 20 January 1914. However, after consideration, the Secretaría refused the request, arguing that it was against the law and would cause unnecessary alarmEl País, Año X, Núm. 4514, 21 January 1914. This report says the request was for vales of 10c, 15c and 25c; The Mexican Herald, 22 January 1914. In March or April 1914 the Cámara Nacional de Comercio was authorized to issue vales in values up to fifty centavos. They circulated widely but by late June had disappeared. It was not know why this had happened but thought that they might have been taken to local ranches by people who daily brought foodstuffs into the city for saleEl Dictamen, Año XVI, Núm. 1189, 17 June 1914.
On 16 June the Cámara met in an extraordinary session to finalise the details of the cheques that it was to issue the following week. The Americans had occupied Veracruz on 21 April and on 13 JuneEl Dictamen, Año XVI, Núm. 1195, 23 June 1914 the commander in charge, Brigadier General Frederick Funston, had given permission for $16,000, though this was felt to be not enough to address the lack of change. The Cámara agreed that the cheques, drawn on the Banco Mercantil de Veracruz, would be
| | | | | | |
| --- | --- | --- | --- | --- | --- |
| | Number | Series | from | to | Total value |
| 10c | 10,000 | C | 1 | 10000 | 1,000 |
| 25c | 20,000 | B | 1 | 20000 | 5,000 |
| 50c | 20,000 | A | 1 | 20000 | 10,000 |
| | | | | | $16,000 |
Each business would deposit the value of the cheques it required in cash in the Banco Mercantil. Designs were approved and it was hoped that the notes would be in circulation in the next weekEl Dictamen, Año XVI, Núm. 1189, 17 June 1914. However, the Cámara held another extraordinary meeting the next week. Almost all the members of the Cámara signed an agreement to accept the notes without restriction. They examined various models presented by different printinghouses and named a committee to study the details and decide on a printer. It was expected that printing, numbering and signing of the notes would take twelve of fifteen daysEl Dictamen, Año XVI, Núm. 1195, 23 June 1914.
The designs were presented to the military authorities and approved, and the printing house started work, expecting to deliver the noted before 10 July. However signing 30,000 notes (10,000 of each denomination) by hand would take time and they were not expected to be ready until 20 July.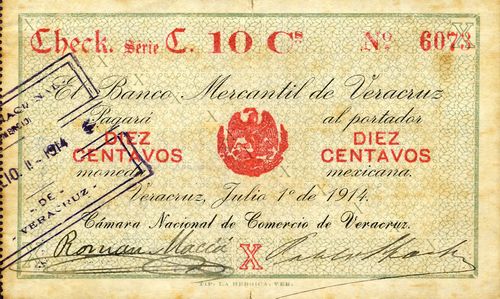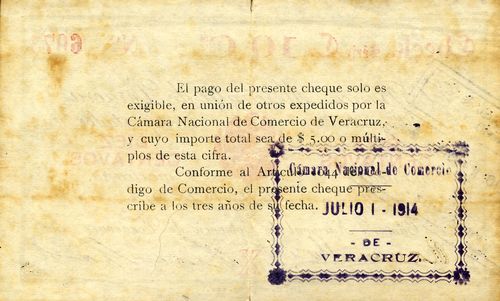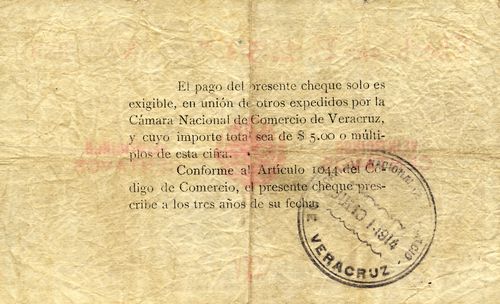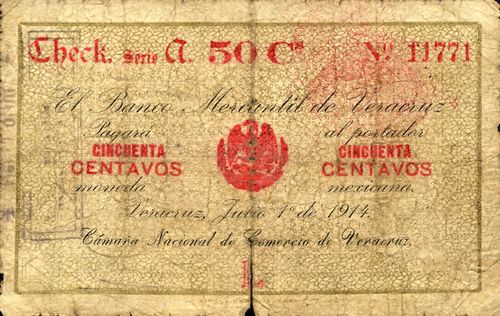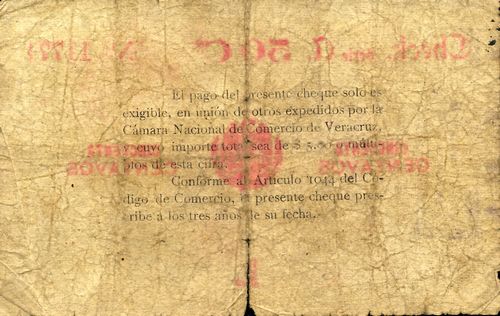 The notes carry the printed date of 1 July and have two hand-written signatures. There were five signatories, from among the members of the CámaraEl Dictamen, Año XVI, Núm. 1200, 28 June 1914. The signatories were: Roman Macía, [ ] Hach, A. S[ ],As potential signatories: Juan Gómez Oreján was presidente de la Cámara Nacional de Comercio and other members were José González, M. Campos, A. Domínguez, Manuel Rendón, Arcadio Suazo, M. D. Carballo, Antonio Hernández, José Freyro, Juan Dereaux, Fernando López, R. de J. Hajaid, G. González Pontón, Angel Carballo, M. M. García, Carlos Medina L. B., Enrique Tenorio, Francisco Paris Murillo, Juan J. Rodríguez, M. Sánchez and Miguel Acosta. They began to sign the cheques on 10 JulyEl Dictamen, Año XVI, Núm. 1212, 10 July 1914. The newspaper reported that there were four denominations, including a 5c note, but this was a mistake and put them into circulation on 16 JulyEl Dictamen, Año XVI, Núm. 1216, 17 July 1914.
On 25 July the local newspaper printed the rules under which the Banco Mercantil agreed to pay the Cámara's cheques.
There were 50,000 cheques in 500 books. By 25 July 3,000 10c, 5,000 25c and 20,000 50c notes had been signedEl Dictamen, Año XVI, Núm. 1224, 25 July 1914.
On 15 August it was reported that despite the cheques for the past three days there had been an extreme lack of small change, without a satisfactory explanation of what had happened to the cheques . It was probable that the problem would be resolved once and for all by the government putting cartones into circulationEl Dictamen, Año XVI, Núm. 1245, 15 August 1914.
Xalapa
In January 1914 the Cámara de Comercio de Xalapa decided to issue cheques for 50 centavos and one peso. Less than a week after it had refused the Veracruz chamber's request, the Secretaría de Hacienda approved this issue but refused to exempt it from stamp dutyThe Mexican Herald, 19th Year, No. 6,720, 25 January 1914. Apparently the Chamber first issued 50c notes in March 1914 but within three months they had disappeared. It was suggested that they had all been taken to the surrounding ranches by the peasants who daily brought foodstuffs into the city.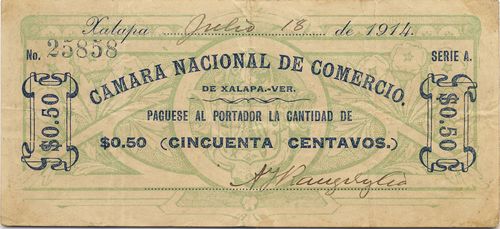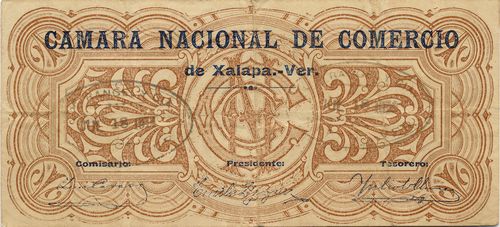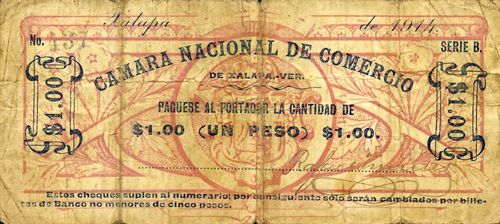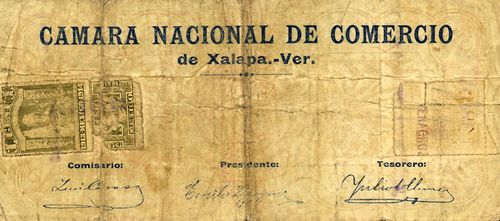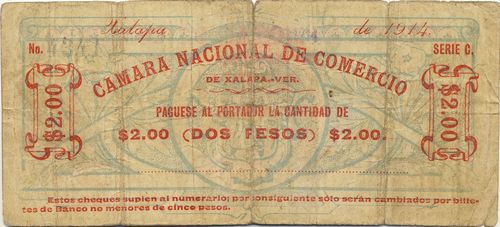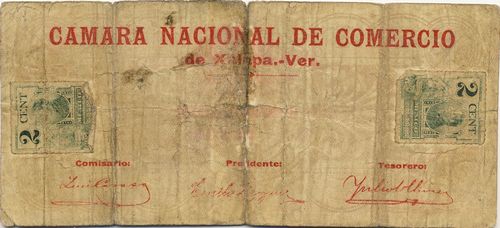 The Cámara de Comercio issued a series of three values (50c, $1 and $2). It should be noted that this format was used by several other establishments that issued scrip at around the same time. These date from March to August 1914, are redeemable in quantities of five pesos or multiples thereof, and occasionally refer to the lack of revenue stamps or the amount that has deposited as security for the issue. Such notes includes issues in Coatepec, Teocelo de Diaz, and Misantla. Coatepec and Teocelo are just south of Xalapa, whilst Misantla is further north.
At the same time there was a pair of cheques for 10c, dated 1 July 1914 drawn on the Banco Mercantil de Veracruz (Serie A) and the Banco Nacional de México (Serie B).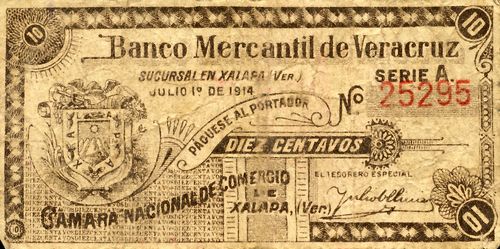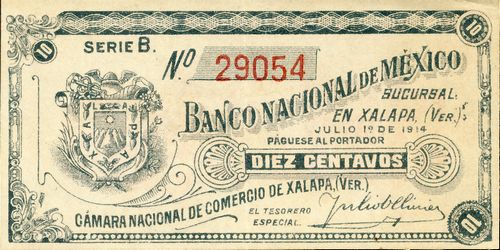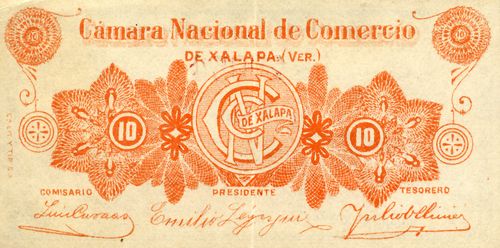 These had the signatures of Luis Caraso(?) as Comisario, Emilio [ ] as Presidente and Julio [ ] as Tesorero (and Tesorero Especial).
On 11 August 1914 The Mexican Herald reported that "the Jalapa chamber of commerce has requested authority of the department of hacienda to issue vales for five and ten cents to the amount of ten thousand pesos, in order to relieve the difficulty experienced by the commercial establishments in providing change in business transactions of small amounts"The Mexican Herald, 11 August 1914.
In mid 1915 the Junta de Administración Civil of Xalapa requested permission from the Secretaría de Hacienda y Crédito Público to issue one or two centavos cheques since there was no fractional currency. The petition would be approved and the amount of the issue was deposited in the branch of the Banco Nacional de México. As the municipality delegated this to the Chamber of Commerce, it decided to postpone it because it did not consider itself with the necessary powers to carry it outAHX, Actas de Cabildo, book 109, session of June 18, 1915, pp. 11-12, session of June 21, 1915, page 14, session of June 25, 1915, page 15; June 25, 1915, page 16, session of July 2, 1915, page 22, and session of July 12, 1915, page 29.
Orizaba
On 1 February 1914 it was reported that the Cámara de Comercio in Orizaba, like other chambers, has asked the Secretaría de Hacienda for permission to issue vales, but had been refused, as such vales were expressly prohibited by lawEl Imparcial, 1 February 1914; The Mexican Herald, 19th Year, No. 6,728, 2 February 1914. The Secretaría was, therefore, being inconsistent, refusing Veracruz and Orizaba but allowing Jalapa.
However it issued a series of cheques in three values (10c, 25c and 50c) in June 1914. These were signed by J. M. Cuesta E.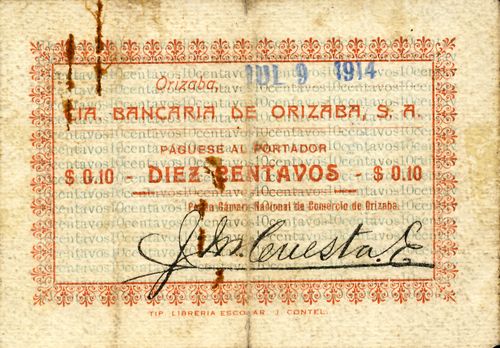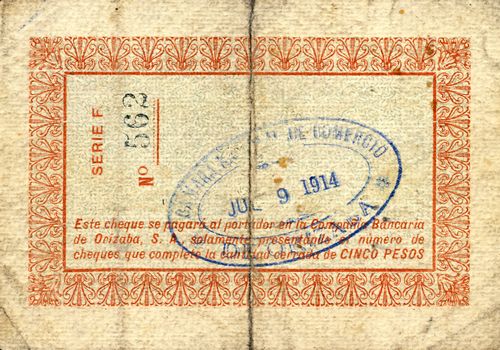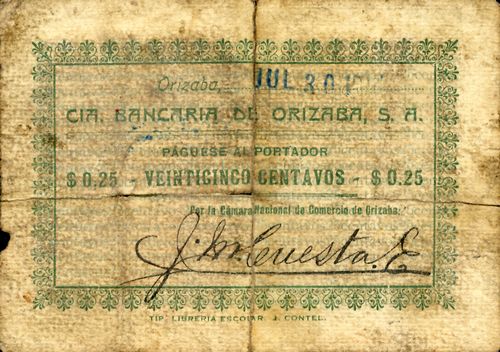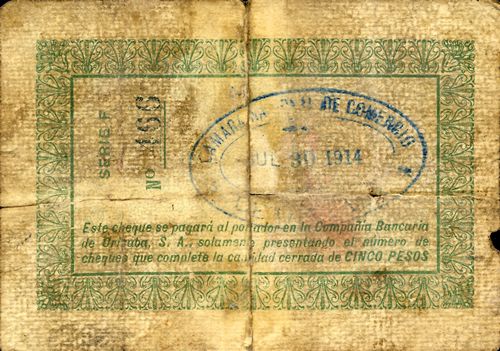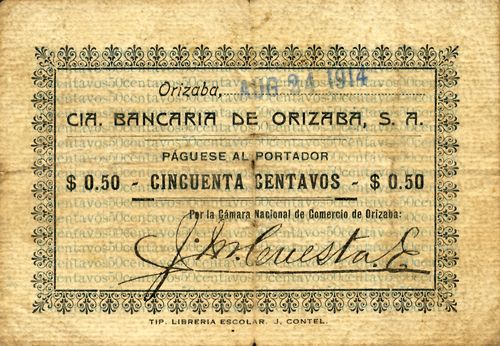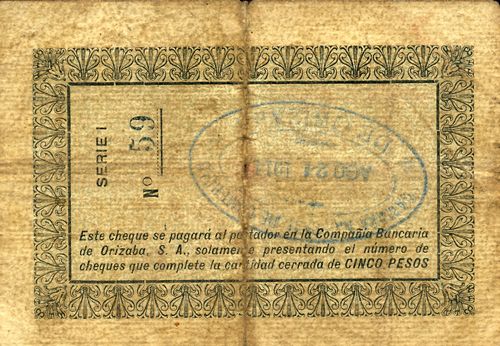 Soon after these notes were issued the Cámara held a meeting to decide whether to continue with them or to withdraw them. The mayor (alcalde), Calixto Fernández, was invited and asked to support the issue by getting public offices to accept the cheques, At a council meeting held on 1 February this request was discussed but the council decided that it could not do so, as the notes were unauthorised and accepting them could impose a personal financial risk on the Tesorero Municipal, should they ever be dishonouredAMO, Actas del Cabildo, libro 57, p186v. On 15 July Calixto Fernández informed the Cámara of the coucil's decisiónAMO, Serie Gobierno, Subserie Admón civil, exp. 113.
In late June a correspondent could report that these vales had brought about a new calamity (una nueva calamidad) because the majority of businesses refused them and in other stores, belonging to members of the Chamber of Commerce, they insisted that the purchaser took the whole value of the vale in goods without offering change, meaning that people had to purchase items that they did not want. In addition, though they stated that they could be exchanged in the Compañía Bancaria de Orizaba, that only applied when a total of five pesos was presented, which meant a general lack of confidence. They should be payable 'al portador'El Dictamen, Año XVI, Núm. 1192, 20 June 1914. However, these difficulties must have been overcome as we know of notes dated to July and August 1914.
The Chamber produced another series, for the higher values of 50c and 75c, dated 23 July 1915. These were drawn on the local branch of the Banco Nacional de México and could be redeemed there in multiples of five pesos (because of the shortage of banknotes or paper money of smaller denominations).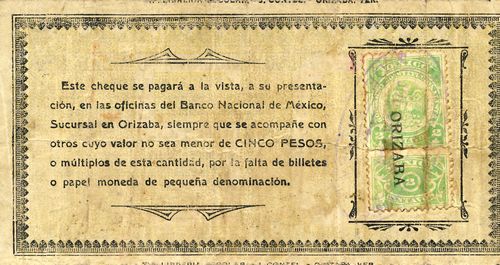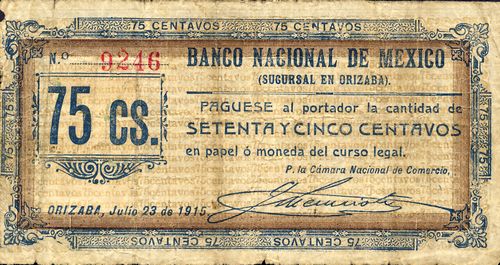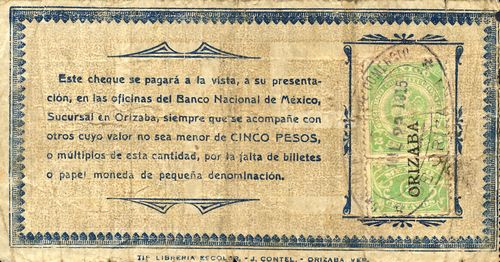 A week later, on 30 July, it was reported that the Chamber had asked the Junta de Administración Civil and the Jefe de las Armas, General Carlos Tejeda, to ask the Governor Cándido Aguilar to exempt them from the stamp duty that would be payable on a proposed issue of 5c, 10c and 20c notes (if it had to pay duty the issue would be prohibitively too expensive)La Vanguardia, Orizaba, Tomo I, Núm. 65, 30 July 1915. The governor was either unwilling or unable to accede to this request (and cartones for these values were already in circulation though highly disliked) so this issue of smaller value denominations does not seem to have been made.