Chamber of Commerce - Xalapa
In January 1914 the Cámara de Comercio de Xalapa decided to issue cheques for 50 centavos and one peso. Less than a week after it had refused the Veracruz chamber's request, the Secretaría de Hacienda approved this issue but refused to exempt it from stamp dutyThe Mexican Herald, 19th Year, No. 6,720, 25 January 1914. Apparently the Chamber first issued 50c notes in March 1914 but within three months they had disappeared. It was suggested that they had all been taken to the surrounding ranches by the peasants who daily brought foodstuffs into the city.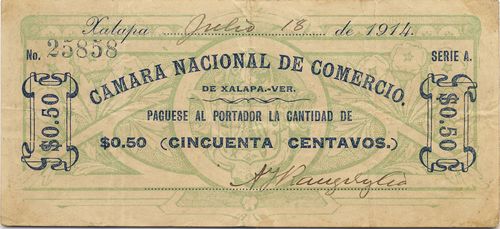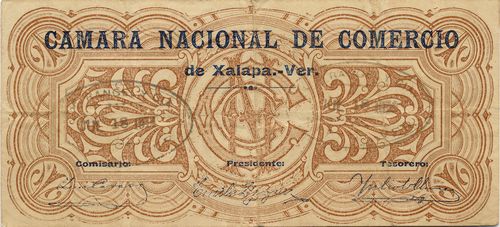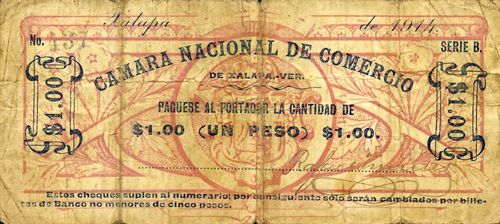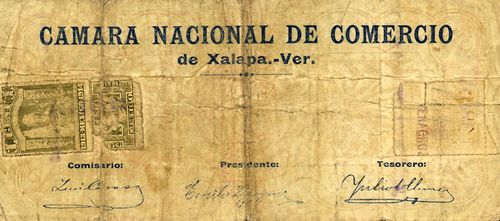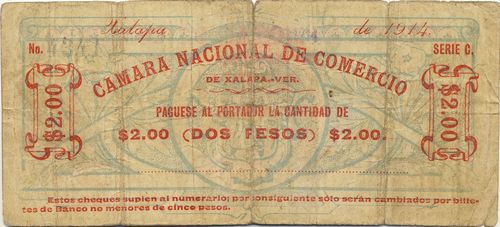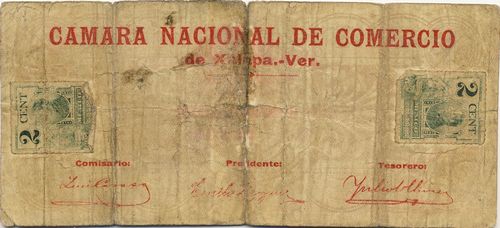 Series
date on notes
from
to
total
number
total
value
signed on face by
50c
A
Fuentes
includes number 17994

CNBanxico #6398

4 July 1914
[ ]
includes number 19048

CNBanxico #12324

18 July 1914
includes numbers 25858 to 27131

CNBanxico #12325

$1
B
includes number 137
$2
C
includes number 4341
The Cámara de Comercio issued a series of three values (50c, $1 and $2). It should be noted that this format was used by several other establishments that issued scrip at around the same time. These date from March to August 1914, are redeemable in quantities of five pesos or multiples thereof, and occasionally refer to the lack of revenue stamps or the amount that has deposited as security for the issue. Such notes includes issues in Coatepec, Teocelo de Diaz, and Misantla. Coatepec and Teocelo are just south of Xalapa, whilst Misantla is further north.
These notes have three printed signatures of the Presidente, Tesorero and a Comisario on the reverse and an additional authorising signature on the face. Known signatures are:
| | |
| --- | --- |
| Emilio L | |
| Julio Olivier | |
| Luis Caraza | |
| Rafael Fuentes | |
At the same time there was a pair of cheques for 10c, dated 1 July 1914 drawn on the Banco Mercantil de Veracruz (Serie A) and the Banco Nacional de México (Serie B).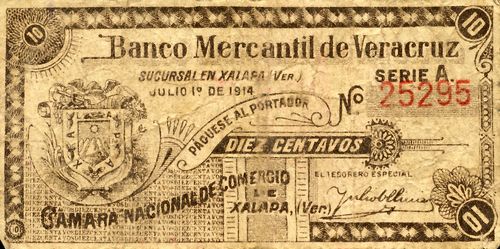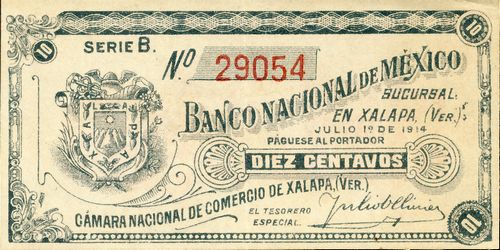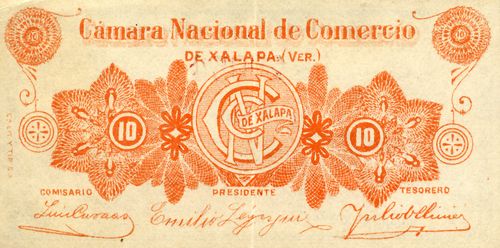 Series
from
to
total
number
total
value
10c
A
includes numbers 18586

CNBanxico #7183

to 40803

CNBanxico #12327

B
includes numbers 13451

CNBanxico #12328

to 42563

CNBanxico #6396

These also had the signatures of Luis Caraza as Comisario, Emilio [ ] as Presidente and Julio Olivier as Tesorero (and Tesorero Especial).
On 11 August 1914 The Mexican Herald reported that "the Jalapa chamber of commerce has requested authority of the department of hacienda to issue vales for five and ten cents to the amount of ten thousand pesos, in order to relieve the difficulty experienced by the commercial establishments in providing change in business transactions of small amounts"The Mexican Herald, 11 August 1914.
In May 1915 the shortage of change led the Junta de Administración Civil to ask the governor for authorisation to issue cheques for one and two centavos, which could be changed, when the situation required it, for cartoncillos or the small coinage that was in circulation. However the governor refusedAHX, Actas de Cabildo, libro 108, pp. 187 – 189, sessions of 28 and 31 May 1915. In June it asked the Secretaría de Hacienda y Crédito Público for a similar authorisation. This was approved and the money to guarantee the issue was deposited in the local branch of the Banco Nacional de México. The Junta delegated this task to the Cámara to Comercio, but the latter decided that it did not have the facilities needed to put it into effectAHX, Actas de Cabildo, libro 109, pp. 11-12, 14-16, sessions of 18, 21 and 25 June 1915.