Counterfeit $2 Veracruz notes
Counterfeit Veracruz $2 notes – Type 1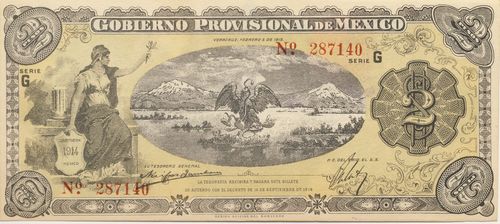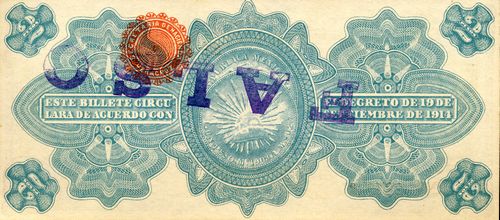 | | |
| --- | --- |
| GENUINE | COUNTERFEIT |
| | A point on the tip of Patria's nose |
| | In the oval the lake has points instead of smudged shading. The landscape in general is coarser |
Counterfeit Veracruz $2 notes – Type 2
On 22 September 1915 Alfonso Alpuche M., acting head of the Secretaría de Hacienda, in an interview with The Mexican Herald admitted that counterfeit $2 notes were in circulation in the capital. The spurious notes were poorly executed, and easily detected with the following characteristics:
| | |
| --- | --- |
| GENUINE | COUNTERFEIT |
| | Series A |
| | paper thinner |
| | background of the obverse isa paler orange colour |
| on the reverse, the colour is of a green tint | navy blue tint |
| | seal of the Secretaria de Hacienda imperfect |
| seal is red | carmine |
| | numeration is in a larger type |
| oval in the centre cleanly finished around the margin | oval bears the impression of a rude border |
Alpuche said that he thought that the counterfeit was reproduced with a pantograph, a photo-engraving then being made from the drawingThe Mexican Herald, 23 September 1915.
The notice of 25 September 1915 said that bogus $2 notes has been discovered in Mexico City, but due to the imperfect and rough manner in which it has been done, no description was necessary as they are detected as spurious at first sight. On the same day a newspaper reported that counterfeit $2 notes had appeared and could be identified as they were Series A whilst genuine notes were Series BBoletín Militar, Tomo III, Núm. 276, 25 September 1915. This was corrected the following day. Notes of other series were genuine and only some Series A notes were false. They could be distinguished by the dire quality of the paper and print. Moreover, the bogus notes had not exceeded 500 pesos and none had left Mexico CityBoletín Militar, Tomo III, Núm. 277, 26 September 1915.
In its notification the Jefatura de Hacienda in Puebla said that in counterfeit $2 notes the reverse was marine blue (azul marino) rather than clear blue (azul claro) or olive green (verde olivio) and the red seal on the reverse was poorly printed with bad white lettering and the 'waves' that surround it.