Scrip of textile mills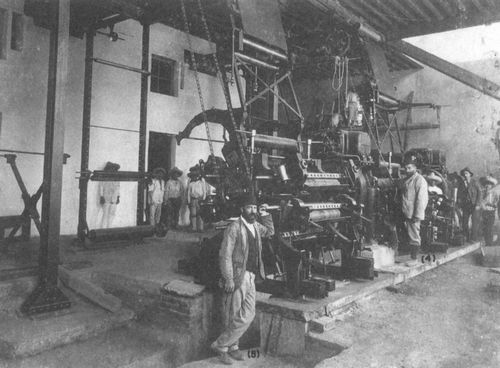 In the Orizaba textile mills, workers were paid most of their wages in silver coins as we know from the weekly letters that came and went from Mexico City to the mills demanding large amounts of coins to pay weekly wages, or reporting on their remittance or arrivalArchivo de la Compañía Industrial de Orizaba, Correspondence, A. Reynaud to Río Blanco, several letters: Archivo de la Compañía Industrial Veracruzana, Correspondence, MX-SR, 30 August 1910. From August to December 1906, 18 letters of the Compañía Industrial de Orizaba report that the office in Mexico City sent by express $3,000 pesos in "tostones" for the weekly payroll (rayas). From January 1907 to March 1908 29 letters reported they sent $5,000 pesos weekly, also mostly in "tostones" .
In the Orizaba valley scrip, or vales, were an advance on wages due the following payday. It was negotiable at the company store at its full value if it was traded for merchandise, or at 70 percent or 80 percent of its value if it was exchanged for money. On the following Saturday, the amount advanced to workers in scrip during the week was deducted from their wages and paid to the company store, after deducting five per cent commission. This general procedure appears to have been common to company stores throughout the world at the time.
Numerous accounts tell that company stores deducted a certain percentage of the value of these vales. It is not clear whether these accounts refer to the discount made when exchanging scrip for money, or when purchasing at the store with scrip, although the former seems more plausible. We should understand this discount as the interest rate the company store charged for the credit it gave, minus the five per cent it paid in commission to the mill.
It is possible that in some textile mills workers were fully paid in scrip, since several newspaper articles denounced this practice, yet no study has yet found evidence in hacienda or company records of such a case. It is difficult to trust these accounts given that it also common to find articles that indicate that in the Compañía Industrial Veracruzana S. A and Compañía Industrial de Orizaba S.A, workers were paid only in scrip, while hard evidence tells this was not trueAn article in El Hijo del Ahuizote, 5 April 1903, for example, said that the Santa Rosa workers were paid with cardboards or tokens, so that they buy at the company store. Newspaper articles that appeared in the following days of the 7/8 January massacre, generally agreed that workers in Río Blanco were paid only in scrip. See for example El Diario del Hogar, "Obreros Sublevados en Río Blanco y Nogales Incendian una Casa de Comercio", 9 January 1907.
More recent studies of the "Río Blanco strike", such as Bernardo García's and Rodney Anderson's books have complemented the information given by newspapers with documents found in other archives, particularly that of Porfirio Díaz. However the explanation of the events that resulted in the January 1907 massacre as a great demonstration of workers' hate for company stores seems to have prevailed. Bernardo García Díaz wrote that "workers wanted to burn all that they rejected and hated particularly those establishments that incarnated injustice in their eyes: the company stores."Bernardo García Díaz, Un Pueblo Fabril, 149. Rodney Anderson's account remarks,
With one important exception, the only buildings deliberately burned that day were the company stores of the textile mills in the area. Forced to buy at the company stores because of their location or because wages were paid partly in discounted script, the workers were often in debt to them and universally believed that they paid high prices for inferior goodsRodney Anderson, Outcasts in their Own Land, Northern Illinois University Press, 2008, p.159.
At the Compañía Industrial Veracruzana S. A. on average only 16 percent of workers used the company store and those who used it carried on average a debt of only 26 percent of their wage. Company stores were an efficient source of credit for workers given that they reduced the risk of providing credit to them, and could have been better credit alternatives to other sources of credit such as pawn shops. Yet it seems that the gains they could make, by facing a lower risk than alternative sources of credit, were not channeled to workers but pocketed by the firms and the company store concessionaires.